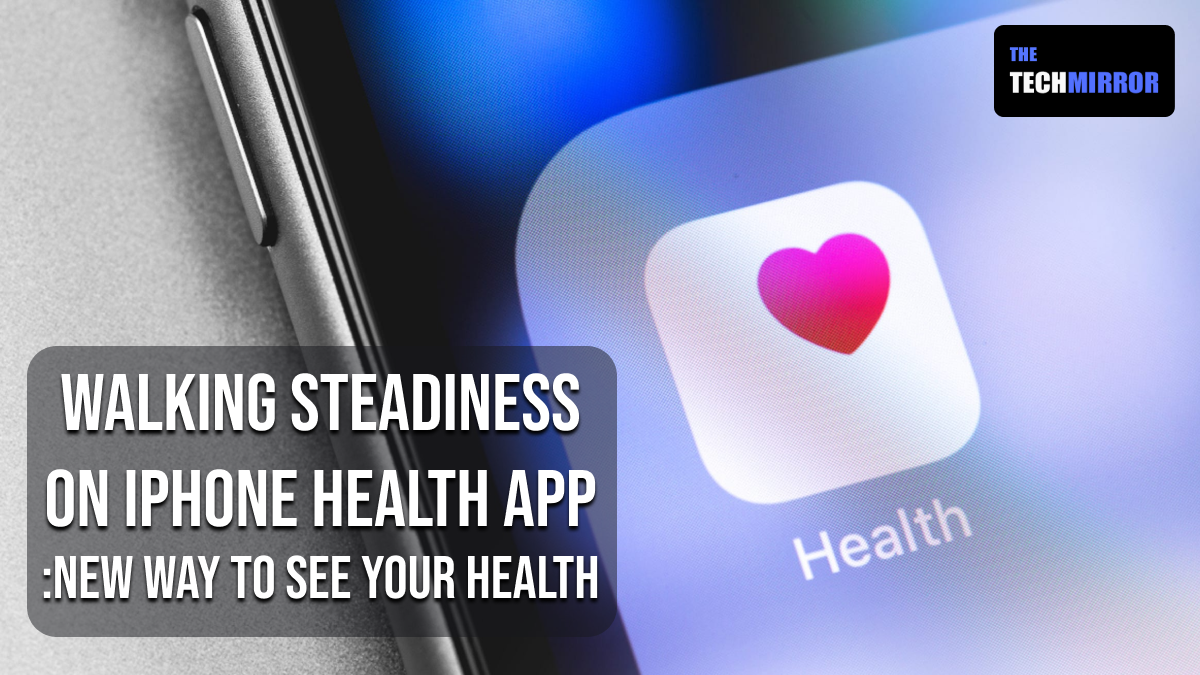 There's an old saying "Health is wealth", so it is very much important to take good care of your health. The more informed you are regarding your health, the better position you are in to take necessary steps. The Health app by Apple assists you a great deal concerning your health data. With it you are able to track quite a lot of things, like how active you are, what amount of sleep you're getting, and accordingly take actions that are best for you.
Apple, via the latest iOS 15 update, has added an all-important feature to the Health app. Known as the Walking Steadiness featureon your iPhone Health app; it is meant to assess your body balance, stability, and coordination by the help of the built-in motion sensors. If you have no idea about how to use Health app or Walking Steadiness feature, here's a piece of information you should know about. So let's dive into this blog article and get a healthy dose of updates.
About the iPhone Health App:
The iPhone is always regarded as a premium mobile phone for the reason that it is bundled with amazing features at offerings for its users. Having that said, the iPhone comes with such features that were not even found in most of the advanced hospitals around in many parts of the world. Amid a number of important features, the iPhone Health app is the one since it can alert you of an impending illness and move up a notification in this regard and thereby avoid such suffering situation.
The Health app is designed to organise your important health data and make it easily accessible all at one place. The app collects data from your iPhone or the built-in sensors on your Apple Watch, and puts your imperative health related information at your fingertips. It keeps all the data encrypted and secured as well as it takes good care for your privacy.
Below is the section to let you understand how to use the health app.
How to use the Health app on your iPhone
The Health app counts your steps, keeps track of walking patterns and determines running distances. In addition to that, if you are using an Apple Watch, it routinely tracks your Activity data. Following are the steps required to set up your health profile on the Health app.
Setting up your Health Profile
Launch the Health app and head to the Summary tab. 
Tap your profile picture/icon provided at the upper-right corner. 
Then tap Health Details, followed by tapping Edit. 
Now add the required information such as your height, weight, and age. 
Finally, tap on Done to complete the process.  
Note: Using your profile on Health app, you can even set up your Medical ID or register yourself to be an organ donor. 
What is Walking Steadiness feature on iPhone Health app?
With the release of iOS 15, Apple has introduced a metric to assess your walking steadiness alongside the risk of falling. It also provides a trend analysis to let you be aware of changes in your health. Walking Steadiness iPhone feature monitors the way you're walking. The feature tracks mobility metrics, including step length, walking speed, walking asymmetry and so on, to check and verify your walking steadiness and its classification. The app also allows you to choose for receiving an alert or notification in case your steadiness is low or very low.
As per Apple, a healthy walking pattern is one wherein the timing of the foot-steps with either foots are quite alike or uniform. On the contrary walking asymmetry is defined as the percent of time your foot-steps with one foot are faster or slower in comparison with the other foot. Considering both the concepts together; Apple categorizes the walking steadiness index as OK, low or very low.  
A lowered percentage of asymmetry implies that you are having a healthier walking pattern. Moreover, irregular walking patterns, say for example limping, can let know about a few disease, an injury or further health related issues.
Setting up iPhone Walking Steadiness feature on your Health app
Once you have set up your Health Profile, you will be able to review your Health Checklist at first from the Summary tab. The Health Checklist allows you check and enable various available health features of the app.
You can also make possible to share your walking steadiness information and alert notifications with your family members and friends. Here's a step-by-step guide on how to set up the iPhone Walking Steadiness feature.
How to set up iPhone Walking Steadiness on iPhone Health app
Launch the health app and head to the Summary tab.
Here locate and tap on Walking Steadiness Notifications, and then click on Set Up.
Just continue by following the on-screen instructions to confirm your health details, and learn more about walking steadiness levels, and turn on notifications.
Once you are through with it, click on Done to complete the process.
That's all you have to do in order to set up the Walking Steadiness feature on your iPhone Health app. Now all you need to do is to just keep the iPhone in your front pocket or the one near your waist at the same time as you walk, you will be provided with an alert notification on your steadiness level as and when it goes low enough to increase the risk of you falling while walking.
Read Also:
Make It Secure & Efficient: Learn To Switch To 4-Digit Passcode On iPhone
How To Customize Sleep Mode In iOS 14 On iPhone
Meaning of Background App Refresh and How it functions on iPhone, iPad & iPod…