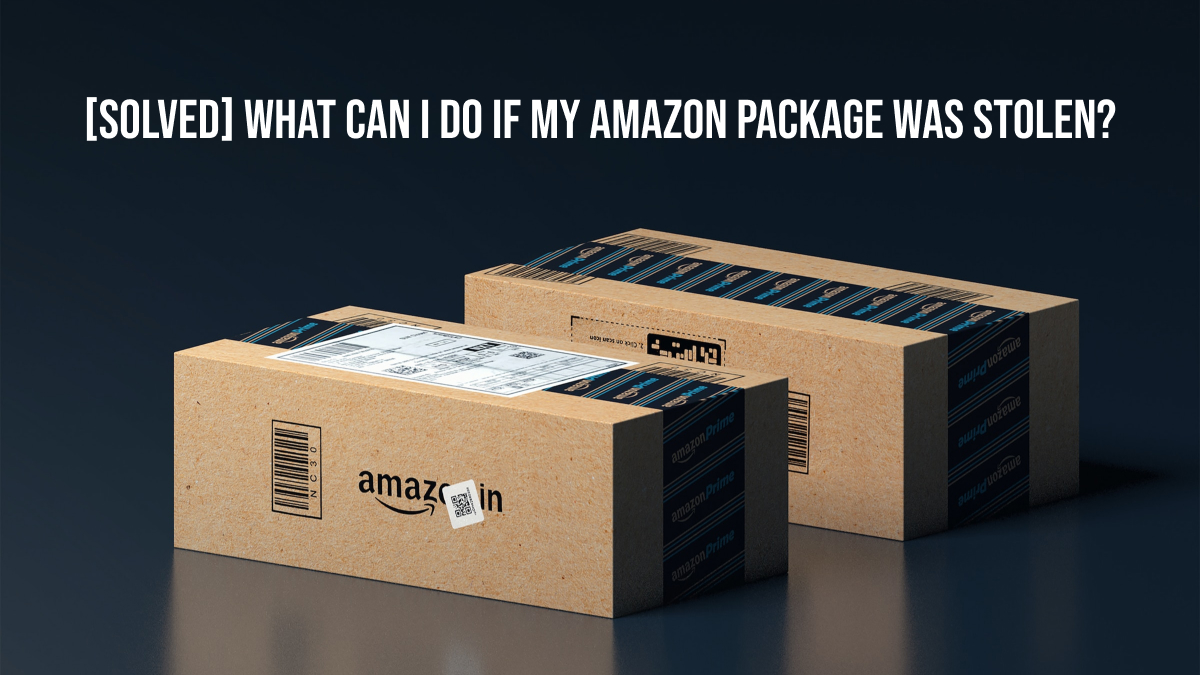 Ordering something from E-commerce platforms like Amazon has great advantages. The very first advantage is that you can receive a good discount offer along with free after services or extended warranties. Gone the time when Amazon used to take a lot of time to deliver a product! Nowadays, it offers the same day delivery option too. Almost every Pin code and area is covered by Amazon delivery partners. Their work is swifts and safe but there are so many cases of people saying their amazon package got stolen! If you're home, there is nothing to worry. But when you are not available to pick the delivery, the delivery boy might leave it at the door or with someone who pretends to be your neighbor or friend. In such situations many of amazon packages go missing or stolen. Today we will discuss What Can I do if my Amazon Package was Stolen in 2023.
What Can I do if my Amazon Package was Stolen
In case of a stolen Amazon package, you should follow the below mentioned steps.
#1 Contact Delivery Partner
If you have received a text saying that your Amazon package was delivered but it has been a long time and you couldn't find the package anywhere, you should contact the delivery partner selected by Amazon to deliver your product. They might ask the delivery boy where did he left your package. This might help you a lot.
#2 Contact the Seller
Amazon fulfills some of the orders from its warehouses while others are made available by third party seller. If you see that the product you had purchased was from a third party seller, you can directly reach out to them and ask for a replacement or refund. If the seller is kind, they will arrange a replacement or refund for your package or they might deny it.
#3 File an Stolen Package Claim
Amazon's A to Z guarantee offers up to $2500 claim on stolen products. You will have to file a claim and inform amazon regarding this. They might ask you to wait for at least 48 hours or first contact the seller regarding this. If the seller refuses to pay, Amazon might help you with it. But, in case they are not providing you any refunds or replacements, you may have to proceed with the next section of this page.
#4 Contact Your Bank/Card Provider
There are multiple credit cards in market that offer a purchase protection. In case of a missing product, they might refund the payment and help you get rid of this situation.
How to prevent such incidents?
If you want to prevent such activities in near future, make sure to follow the below mentioned precautions or tips.
Be available to pickup the Delivery
Usually Amazon and its delivery partners send you a notification that your package might arrive today or your package might arrive at
specific time. You can try to be available at your home or at the location you've mentioned to pickup the package at the time of delivery.
Ask your neighbor(s)
You may ask your neighbor to pickup the delivery in case you're out of the town or got busy somewhere.
Get the Delivery at your Office
Amazon has both office and work delivery schedules. You can order a product at your work place so you don't have to worry about missing the delivery of a package or it won't get stolen.
FAQs
What's the first step if I suspect my Amazon package was stolen?
Verify the delivery status on Amazon to ensure it was marked as delivered to your address. After that, reach out to Amazon Customer Service to report the theft. They will guide you through the process and help with potential solutions or refunds.
Does Amazon offer any guarantees or compensation for stolen packages?
Yes, Amazon has a policy to cover this situation. If your package was indeed stolen after being marked as delivered, contact Amazon Customer Service. They may offer you a replacement item or a refund, depending on the circumstances.
Read Also: