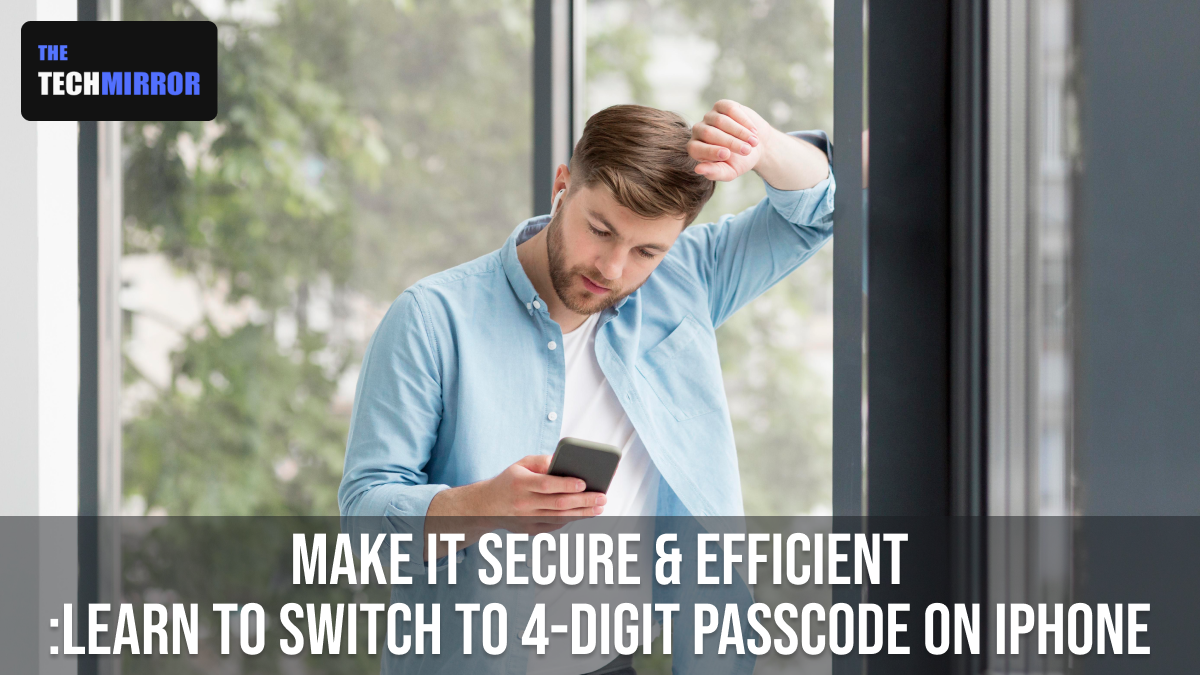 Apple is always recognized as one of the most innovative companies and a preferred brand. Living by the expectations of its loyal users the company keeps on trying new ways to enhance its offerings and consistently improve security measures for their iOS and other devices. In this regard, and as per the Apple strategy to amplify the security for its iOS devices, the company has updated passcode feature. iOS 9 and later asks the user to enter a 6-digit passcode instead of 4-digit passcode on iPhone 12, 13, 14.
As far as the security concerns, six-digit passcode are more secured than four-digit passcode, iPhone users have a difference of opinion over it. For some it is a welcome move because it enables a substantial number of probable combinations, while some users thinks the other way and find it very annoying to type a six-digit passcode when they have used a four-digit passcode system on their iPhone or iPad for quite a long.
So if you have been a part of the same league or just bought a new iPhone or else updated your operating system to iOS 9 or later and want to switch to a 4-digit passcode iPhone system. This article is a must read for you. Here we have covered topics to let you learn how to set, use, and change a passcode on your iPhone, iPad, or iPod Touch.
Let's get started by first understanding about why you need to have a passcode for your iOS device.
Why use a passcode on your iPhone, iPad, or iPod touch?
As a matter of fact, you are required to have a passcode for your iOS device to help safeguard the data stored on it. Although there are other means to prevent the unauthorized access to your phone in form of Face ID and Touch ID and using a passcode at times seem to be frustrating. Your device will still require your 6 digit or 4 digit passcode while you perform following operations or carry out certain under-mentioned tasks:
Unlock your device (by pressing the Home button or using swipe up option)
Turn on your device or even when you restart it
Update software on your device
View or change passcode settings
Install iOS or iPadOS Configuration profiles to your device
Reset to Factory Settings to erase everything on your device
Having understood the reasons why you must have a passcode on your device, let's dive into the steps to set up a passcode. Here's how to do it:
How to Set up a Passcode?
The process is very much same for different models with a few minor changes. You must note the points provided here and proceed accordingly.
On iPhone X and later, or iPad which comes with a Face ID feature, you are required to go to Settings > Face ID & Passcode.  While on earlier iPhone models, you need to head towards Touch ID & Passcode from Settings. And for devices with no Face or Touch ID, you just have to go to Settings > Passcode. 
Once landed on Passcode section, tap on the toggle button to turn Passcode On.
Now provide a six-digit passcode or alternatively tap on Passcode Options to choose from among available options including – a four-digit numeric code, a custom numeric code, or a custom alphanumeric code.
Lastly you must re-enter your passcode one more time to confirm and activate the same.
By using these steps you can set a passcode for the first time. But if you wish to change your passcode or alter the settings associated with it. Here's what you are required to do.
How to Change your Passcode or Alter your Passcode Settings?
As mentioned above you must adopt a route to access Passcode section provided under the Settings tab on your device. (For iPhone X and afterward, or iPad with Face ID, go to Settings > Face ID & Passcode. For other previous iPhone models, go to Settings > Touch ID & Passcode. And in case of devices without Touch ID, go to Settings > Passcode.)
Under the Passcode section, you will get to see several settings and options as listed under:
Turn Passcode Off: Meant for turning off your passcode.
Change Passcode: Used for opting a new passcode or to change your current passcode with new six-digit passcode. It can also be used for switching to other passcode types which include a four-digit numeric code, a custom numeric code, or a custom alphanumeric code.
Require Passcode: Enabling this option will require you to enter your passcode to unlock your screen. If you don't wish for an immediate passcode requirement to unlock the screen, you must change this setting.
Allow Access When Locked: This option will let you access to some features even if your device is locked. These features include Control Center on iPhone and iPod touch or iPad, Home Control, Notification Center, Reply with Message, Return Missed Calls, Siri, Today View, USB accessories and Wallet. 
Erase Data: This option will erase your device automatically following ten failed passcode attempts. In case you don't enable this option, then your device will require to be restored on a computer post ten failed attempts to access your device.
Now, if you want to make a switch from default 6-digit passcode to 4-digit passcode on your iPhone, you can refer to the section below.
How to Switch to 4-Digit Passcode on iPhone or iPad?
A four-digit passcode is a perfect balance considering the security and efficiency when it comes to unlocking your iPhone. Here's how you can, switch to a 4digit passcode on iPhone:
Go to setting and scroll down to locate 'Touch ID & Passcode'/ 'Face ID & Passcode'.
Now tap it to enter Passcode section. (You are required to provide your current passcode to access this section.)
Once you landed on Passcode section, scroll down to find and select Change Passcode.
Here tap on Passcode Options and opt for Custom four-digit numeric code from the available options to switch to a passcode of four digits.
Finally enter your preferred combination, and then type it once again to verify and that's all.
You have successfully switched to 4-digit paascode iPhone system. But what if you don't remember your passcode or forgot your passcode. Here's what you can do.
What to do if you forgot your Passcode?
If you or anyone else forgot the password and followed that attempts to enter the wrong passcode multiple times, your device will automatically disable itself on a temporary basis. If that is the case with you, get help with a forgotten passcode or disabled device by clicking here.
The Bottom-line:
With that we have came to an end to this article. Hope you have successfully learned many aspects including how to set up a four-digit passcode on your iOS Device. Do remember you passcode and never forget the same. If you miss out on it then you'll have to restore your iOS device, so better be extra careful and cautious about it.
Read Also:
Getting Too Many Redirects On iPhone While Surfing Safari: Here's A Fix
Transfer Texts from Android to iPhone: Easy & Effective Method
It's Easy To Switch: Here's How To Transfer Contacts From Android To iPhone