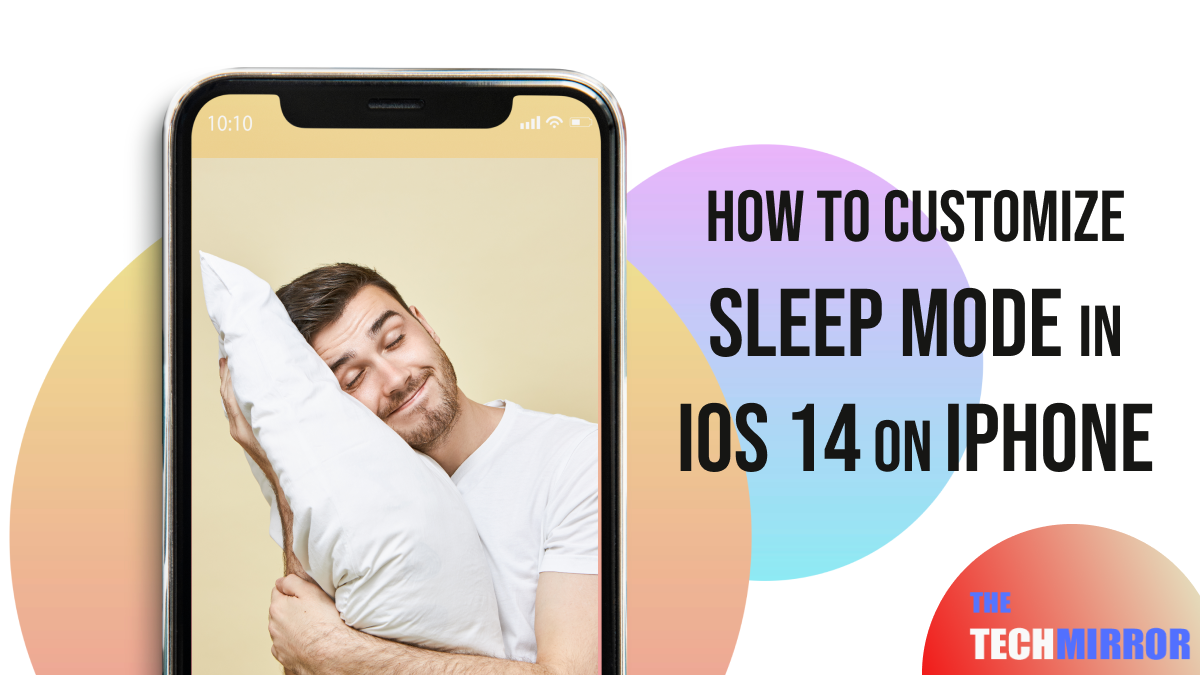 An iPhone comes bundled with plentiful advanced features that go along its brand value. The iPhones with iOS14 and later versions have an inbuilt Health app ‌to ensure users' physical well-being. In addition to that Apple has added a Sleep Mode in iPhone which not only keeps an eye on sleeping schedule of users but iPhone bedtime also helps to improve their sleeping habits.
This article acts as a working guide for users who wish to learn about how to turn on and turn off sleep mode in iOS 14 on iPhone.
What Is Sleep Mode On iPhone?
Sleep mode in iOS 14 can schedule the amount of sleep (starting from a specified bedtime to end with a waking alarm) a user wants to get every alongside other wake up goals. It facilitates users to lower or cut disruption at bedtime. Once you set a sleep schedule, this feature make things easier by turning on Do Not Disturb during your bedtime. With DND enabled on your device, it mutes all alerts and notifications for texts and calls and also stops them from lighting up the screen.
Note: Even if Do Not Disturb is on, you can allow calls from certain emergency contacts, groups, or others as per selection.
Using iPhone's Sleep mode
Sleep mode by default begins at the scheduled bedtime that you have mentioned in the Health app. However if you are fond of some leisure activities like reading or listening to music to help you in good mental state before sleep, you can set Sleep mode to be active a bit earlier. This can simply be achieved by setting a wind down period prior to bedtime. You can even apply shortcuts for such activities while your iPhone is in Sleep mode.
Also it is to be noted that you can send away the Sleep mode screen to use other iPhone features, even while Do Not Disturb remains on.
How To Turn On And Turn Off Sleep Mode In iOS 14 On iPhone
Here's a step by step process flow to turn on/turn on Sleep Mode in iOS 14 on iPhone:
Open Apple's Health app on your ‌iPhone‌.
Find the Browse tab given at the bottom-right corner of the screen and tap it.
Now scroll for the Sleep option and select it.
Then tap on the Full Schedule & Options provided under "Your Schedule"
Finally toggle the switch beneath "Sleep Mode" to Turn On/Off.
How to Manage Sleep Mode Manually
There requires no manual operations as one time enabled the Sleep Mode will turn on and off repeatedly as per your Sleep Schedule, but the same can also be toggled on/off via manual commands in your ‌iPhone‌'s Control Center.
To do it that way, go to Settings > Control Center and add 'Sleep Mode' to the list of included controls. Then after toggle the button on or off anytime to activate or deactivate sleep mode by just a single tap.
Note: If you have activated Sleep Mode on your ‌iPhone‌, you can simply tap on Dismiss to deactivate it and get normal access to your Lock screen.
Wind Down Phase To Relax You Before Sleep
Wind down is an additional feature that goes collateral to the Sleep mode and prepares you for a peaceful lie-down. In order to get yourself relaxed and take your mind away from stressful routine this feature enables you settle down before going to the bed. Wind down provides you with an option to begin the Sleep mode prior to time ranging between 15 minutes to 3 hours before scheduled bedtime.
This feature help you create shortcuts for a range of selected activities (for example reading or listening to music) you consider as pass time to enjoy and get yourself relaxed before you go to sleep. These shortcuts are accessible during Sleep mode.
How To Turn Off Wind Down In Sleep Mode
If you don't wish to use the Wind Down feature then you can disable it with no trouble. To turn off the Wind Down you are simply required to perform under mentioned steps:
Launch the Health app on your iPhone.
Browse to the Sleep category.
Tap on the "Full Schedule & Options".
Find "Wind Down" option in Additional Details and tap on it.
Now turn off the Wind Down by changing the time to 0 hrs and 0 min. (if you wish to delete your Wind Down Shortcuts it can also be done)
Note: If you turn off Sleep Schedule it will automatically turn off Wind Down in iOS 14.
Read Also: