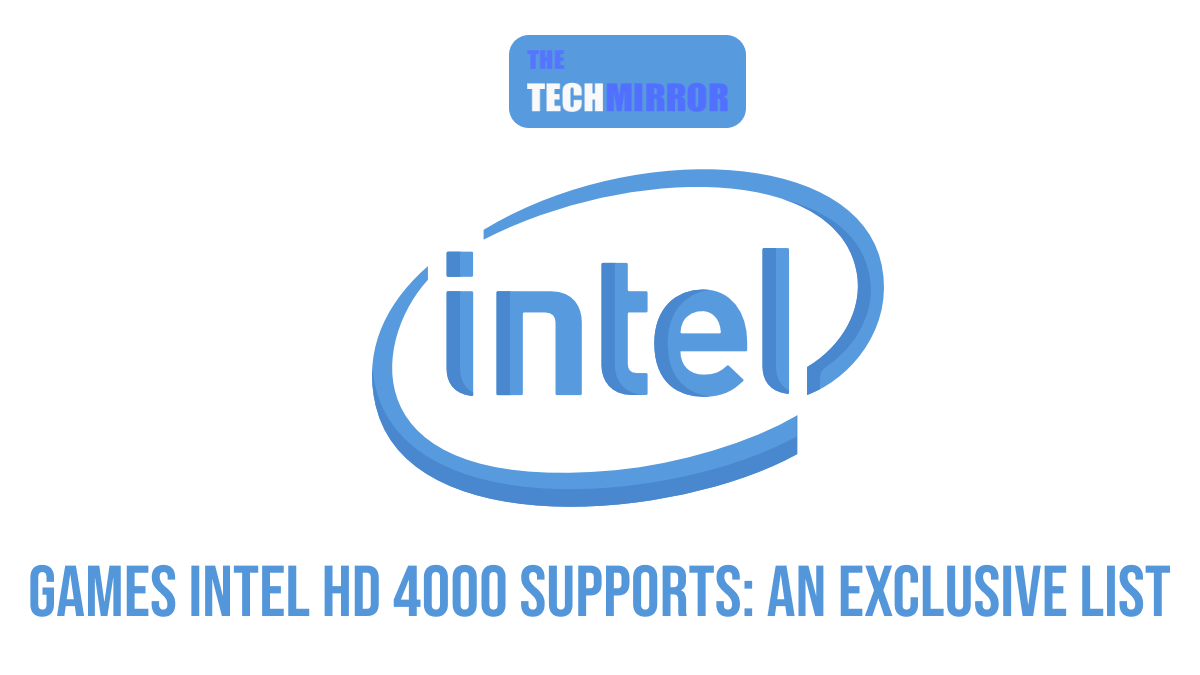 Users of Intel HD 4000 often enquire about games, and comes up with questions like Can I play games with Intel HD Graphics? What are the games Intel HD 4000 support? This article brings to you the answer to such questions and presents an exclusive list of playable games that can be enjoyed on Intel HD Graphics 4000.
While this GPU is not suggested for gaming as it lacks a few dedicated graphics card such as AMD Radeon and Nvidia. But there is nothing to worry about, as you can easily include a dedicated graphics card to enjoy swift gaming experience.
About Intel HD Graphics 4000:
The Intel HD Graphics 4000 (GT2) is an integrated graphics processor developed by Intel.  Introduced in May 2012, the processor is included in the Ivy Bridge processors of 2012 (3rd generation of core, e.g. Core i7-3770).
In addition to that the Turbo Boost function allows its base clock to be boosted automatically however, this feature varies from one processor model to another. The processor also supports DirectX 11.1 and is filled with 128 shading units, 16 texture mapping units, and 2 ROPs with Direct Compute support.
Intel HD 4000 Specifications or Specs
| | |
| --- | --- |
| Company | Intel |
| Release Date | May 14th, 2012 |
| Generation | HD Graphics-M |
| Production | End-of-life |
| Architecture | Generation 7.0 |
| GPU Name | Ivy Bridge GT2 |
| Transistors | 1,200 million |
| Process Size | 22nm |
| Die Size | 133 mm² |
| Shading Units | 128 |
| Execution Units | 16 |
| TMUs | 16 |
| ROPs | 2 |
| Base Clock | 650 MHz |
| Boost Clock | 1000 MHz |
| Bandwidth | System Shared |
| Memory Clock | System Shared |
| Memory Bus | System Shared |
| Memory Type | System Shared |
| Memory Size | System Shared |
| DirectX | 11.1 |
| Shader Model | 5.0 |
| OpenGL | 4.0 |
| OpenCL | 1.2 |
| Vulkan | 1.0 |
| Pixel Rate | 2.000 GPixel/s |
| Texture Rate | 16.00 GTexel/s |
| FP32 (float) performance | 256.0 GFLOPS |
| FP64 (double) performance | 64.00 GFLOPS |
| Slot Width | IGP |
| Outputs | No outputs |
| TDP | 45 W |
Playable Games on Intel HD 4000:
When it comes to gaming, based on how demanding the game subject to graphic requirements, you could play games on medium or low settings at 1080p or, perhaps, with a lesser resolution. As to those casual gamers who won't mind reducing the quality settings in high end games possibly will be happy with the gaming performance of the HD Graphics 4000.
Even though, the Intel HD 4000 is not a first-rate processor for gaming still you can play high end games. Here's the list of Playable Games, Intel HD Graphics 4000 processor supports:
A Chinese Fairy Tale*
A Game of Thrones: Genesis*
Agatha Christie 3 in 1 Bundle*
Age of Empires Online*
Aion Tower of Eternity*
Alicia* (Korean title)
Alliance of Valiant Arms (A.V.A)*
Auditorium*
Avadon: The Black Fortress*
Awesomenauts*
Babel Rising*
Back To The Future*
Batman Arkham City GOTY*
Battlefield Play4Free*
BattleForge*
Behind the Reflection*
Big Kahuna Reef*
Binary Domain*
Blacklight: Retribution*
Brave: The Video Game*
Bullet Run*
Bully: Scholarship Edition*
BulPae Online*
C9*
Call of Duty: Modern Warfare 3*
Cars 2: The Video Game*
Champions Online*
ChengJiSiHan 2*
ChiBi*
Chinese Paladin 5*
City of Heroes* – Issue 21
Civilization V (Touch)*
Civilization V: Gods & Kings*
Club Penguin*
Commandos 3*
Continent of the Ninth Seal*
Counter Strike: Global Offensive*
Counter-Strike Online*
CrossFire*
Crusader Kings II*
CS Online* (Chinese title)
Cyphers Online*
Dark Blood* (Korean title)
Dark Orbit*
Darksiders 2*
Darkspore*
DaTangWuShuang*
Dead Hungry Diner*
Deep Black*
Defense Grid: The Awakening*
Defense Grid: You Monster*
Demolition Company*
Diablo 3*
DiRT 3*
Dishonored*
Dizzel*
Doctor Who: The Adventure Games*
Doctor Who: The Eternity Clock*
Dragon Nest*
Driver: San Francisco*
Duke Nukem Forever*
Dungeon Defenders*
Dungeon Siege III*
Elder Scrolls V: Skyrim*
Endless Space*
EVE Online: Incarna*
eXceed 3rd – Jade Penetrate Black Package*
F1 2011*
F1 2012*
Fable III*
FIFA 12*
Fifa 13*
FIFA Manager 12*
Finding Neverland*
Flight*
FreeJack*
Freerealms*
FreeStyle 2*
Freestyle Football*
Galactic Civilizations II: Ultimate Edition*
Galaxy on Fire 2*
Gatling Gears*
Ghost Whisperer: A Brush with Death*
Ghostbusters: Sanctum of Slime*
Gotham City Imposters*
Guild Wars 2*
Hank Haney World Golf Master*
Hell Yeah! Wrath of the Dead Rabbit*
House of 1000 Doors:Family Secrets*
Hunted: The Demon's Forge*
iRacing*
JianXia 3*
JieWang Online*
JiGuangShiJie*
Jurassic Park: The Game*
JX 3*
Killing Floor*
Kingdoms of Amalur: Reckoning*
King's Bounty: Armored Princess*
Kung Fu Strike – The Warrior's Rise*
League of Legends* (Chinese Tencent version)
Legends of Atlantis*
Legends of Pegasus*
LEGO Harry Potter: Years 5-7*
LEGO Pirates of the Caribbean*
Lineage II*
Lord of the Rings Online: Rise of Isengard*
Lord of the Rings: War in the North*
LuDingJi (The Duke of Mount Deer)*
Mabinogi Heroes*
Mabinogi*
Magic: The Gathering – Tactics*
Mahjong*
Major League Baseball 2K11*
MapleStory*
Marvel Super Hero Squad Online*
Max Payne 3*
Men of War: Condemned Heroes*
Men of War: Vietnam*
Mercury Red*
Microvolts*
Might & Magic Heroes VI*
Mo Yu*
MoJie2*
Moon Breakers*
Moon* (by KingSoft*)
Mortimer Beckett and the Lost King*
MU Online*
Nancy Drew: The Captive Curse*
Nancy Drew: Tomb of the Lost Queen*
NBA 2K12*
Necrovision*
Nine Dragons Online* – ????*
Offspring Fling*
Orcs Must Die! 2*
Painkiller: Resurrection*
Pickers*
Pirates of Black Cove*
Portal 2*
PoxNora*
Psychonauts*
QQ Speed*
QQXianXiaZhuan*
QQXiYou*
Rage*
Rayman Raving Rabbids*
Red Orchestra 2: Heroes of Stalingrad*
Rise of Immortals*
Runescape*
S2 Online*
SBKX Superbike World Champoinship*
Secret Files 3*
Section 8: Prejudice*
Shaun White Snowboarding*
ShenGuiChuanQi*
ShenMoDaLu (Forsaken World)*
Sid Meier's Pirates!*
Sins of a Solar Empire: Trinity*
Skyrim – Dawnguard DLC*
Skyscraper Simulator*
Soldier of Fortune Online*
Special Force 2*
Special Force* (Korean title by Dragonfly/Neowiz*)
SpellForce 2 – Faith in Destiny*
Splice*
Star Trek Online* (Free to Play)
Star Wars Clone Wars Adventures*
Star Wars: The Old Republic*
Star Wolves 3: Ashes of Victory*
StarCraft II: Wings of Liberty* Patch 1.4.0
Street Fighter X Tekken*
Sudden Attack*
Super Monday Night Combat*
Super Street Fighter IV: Arcade Edition*
Team Fortress 2 – Mann vs. Machine*
TERA*
The Adventures of Tintin: The Game*
The King of Soldier*
The Lord of the Rings Online*
The Sims 3: Town Life Stuff*
The Treasures of Mystery Island 2: The Gates of Fate*
TianLongBaBu 2*
TianLongBaBu 3*
TianXia 2*
Ticket to Ride*
Tiny Troopers*
Torchlight II*
TrackMania 2*
Trine 2*
Tropico 4*
Vindictus*
Virtua Tennis 4*
WanMeiGuoJi*
War Of The Immortals*
Wargame: European Escalation*
Warhammer 40k: Space Marine*
Warhammer Online – Wrath of Heroes*
Warhammer Online*
Way To Go Bowling*
World of Tanks*
World of Warcraft: Mists of Pandaria*
Worms Revolution*
Worms Ultimate Mayhem*
WRC FIA World Rally Championship*
WuLinWaiZhuan*
XunXian*
Yar's Revenge*
Yesterday*
YongBingTianXia*
Young Woong Si Dae*
YuLongZaiTian*
ZhuXian2 (Jade Dynasty 2)*
Zombi Online*
Note: The list was compiled using Windows 7* 64-bit operating system. You should expect a similar experience using Windows 7* 32-bit operating system.
Source: Intel
These games are example of the trendy games that work fine even on your Intel HD Graphics 4000 at rate of 30 frames a second or even higher. If you wish for the updated list of playable games, log on to the Gameplay site. You must be remembering that the settings available on the site are exclusive for Intel 4th Generation Core Processors and higher.
Read Also:
Working Tricks and Tips on How To Unblock Someone On Twitch
Know the Best Websites to Watch Cartoons Online for Free
"Unable to load dll iastorafsserviceapi.dll": Here's how to fix it