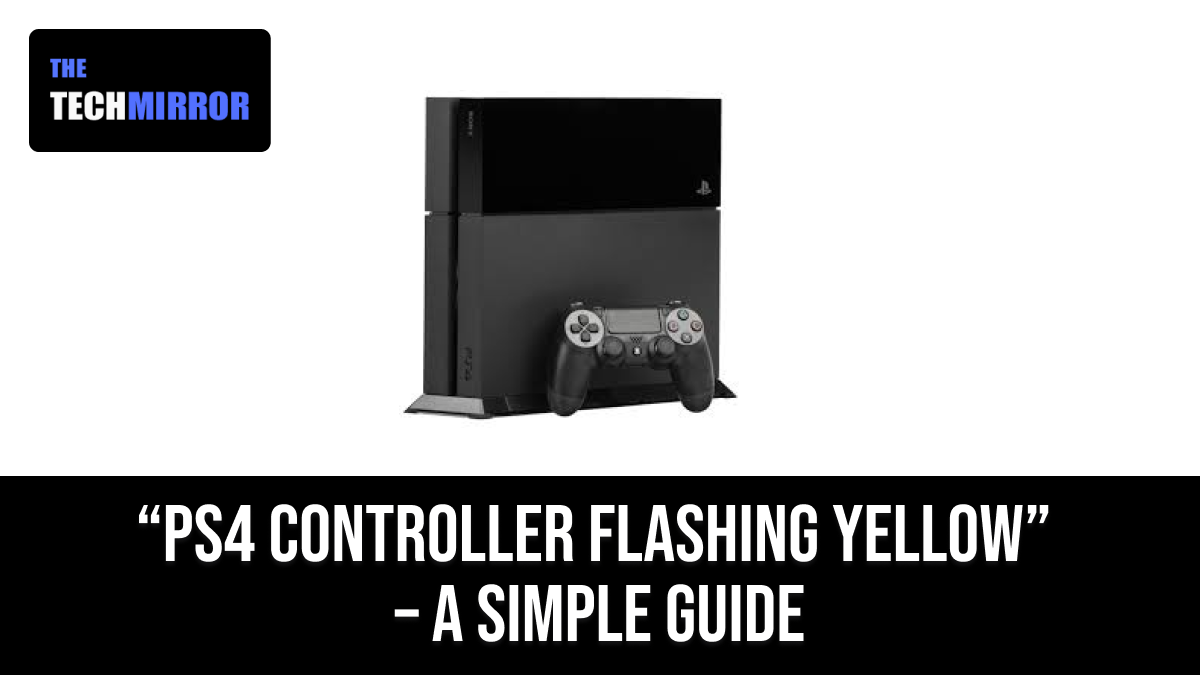 Just noticed the light indicator of your PS4 controller is stuck to be Yellow/Orange and fail to change or turn to any other colour. This blog will let you understand why PS4 controller flashing yellow light appears and what does it indicate.
It commonly happens on PS4 that when you plugged-in the controller it continues to flash yellow/orange. This might make you wonder as to why PS4 Controller flashing Yellow, and does not turning blue or white as it should be once you plug in your controller. So if you want to know what flashing yellow light on PS4 means at different instances and how to respond at it, here you are on a perfect place.
All you have to do is to read through this simple guide and try to figure out "Why my PS4 Controller is flashing Yellow?" So let's dine into the topic and learn all about it…
What PS4 controller flashing yellow means?
PS4 controller flashing yellow light is quite a frequent and regularly observed problem. Gamers use to see the yellow light flashing on their PS4 console on different instances and accordingly it infers diverse meaning associated to it. Below are some points which will highlight these things and provide you more clarity about PS4 Controller flashing yellow colour light.
First and foremost, when your PS4 console is in rest mode or switched off then you will get to see an unblinking yellow light.
Similarly it will show up an unblinking yellow light when your controller is charging.
While on the other hand, when you plugged in the controller for charging a blinking yellow light will appear.
Apart from that you may also get to see that your controller will turn to yellow during gameplay. For example – it will flash yellow whilst playing games such as GTA V and you happen to pick Trevor Philips.
So, that's all about what exactly is PS4 controller flashing yellow color means.
But if you are continually getting a Yellow light on PS4 Controller and in addition you find it difficult to connect to PS4, then certainly there might be some issues either with the console or controller. For your understanding here's a list of potential reasons as to why yellow light flashes on PS4.
Causes of the Flashing Yellow light Issue on PS4
The problem may arise due to numerous things and here is a list of the most frequent causes and potential reasons behind the yellow light issue on PS4:
Faulty DS4 controller hardware: In the majority of cases related to a hardware fault, the reason is by and large a defective ribbon cable.
Connection issue: It might also occur when you connect your controller with some other device; in such situation you can reset the controller to fix it.
Beside that it could be due to any software issue, or just the faulty PS button. 
Let's now move to know the solutions that may help you to fix yellow light issue on PS4 controller.
How to Fix the PS4 Yellow light Issue?
In case your PS4 controller is continuously showing yellow light for some reasons other than the ones mentioned above, it is likely to be because of a glitch or faulty hardware. Here's a list of fixes to resolve the PS4 controller yellow light issue.
Fix#1 Unplug the Charging Cable
You must start with basic troubleshooting and unplug the charging cable from the main power source. After you unplug the cable just wait for 30 seconds and then put the cable back to reconnect with power outlet. You might be able to fix the issue by doing this exercise. If it doesn't else you can try other solutions given below.
Fix#2 Reset PS4 Controller
Next solution that may help you to get the rid of this problem is to reset your PS4 controller. Here's how to reset it:
Turn your controller, at the back of it you will get to see the L2 button.
Underneath it you will find a reset button, press it with a sharp pointed object like a pin or so.
Thereafter connect your controller to PS4 console via a USB cable.
Finally when it's all done, to turn on the controller press the PS button provided on it.
Fix#3 Reset PS4 console
You can also fix the flashing yellow light on PS4 by resetting your console. Here's is what you need to do for resetting your PS4 console:
Press the power button for 10 seconds, or as an alternate power off your console using the quick start menu.
Disconnect the PS4 console by removing the power cable from behind.
Once you have removed the cable, wait for a few seconds and then plug it back in.
Then turn on your PS4 and plug in your controller and charging cable to it.
Finally, press the PS button provided on the controller.
Fix#4 Restart PS4 in Safe Mode
To resolve PS4 controller flashing yellow light you can restart PS4 in safe mode using following steps:
To start with, shut down your PS4.
Now press the power button for 10 seconds. By the time you may get to hear two beeps.
Thereafter connect your controller to your PS4 console via a USB cable
Press the PS button on the controller to restart it in safe mode.
Fix# 5 Repeatedly Press the PS Button
Once you plug in the USB cable for charging the controller, repeatedly pressing the PS button will let you get over flashing Yellow light issue. Here are the steps:
Turn off your PS4
Connect the controller to the PS4 via the charging cable.
Turn on the PS4 back again and wait until it says "Press the PS button to use the controller."
Hold the power button of your PS4 console and wait for the second beep and then let it turn off.
Turn on the PS4 again; and when you get "Press the PS button to use the controller" screen, unplug the controller cable from USB port.
Soon after plug the cable back into the controller and start pressing the PS button repeatedly until it start flashing blue light, and then it will remain solid blue.
So that's it. With this simple and straightforward guide you have learned the different meaning of PS4 Controller flashing yellow and at the same time it has let you understand the potential reasons for your PS4 controller yellow light and also some workable handy fixes to resolve it.
Read Also:
"Why is My PS4 Controller Red?" – Causes and Corrective Actions