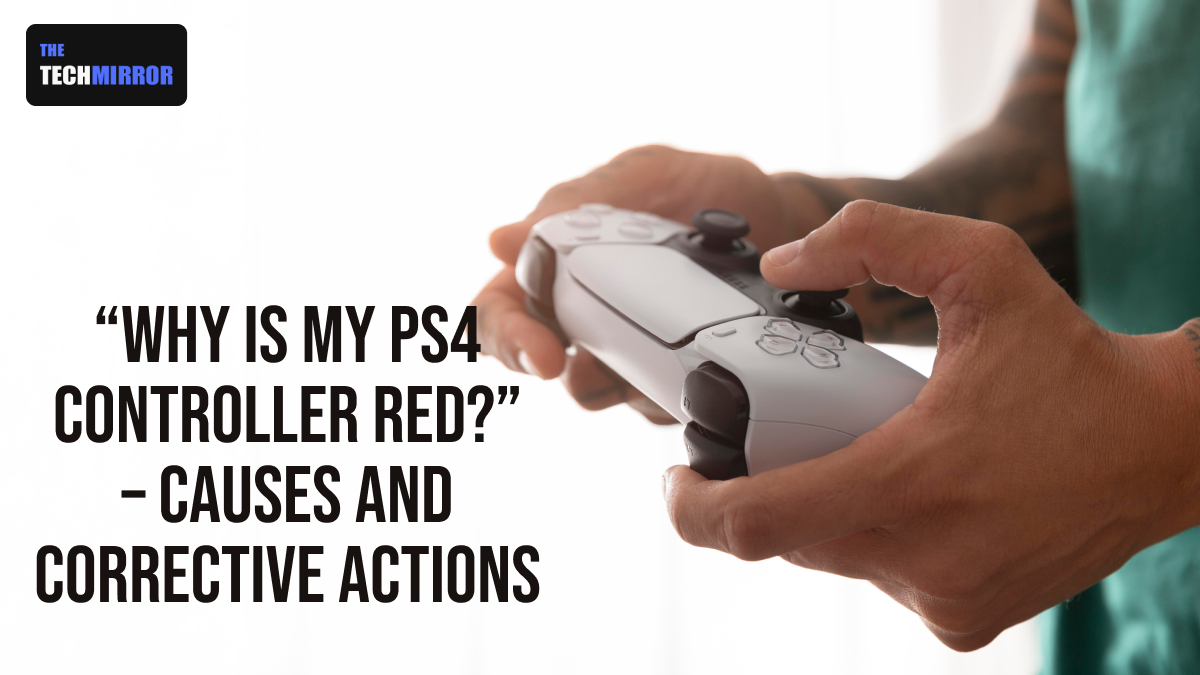 Ever noticed different lights flashing on PS4 controller and wondered, "Why is my PS4 Controller Red?" Well getting a red light on PS4 is quite a common and frequently observed problem. Gamers use to see the red light flashing on their PS4 console on different instances and accordingly it infers diverse meaning associated to it.
If you are looking for what red light on PS4 means and wanted to know how to respond at it?, here's is a must read for you. We have compiled this simple and straightforward guide, to let you understand on the potential reasons for your PS4 controller red light and also tell you some workable solutions to fix it.
So just read through the article and try to find answer to your question, "Why is my PS4 Controller Red?" Here you go……
What does the PS4 Controller Red Light mean?
PS4 game console controller has multiple color bars such as Blue, Orange, White, Yellow, and so on. But when you get to see the red light, you may think that there is something wrong. But that's not always the case. Most of the people relate the red light on PS4 with hardware issue and treat it as a sign of broken controller. However, it may also mean something else. So let's find out what does the PS4 red light actually mean.
If you have just noticed that your PS4 controller's light turned to red, it may signify two different possibilities; firstly your PS4 controller hardware is broken and secondly there is a faulty USB port connection.
In general, PS4 controller light bar indicates the specific order for connection of controllers and shows it up by a different colour; the bar light shows Blue for Player/User 1, Red for Player/User 2, Green for Player/User 3 and Pink for Player/User 4. Now when you are playing a certain game and no-one else other than you are using the console, but still it is showing up red light on PS4 controller; it simply means that you are logged in as another user. This can be sorted out easily and things will be back to normal if you just change the user.
Besides that there might be instances, the colour may change depending upon the game. Say for example, the controller turns red during gameplay if you playing NFS as the illegal street racer, while in GTA IV if the character is wanted by the Police or when you die in a Killzone and so on. Hence, in such cases, there is nothing to worry about.
But if you are constantly getting a Red light on PS4 Controller and additionally you find it difficult to connect to PS4, then surely there might be some issues which you must take care of. For your understanding here's a list of potential reasons as to why red light flashes on PS4.
Common Causes of the Red Light Issue
If you are looking for the reasons and curious to know like, "Why is my PS4 Controller Red?' then here is a list of the most frequent causes and potential reasons behind the red light issue on PS4:
Loose connection between port and battery – The first and foremost reason could be a loose connection. You must make sure that the port of controller and battery are correctly connected else it will result in an inability to charge PS4 controller and hence you may likely see a red light flashing on your controller.
Defective ribbon cable – Another factor that may cause this issue is a defective ribbon cable, due to which your PS4 controller will not get charged properly. Just ensure to clean the cable by some cleaning agent and check if it works, if not you need to get it replaced with a new ribbon cable.
Faulty port – Quite similar to a defective ribbon cable, a faulty port will also result in failure to charging. It will not let you charge the PS4 controller and for the reason that you have the low battery level, it will ultimately show up the red light on controller.
Old and worn out battery – One of the reasons could be worn out battery. If your console is old enough you won't be able to charge it using a worn out battery, thus it becomes obligatory to replace the old battery with a new one which may be within your means.
Having understood the causes, let's now learn the corrective actions which may help you to fix red light issue on PS4 controller.
How to Fix the PS4 Red Light Issue?
In case your PS4 controller is continuously showing red light for some reasons other than the ones mentioned above, it is likely to be because of a glitch or faulty hardware. Here's a list of fixes to resolve the PS4 controller red light issue.
Fix#1 Unplug the Charging Cord
The basic troubleshoot you must try at first is to unplug the charging cord from the main charging port. Now once you unplug the cord, wait for about 30 seconds and then reconnect it to main power outlet. Hopefully, if luck is on your side, you might be able to fix the issue with this; else you can try other solutions given below to fix red light blinking on PS4 controller issue.
Fix#2 Reset PS4 Controller
Another solution to get the rid of this problem is to reset your PS4 controller. Here's how to reset it:
Turn your controller, at the back of it you will get to see the L2 button.
Underneath it you will find a reset button, press it with a sharp pointed object like a pin or so.
Thereafter connect your controller to PS4 console via a USB cable.
Finally when it's all done, to turn on the controller press the PS button provided on it.
Fix#3 Reset PS4 console
You can also try to fix the issue by resetting your PS4 console. For doing so you are required to undertake following steps:
Press the power button for 10 seconds, or else power off your console using the quick start menu.
Now disconnect the PS4 console by removing the power cord from behind.
Once you have removed the cord, wait for a while and then plug the power cord back in.
Then turn on your PS4 and plug in your controller and charging cable to it.
Finally, press the PS button provided on the controller.
Fix#4 Restart PS4 in Safe Mode
One of the effective ways to resolve PS4 controller red light problem is going into safe mode. This may help in fighting out with minor software issues. Here's how to restart PS4 in safe mode:
To start with, shut down your PS4.
Now press the power button for 10 seconds. By the time you may get to hear two beeps.
Thereafter connect your controller to your PS4 console via a USB cable
Press the PS button on the controller to restart it in safe mode.
That's all. You have now learned the ways to fix the PS4 red light problem that you are facing. Hopefully, you have got the answer to "Why is my PS4 controller red". For more related stuff, keep following our blog TheTechMirror.
Read Also:
Know if your PS4 Controller is charging: Here's an easy guide
How much Storage does an Xbox One have? Know it here…