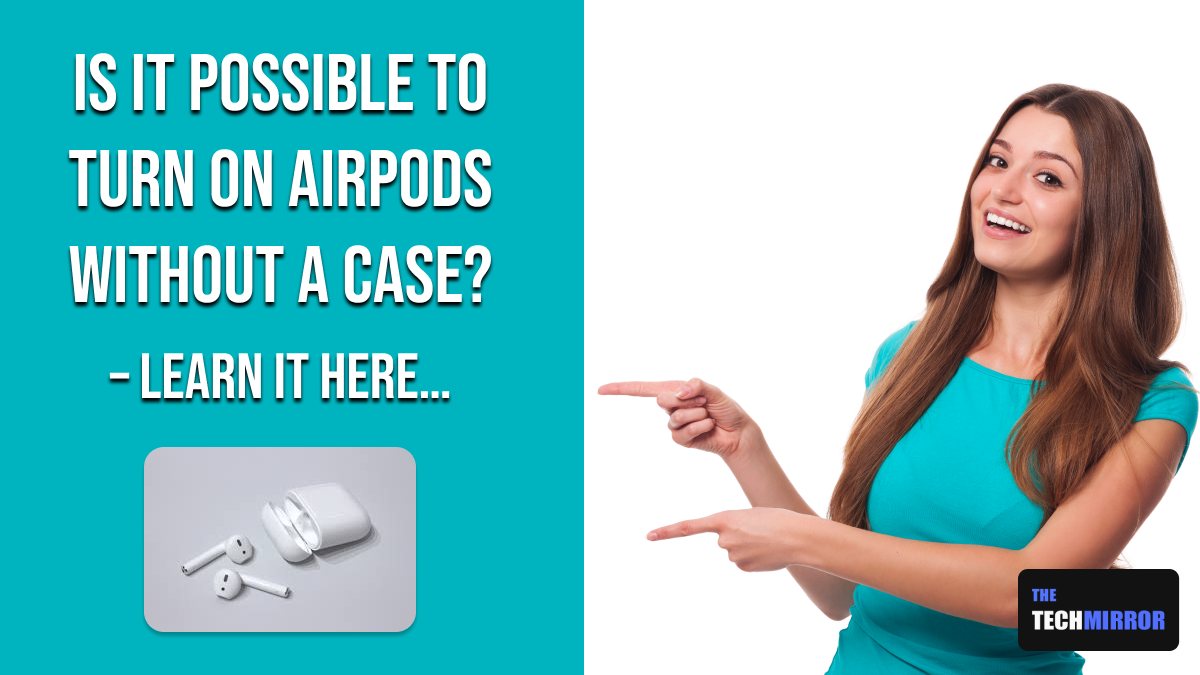 Many people wonder about whether their iPhone will connect if they turn on AirPods without case or not? And for that sake they always use to carry the case with them. We have purposefully compiled this blog to let these people including you to understand the basic functionality of AirPods and try to address their query about the possibility of using AirPods without the case.
So with no further delays, let's dive into the topic and learn about the reality of AirPods and its case.
AirPods and Its Case- A Functional Relationship
The AirPods are simple to make use of and they come in a small and stylish case. The case let you to recharge your AirPods while not in use. For that you are required to put the AirPods back in the case, and then a little indicator provided at the top of it will start showing the charging levels.
However there is a limitation that you won't be able to charge the AirPods independently; you must have to put them together in the case to get charged there from.
Connecting AirPods to your iPhone:
The AirPods can be connected wirelessly to your iPhone using a Bluetooth connection. When you will take the AirPods out of the case, it will automatically turn on and get connected to the iPhone. That way you can use them immediately at ease. The moment you put the AirPods in your ears, the sound from your mobile will start playing and when you take out either of them, the sound will be paused. However if you put it back in your ear well within 15 seconds, it will start again automatically.
For connecting AirPods to iPhone, you have to turn on Bluetooth on your device at the outset and then try to establish a connection between them. This is referred as the primary mode of connection.
How to Set-up your AirPods on iPhone?
If you are looking for the way to turn on AirPods without case then you must note that the process for connecting your iPhone or iPad with your Airpods is quite simple and easy. Learn how to use your iPhone to set up your AirPods. Here's step-by-step process to can get them connected, all you need is to just follow these steps:
First of all, go to your iPhone's Home Screen.
Thereafter open the case of the AirPods and place it near your iPhone. (you don't have to take the AirPods out, let them be in the case)
Now a setup animation will appear on your iPhone. Tap on Connect. 
In case of AirPods Pro, AirPods (2nd generation), or AirPods (3rd generation) "Hey Siri" is set up already and you are all set to use it with the pair of AirPods on your iPhone. (If that's not the case you first have to set up "Hey Siri!" on your device first).
Once you are done, Tap on "Done."
If you are signed in to iCloud, then your AirPods are set up automatically with one or the other supported devices which are signed in to iCloud using the same Apple ID.
Note: If you are setting up your AirPods for the first time, then kindly ensure to have the latest version of iOS on your iPhone. 
In case you still experience some issues in connecting or setting up your AirPods, you can learn what to do by contacting Apple support.
Can you Turn On AirPods without Case?
Whenever you get connectivity issue between the AirPods and iPhone, you might think that it is due to the case, but this is not true. You can connect AirPods without case.
As per the official support page of Apple, the Apple AirPods case is specifically designed for charging purpose only and the sole reason of the case is to charge the AirPods. It simply acts like a power bank which keeps your AirPods charged up. The AirPods case has no such feature to use Bluetooth technology to get the case connected itself.
Moreover AirPods, unlike other standardized headsets which has control buttons, act as an extension of your iPhone. You are allowed to control a hell lot of important functions of the device with basic gestures. AirPods are designed to offer utmost control over the audio playback. It is bundled with a wide range of gestures via which you can control the device on your fingertips.
So now the question comes, how to turn on AirPods without a case? Let's find out an answer to this.
How to Turn On AirPods without Case?
If you want to turn on your AirPods without case, it can be practically possible using a simple trick as mentioned here. But for doing so there is an essential condition that your AirPods were earlier paired with the iPhone. Hence, you can connect AirPods with the same iPhone even without using the case. Following are the steps you need to perform in order to turn on AirPods without case:
Take out your iPhone and go to the Control Center. (This can be done by swiping up from the bottom of the screen in case of older versions of the iPhone, while for iPhone X and other later versions you have to swipe down from the top-right area of your screen.)
Now, press and hold the Audio Card provided on the top-right side of the Control Center.
Once landed on the Audio Card into full view screen. Long press on the AirPlay icon.
Here, it will display the list of connected devices. Select AirPods from the list and continue to connect.
That's all you have to do. These steps will help you to pair the said devices and let you turn on AirPods without a case.
Hope this article has resolved your queries related to the AirPods and its case and make you understand about how to connect AirPods without case?
Read Also:
AirPods Connected But No Sound? – Easy & Effective Solutions
AirPods Not Connecting to Mac? Try These Methods
AirPods Mic Not Working? Here are some solutions