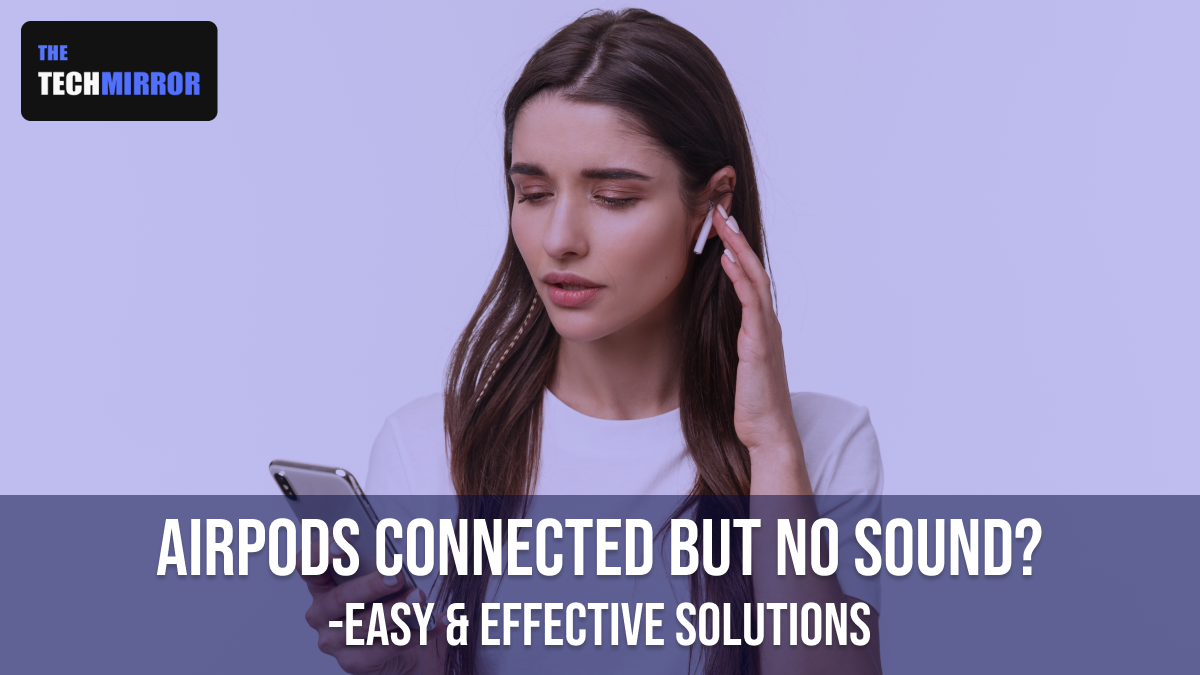 Have you ever experienced the 'Airpods connected but no sound' issue on your iPhone? You might have been in the situation before, where you are listening to your favorite playlist on your iOS device and suddenly AirPods stopped playing music. Likewise, there may be instances when in the middle of a call you have encounters sound issues or it could happen whilst you watching some movie or videos of your choice.
If that's the case then you are not the only one facing this problem, in recent times many AirPods users have reported the AirPods connected but no sound error. Well to help you out in this regard we have compiled this troubleshooting guide. It will let you learn about how to fix AirPods sound issues for good! So here we go….
About AirPods and no sound issue:
AirPods is surely one of the notable inventions by Apple. The handy accessory let you to enjoy music, make and listen to calls, and maybe most importantly allows you to give instructions to Siri for different tasks. Ever since their launch, Airpods have become a preferred choice of Apple users as they consider it over other headsets. 
Despite all the success and popularity AirPods are not free from random glitches and recently quite a good number of users have reported a common issue namely, AirPods connected but no sound.
So if you want to know about how to fix this issue, continue reading to understand some easy and effective ways which may work well for you. Here's how to fix AirPods sound not working issue.
Fixing 'Airpod connected but no sound' Issue:
In case you are experiencing this error with your AirPods and looking for ways to resolve it, you can use or apply any of the fixes given below.
Fix#1: Clean the AirPods
AirPods are vulnerable to dust and dirt from the surroundings, which may result in damaging the device. Thus to get over the issue you must ensure to keep them clean using a soft and dry, lint-free cloth. In addition to that you must use a dry cotton swab for cleaning the microphone and speaker meshes. It is suggested to remove debris from the meshes using dry soft-bristled brush to keep them clean and safe from damages. Having a clean AirPods might help you in fixing this issue.
Fix#2: Disable/Enable Automatic Detection
AirPods connected but no sound may likely to occur due to auto-detection. Thus one simple way to try and fix sound issue is by turning off the Automatic Ear Detection feature on your iPad or iPhone. To do so you are required to take following path:
Go to Settings > Bluetooth > AirPods > Disable Automatic Ear Detection.
Wait a while and then tap to turn on the feature back again. Now check if the problem is resolved or not.
Fix#3: Remove Music Volume Level Limit And Audio Balance 
iOS devices comes with an option which let the users to control the volume limit on the Music app, and as per the default settings the volume limit is set as off. At time you may accidently turn on the AirPods volume limit on iPhone or iPad, which results in such problems. Here's how to ensure that it is not turned on:
Go to Settings > Music > Turn off Volume (it refers to setting the volume limit on a slider to Maximum)
In addition to that, you must try to maintain an audio balance on your AirPods, using the steps mentioned as under:
Head to Settings on iPhone and then follow the path as: Accessibility > Audio/Visual > Balance Left or Right. (You must ensure to keep the Slide position on center for allowing equal sound to pass on both left and right Airpod)
Fix#4: Reset Your AirPods
Next method to fix the problem is resetting AirPods. Here's a step-by-step process to reset your AirPods:
Place the AirPods in Charging Case and close the lid. Let them there for a while (about 2 minutes) and then open the lid.
Now head to your device (be it iPhone, iPad, iPod touch or some other iOS Device) and open Settings.
Then select Bluetooth and press "I" near your AirPods Name. Now select forget this device and then press again to confirm.
Thereafter go back to your AirPods. Ensure that the lid is open, press and hold the buttons provided on the backside of the charging case for 15 seconds. Now wait for flashing white light, followed by the amber light.
Once you get to see amber light try to reconnect your AirPods to your iOS device. (for better results place the device near AirPods.)
That's all you have to do for resetting your AirPods. Check if the problem still persists of is fixed.
Fix#5: Update your Device
Another possibility for getting this error is that your device is running on an older version of the iOS operating system which might have some bugs. Hence, to get rid of AirPods connected but no sound error you must get the updated version on the paired iPhone or iPad. To check if there is any pending update available for your iOS device, you need to follow the path as: 
Go to Settings > General > Software Update.
Here look of the latest version and get it installed if required.
Fix#6: Reset Network Settings
If you are using WiFi or mobile data to play music, then it is likely to face some connectivity issues and in such cases you can get rid of the problem by resetting network settings.
To reset Network Settings, here's a path to be followed:
Head to Settings > General > Reset Network Only 
Note: When you reset network settings, not only Wi-Fi networks but all the Bluetooth devices and call settings are also going to be removed.
After resetting network settings, you may get the AirPods connected but no sound problem resolved.
Fix#7: Contact Apple Support
If none of the above methods work for you and if the problem still persists, then all you can do is to contact Apple Support or get connected to their representative via live chat.
The Bottom-line:
It is quite obvious that you can possibly fix the AirPods connected but no sound issue. Though it may be bit time-consuming but cleaning and resetting AirPods, Re-enabling auto-detection, updating your iOS device, resetting network settings proves to be easy and effective solutions to fix your AirPods connected but no sound issue.
Read Also:
AirPods Not Connecting to Mac? Try These Methods
AirPods Mic Not Working? Here are some solutions