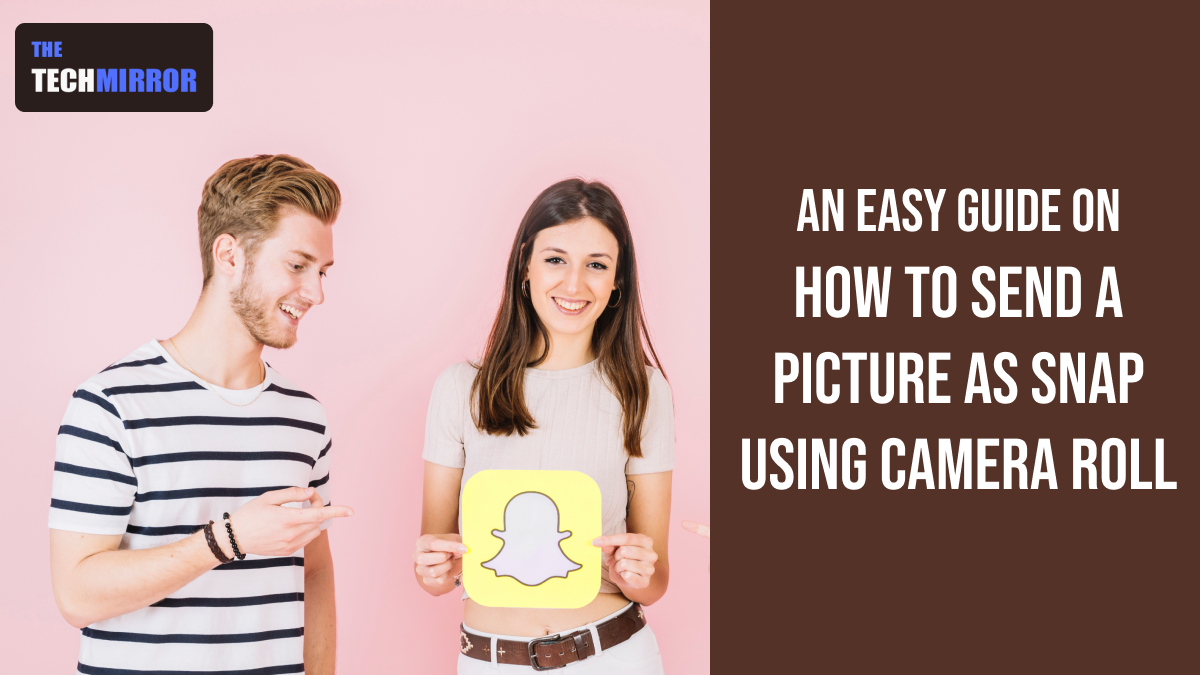 At any point of time you send a snap on Snapchat, by taking a photo or capturing a video on the spot. On the other hand, if you want to send a picture from your camera roll, it will be sent as an in-chat photo. But what if you want to send a picture as Snap by uploading it from your camera roll? Is there a way out? Let's find out answers for these questions here in this blog.
About Snapchat and snaps:
Launched in 2011, Snapchat is a massively popular image sharing and messaging social media platforms. The app is designed exclusively for mobile devices (including Android and iOS) and its image-sharing feature has altered the view and usage of social media for users of all ages especially of young generation. Snapchat allows people the real-time sharing of their experience, as they can take their pictures or record a video to share it with their dear ones via snaps and stories.
Can you send photo as normal snaps from Camera Roll?
As far as your matter of concern goes the answer is; Yes, of course! Certainly, you can upload photos from your camera roll and share it as normal snaps on Snapchat.
Even though Snapchat has abundant effects and editing tools (including filters and lenses) which enable you to click a pic/record a video, edit and share it straight away as snaps, but it's a bit tricky if you are looking to send a picture or a video from your camera roll or the one saved in gallery.
Camera Roll is a Snapchat feature which allows you to directly send snaps from your camera. Using this feature, you are not required to click a picture and can simply send picture as a snap by selecting it from your gallery.
Here's how to send a picture from Camera roll as normal snap.
Sending photos from Camera Roll as a Snap on Snapchat:
Sending photos as snap from camera roll requires your Snapchat to have an access to your storage, i.e. the camera roll. As the first step you need to ensure that it does have an access allowing the app to upload photos from your camera roll.
To verify the same you must take following steps:
Go to the "settings" of your device
Find and select the "app management".
Under "app management" click on Snapchat App.
Now, select the Manage Notifications.
Here you will get the "storage option", enable it to allow Snapchat access to the device storage.
Having done that your Snapchat now has an access to your camera roll, and to send a picture as snap from your camera roll you need to perform following steps:
Steps to send a picture from storage as normal Snap:
Step 1: Select a photo from your camera roll
To begin with, you need to select a photo that you want to send as snap from your gallery.  To do so you are required to take a path as: Open Snapchat > camera icon > select a photo/video.
Launch Snapchat app on your device and then tap on the camera icon provided in the middle of the bottom navigation bar. Select the photo/video from your gallery and jump to next step.
Step 2: Tap on edit and save it
If you wish to make modifications to the selected picture, you can go on to edit it. To edit the photo, you just need to tap and hold it for 3 seconds. Follow that, a navigation menu will appear on the screen with options—Export Photo, Delete Photo, My Eyes Only, Edit Photo, and Send Photo.
Select the "Edit Photo" option to enter the editing screen. Get the desired editing done and finally tap on "Save image" to save the image on camera roll.
Step 3: Get the LMK app
LMK app is used to post photos and videos from your gallery on to the Snapchat. This app is available on both App Store as well as Google Play Store. Look for "LMK" app and get it downloaded and installed on your device.
Once you get the LMK app, launch it on your device and link it to Snapchat by tapping the "Sign in with Snapchat" button.
Step 4: Tap on "+" icon and select "post"
Once you connect LMK app with your Snapchat account, tap on the "+" icon > select the "Post" section.
Step 5: Select the camera icon and select photo/video
You will get to see a "camera" option provided at the lower-left corner of your screen. Tap on it to open your camera roll. Now go on to select the photo or video that you want send as Snap and proceed to next step.
Step 6: Tap on "Post to Snapchat"
Having selected the earlier saved photo or video, next step which you need to undertake is to post it to Snapchat. To do so, tap on "Post to Snapchat". Soon after you tap on "Post to Snapchat", it will open the Snapchat app and the selected saved photo will be seen in the background.
Step 7: Delete the sticker and attachment
Now you need to delete the auto-generated sticker and attachment. For deleting the sticker, drag and drop it on the trash bin and to remove the attachment tap on the "Paper clip" icon provided on the left of your screen. Take the path as; tap on "Paper clip" > "Remove Attachment".
Step 8: Send the snap!
At last, you have to select your friend(s) to whom you want to send the snap. For this you need to tap on the arrow icon. As soon as you tap on it your recents/friends list will appear on the screen. Just make the selection and continue. The photo/video sent hereby from the LMK app, will be a normal snap and marked as "Delivered" and "Received" in place of showing in chat.
That's all! You have successfully learned how to send a picture as Snap by uploading it from gallery using this feature.
Read Also:
Get Rid of Accidental Text: Here's How to Delete Messages on Snapchat
Fire it up with Snaps: Here's how to Start a Streak on Snapchat
Take Snapstreaks to the Next Level: Effectual Streaks Ideas for Snappers
What Does Added Me Back Mean on Snapchat?