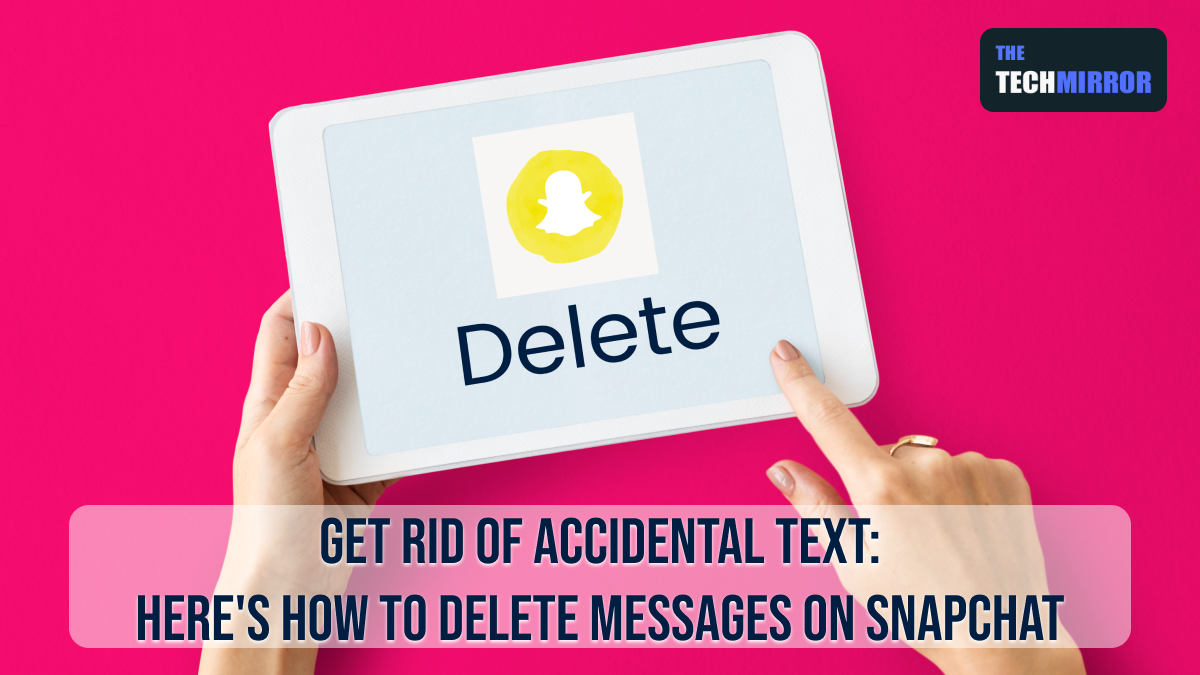 Back in 2018, Snapchat has introduced an all important feature which enables Snappers to delete messages on Snapchat that they have sent accidentally or even intentionally. If you are new to Snapchat and have no clear idea about how to use this feature, you are definitely on the right place.
This blog post will make you understand about how to delete messages on Snapchat. Hence by reading through the article, you will get your query answered.
So here's a step-by-step process to delete messages on Snapchat:
Step 1: Open your chat
To begin with the process, you are first required to open the Snapchat app on your device. Now you need to go to the chat box and open the specific chat with your friend that contains the message which you wish to delete.
It is obvious that if neither or you have not saved the message, it will be deleted by-default on expiry of 24 hours. However, on condition that if anyone from both of you have saved the message, then it will not get deleted automatically.
In case where you have saved the message, first you must unsave it by long pressing it and then tap on "unsave" button. This will unsave the message on your end and now to delete the message manually you must move to step 2 provided below.
Step 2: Long press the message and tap on "Delete"
Next step in the process is to long press the said message which you want to get rid of and then tapping on "Delete". Here's how to do it:
As you long press the message, you will be provided with following four options; 
Unsave- to unsave the message that you've saved earlier.
Copy- to copy the message on the clipboard.
Snap Reply- to reply with the message with a snap by quoting it.
Delete- to delete it from the chat.
Thus in case you have saved the message before, first tap on "Unsave in Chat" to unsave it. Now, if the message is not being saved by the other person it will get deleted automatically after 24 hours. Else you can go on to delete it right away by tapping on "Delete".
If you get to see a pop-up message (which might appear when you are using the "Delete" option for the first time), select learn more, and then tap on "Okay".
Tapping on "Okay" will redirect you to the delete option. Now, proceed to the next step.
Step 3: Tap on "Delete"
Finally to delete the message, you need to tap on "Delete".
Once you delete a message, Snapchat will go on to remove it from their database and as well as it gets deleted from the other person's device (the only exception here is that, either the other person has a poor connectivity to internet or using an older version of Snapchat).
While deleting a message you will receive the pop-up message which reads, "Friends can see that you've deleted something". Hence you must learn and keep it in mind that whenever a message is deleted, the other personwill come to know that you have deleted a message.
Note: You can only delete the messages sent by you, but not the one which the other person has sent you. However you can delete the received message after that person deletes it at their end.
Step 4: Check and verify your chat
To verify that whether you have successfully deleted a message or not you need to check your chat again. When you go to the chat after deleting a message, you will see an in-chat notification which says that you have deleted a chat. If you have deleted multiple messages, then the notification will show the total number of messages you deleted. For instance, if you deleted 5 messages at once, the notification will say "You deleted 5 chats". Likewise, the other person will also be notified about the same.
Can you delete messages saved by someone else?
Of course, you can definitely delete messages on Snapchat which are already saved by someone else. To do so you must take following path:
Go to the chat > long press your message > tap delete > tap delete.
Nevertheless, you can only delete the messages sent by you but not the one sent by the other person.
Does removing someone will delete saved messages on Snapchat?
No, it's not that way. Removing someone on Snapchat does not delete your saved messages. Whenever you remove a friend on Snapchat, they can see all the saved messages from the chat, as it does not remove them from your chat list nor does it remove you from theirs. Hence, that person will still be able to see the saved messages.
Does blocking someone will get rid of saved messages on Snapchat?
Again the answer is no. Blocking someone on Snapchat will not let you to get rid of saved messages. When you block someone on Snapchat, it will only restrict the person from sending snaps or messaging you. But, the person will still have access to the chat in their chat list which means they can view all the saved messages even after being blocked.
Conclusion
To sum up, here's how you can delete a message on Snapchat that you've sent to someone else:
Long press the message.
Tap on "Delete".
Tap on "Delete" again to delete the mess
Read Also:
Is it possible to have Multiple Snapchats?: Find out here…
Can You Unsend on Snapchat?: Here's How to Unsend a Snap