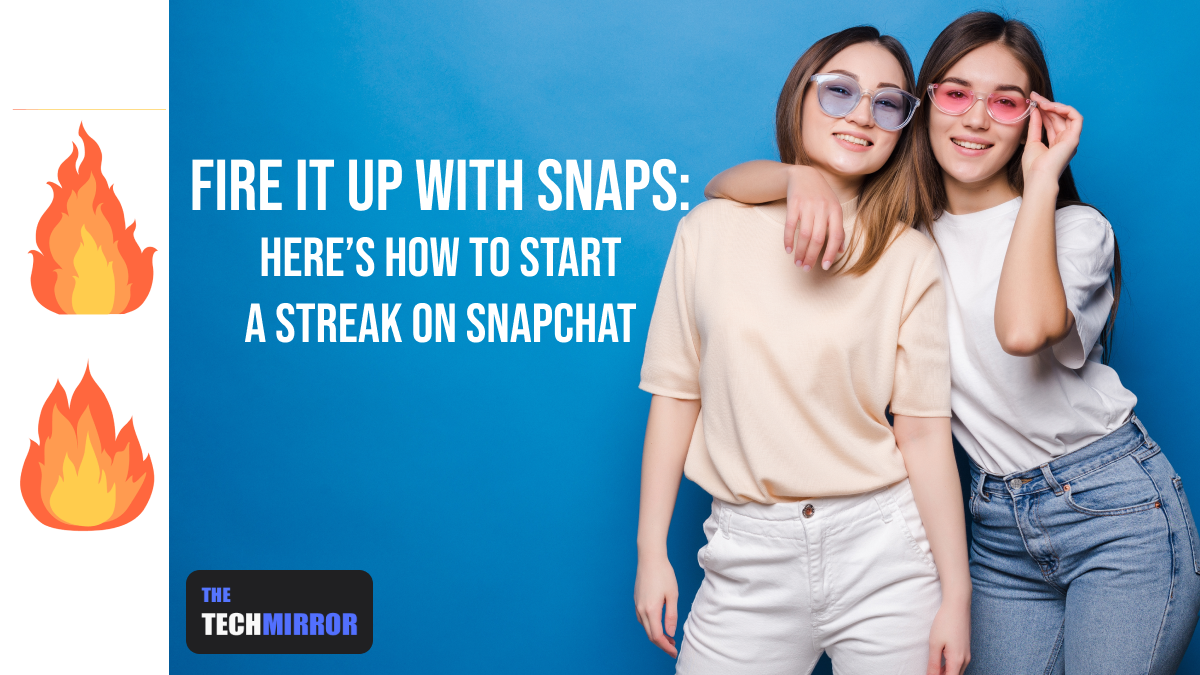 Dates back in 2011 when it was launched till today, Snapchat has always been a first choice of teens. Over the years, Snapchat development teams have updated the platform by incorporating a variety of features and have made quite positive and appealing changes to the application. Snapchat offers a wide range of filters, stickers and other cool features to enhance engagement of its users. One of such thing is Streak on Snapchat. You may have come across netizens arguing or fighting to their friends for losing a Streak. In addition to that you might have seen Snappers (Snapchat users) sharing 100 Streaks screenshot with their buddies, every now and then. This article will help you to understand more about Snapstreak and also address on how you can start a Streak on Snapchat.
What is a Snapchat Streak?
Snapchat streak also referred as Snapstreak indicates how passionate and dedicated you are while snapping on the app. It is something which gives a sense of pride to Snapchat users.
Streak (a fire emoji) appears next to your snap buddy's name in chat area when you have exchanged snaps with each other for 3 or more successive days. To give you more clarity about the duration a number will also appear beside the fire emoji indicating total number of days for which you two have been maintaining this streak.
Requisites for a Snapstreak:
Snapstreak is a commitment to share amusing snaps between two Snapchat users. It occurs when two Snappers shares direct snaps (be it photos or videos) to each other for minimum of three days in a row. After 3 or more days you will automatically start seeing a streak with count in front of your friend's name.
Moreover you must also keep in mind the subject matter which amount to Streak. You should know that chat (one-on-one and group), stories, memories, spectacles, do not count towards your Snapstreak.
The only way to build and maintain an extended Streak, is by sharing a photo or video to a friend separately.
Having understood the requirements let's now move on to know about how to start Snapstreak.
How to Start a Snapchat Streak?
To start a Snapstreak you must find a perfect partner. A basic rule is that you must start streak with a few identified friends, in place of sending spans to everyone on your contact list.
Here's a step to step guide on starting a snapchat streak with a friend or loved one.
#1 Ask to start a Streak: You can let it happen naturally or talk to your dear ones about starting a streak. We have made it the step #1 only because sometimes your friends or loved ones might think that you are sharing these snaps just because you want to keep them updated about your day. If they take it this way then they won't be sending you a snap back and you will never be able to start a Streak with them. Why? Because starting a Streak is a mutual process.
#2 Send them a Snap: So, you've discussed it with them? Or willing to make it happen naturally? Whatever your choice is, you now have to send them a snap first. Either you can send them a snap by opening their chat or just go to camera, click a picture and share it with them. Also remember Streaks aren't just about sending a photo you can also share videos with your friends or dear ones to start a streak.
#3 Wait for them to Snap Back: You have done your job by sending them a snap. Now all you have to do is sit back and wait for them to send you a photo or video. If you have talked to them about it, you can give them a call and ask them to snap you back. On the other hand, if you want to let it happen naturally, just relax and wait for it.
#4 Repeat the process daily: If you want a Streak, you have to make a habit of sending snaps to each other for at least 3 days. Just keep repeating the process and you will see a Snapchat Streak appear in front of your buddy's name. Now it depends on you and your friend that for how long you can keep the Streak going.
What happens if we don't send Snaps to each other for more than 24 hours?
Well, to keep the Streak, you have to exchange snaps with each other continuously and you have to send each other at least 1 snap within 24 hours. If you can't maintain this, you will lose your Streak and it is really hard to get your Snapstreak back.
Checkout this article on how to get your Snapchat Streak back.
Wanna get back a lost streak? Here's how to Restore Snapstreaks
Read Also:
Take Snapstreaks to the Next Level: Effectual Streaks Ideas for Snappers