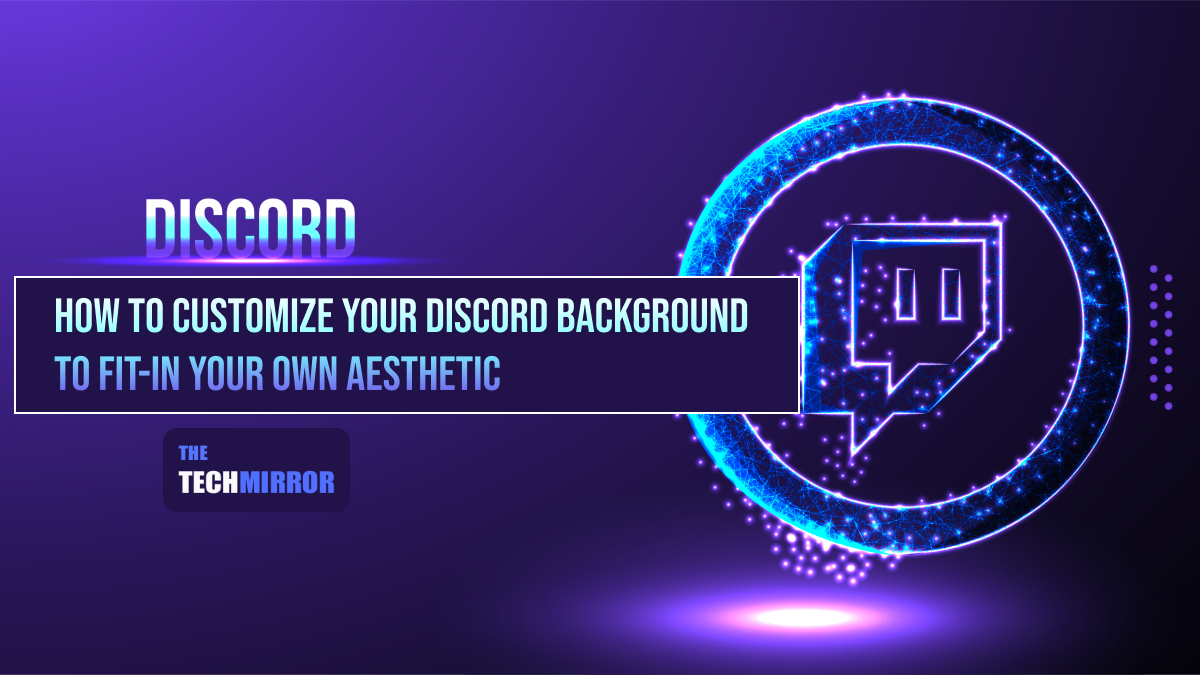 People love to have a trendy look for apps' background by customizing them to their own likings and preferences. If you are a Discord user wanting the app to fit your aesthetic here's how to change your background or theme on Discord.
Just similar to WhatsApp or Instagram, most of the social community appslet you to adjust your background. However, altering your Discord background is not that easy in comparison to changing background on any other app. This requires you to install a third-party app for doing so. But worry not as we are here to guide you through this blog post and make you understand how to change your Discord background.
Changing Discord Background:
At present, Discord does not have any such feature which enables you to change or customize your background or theme. Thus, if you wish to change the Discord background/theme, you must rely on a third-party app called, BetterDiscord. The app contains a ton of features at users offering which include custom CSS, custom themes, display modes, emotes and much more.
Although BetterDiscord is not officially attuned on Discord still it is widely used for various purposes. As no one has ever been banned on Discord from using it, BetterDiscord is pretty safe to use.
For customizing background/theme on Discord, all you need to do is having it installed on your device and follow the instructions mentioned in this article. So let's get started……..
Once you have BetterDiscord on your device, you must download a theme from BetterDiscordLibrary and then get the CSS document pasted in the Theme Folder.
Nevertheless, you can merely alter the appearance of the app to a dark or light theme. There exists not much of options to customize the look but only a few message display options to choose from – Cozy and Compact.
Astepwise procedure about how you can install the app and change Discord background/theme is given as under:
Step 1: Download BetterDiscord
The first and foremost requisite to change Discord background is to download BetterDiscord application(now known as BandagedBD) on your device. (It is to be noted that the process can only works on desktop PC and you won't be able to perform it using your mobile phone). Here's a process flow for downloading BetterDiscord:
To start with, go to the BetterDiscordApp Github page to download the installer.
You will be provided with multiple folders for download underneath the "Assets" section.

If you're working on Windows, click on the "BandagedBD_Windows.exe" folder and get it downloaded.

If you're working on Mac, click on the "BandagedBD_Mac.zip" folder in its place.

Once the download is complete, make a double click on the installer.
Now click on the "Install BandagedBD" icon.
Select "Install to Stable" and get the app installed in the C Drive of your device.
To finish, click on the "Install" to install BetterDiscord.
Note: BetterDiscord is not a separate application—it's only a client modification for Discord which allows you to affix plugins and themes to Discord.
Once you have BetterDiscord installed on your desktop, it will be automatically included with Discord. Now you are required to proceed on to step 2 mentioned underneath.
Step 2: Download a theme from BetterDiscordLibrary
For the purpose of changing your background/theme on Discord, you need to pick and choose a theme of your choice and get it downloaded using below listed task-list.
To initiate the process, go to the BetterDiscordLibrary website.
After landing on the theme page, you will find a list of every single user-created theme.
Opt for your preferred theme and get it download.
Thereafter, click on the "Download" button to get the CSS document of the selected theme.
Note: Ensure to retain information related to the folder where you have downloaded the theme as you will be using it in the next and the last step given below.
Step 3: Open Discord and copy the theme over to the Theme Folder
As a final step you need to replace the regular Discord theme with the one you have downloaded in step 2. You must proceed with the same as instructed under:
First of all, Launch Discord on your desktop PC.
Head to your Discord profile and go to the User Settings by clicking on the gear icon.
After landing on the User Settings page, scroll down through the left sidebar.
Locate a tab labeled as "Themes" under "Bandaged BD". Click it to go on the themes page.
Then to open the theme folder make a click on the "Open Theme Folder" button.
Thereafter launch the file explorer and go to the CSS Document of the theme downloaded in Step 2.
Now transfer the CSS Document to the Theme Folder by using copy and paste or move command.
You will get an option to apply the background. To finish, turn it on and enable the background on Discord.
Once you finished the above mentioned steps, the regular Discord background will get replaced with the one of your choice. Kudos, as you now have a new customized Discord background on your device!
Read Also:
Uninstall Better Discord from Discord: Easy Methods for Users