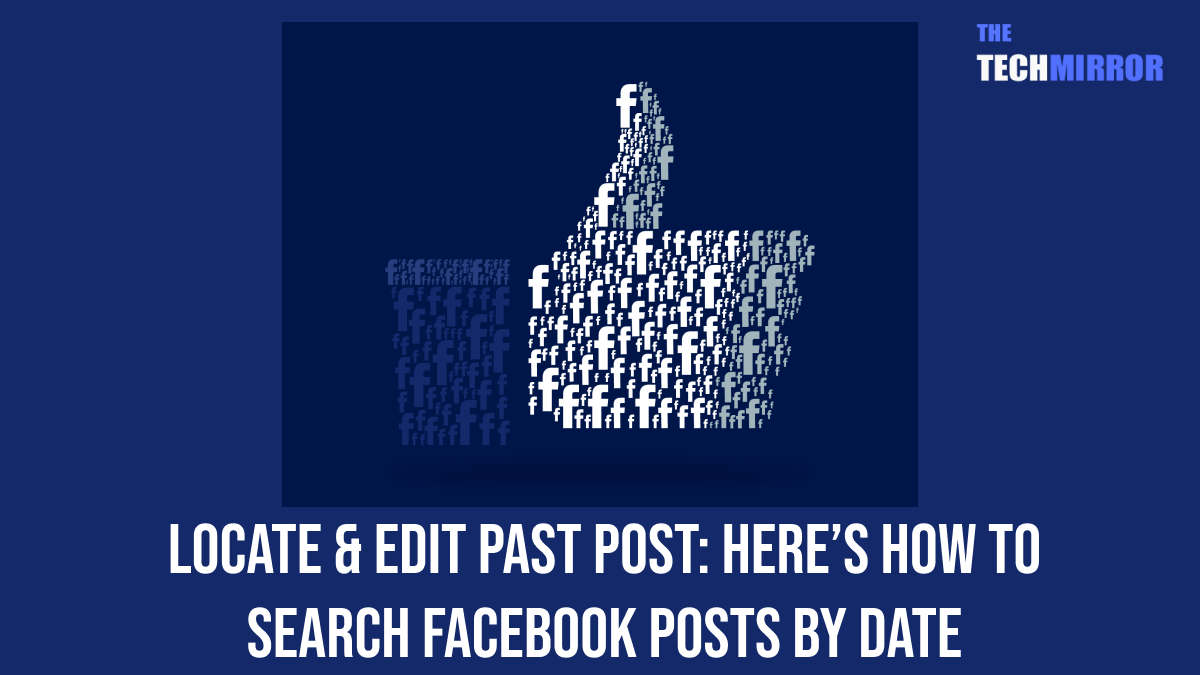 Facebook is one of the most admired and widely used social media website on the Internet. This networking and media sharing platform allows you to share whatever is on your mind through a Facebook post. These posts created by you time and again get listed in your Facebook timeline date-wise. If you are looking for a specific post on Facebook and finding it difficult to get there or just tired of scrolling down your timeline to locate posts made in a particular year or month, here is how to search Facebook posts by date in 2024.
Ever since its launch in 2004, the Mark Zuckerberg founded site has worked a great deal for fitting in changes which can give enriching experience to users. In recent times, Facebook has brought a set of alteration, to give a fresh and new looking interface. But regrettably, it has removed an important feature called sort by year that enabled the users to find the posts created in a specific calendar year. Still with availability of that feature it was never easy to find particular post and you have to keep scrolling through all the posts to reach the desired one.
How to Search specific Facebook Post by Date in 2024?
Although, Facebook has always been on the hunt to change the features to find information across the platform such as to search for posts from a particular friend, page or group etc., it don't have any simple and direct method to sort the posts by the date. Optimistically in the time to come you might get some feature which will allows you to straight away get into the old posts, till then you can try hands on following ways to search Facebook posts by date in 2024.
Search posts filtered upto a year via New Facebook Desktop or Facebook Normal App
Search for posts upto month and year via Facebook Desktop (Classic Look)
Search for posts by date (on a specific day or between 2 dates) via Facebook Lite App
The best you can do to find your old posts is to use the activity log feature. With that you can go to a specific date in the past to find a particular post. So let's get into details as to how accomplish this task.
But prior to that, you must get to know some key factors which can affect the search options available on Facebook.
Considerations while using above Searches:
It seems to be quite easy but it's not that simple as it sounds. You have to understand and take into consideration certain factors mentioned as under:
The ability to search for a Facebook post by date varies with the device (i.e.whether a Desktop or Mobile) you are using to access Facebook. And thereto in case of mobile, it depends on which Facebook app (i.e. Facebook Main App or Facebook Lite)is installed on your phone.
The Facebook Classic Interface on Desktop and Facebook Lite App on Mobile offer some extra advanced search options for the users.
While using Facebook Desktop, you must switch to Facebook Classic Look by using Down Icon provided on right side of the Home Page.
(Note: Lately, Facebook has disabled this option of switching to the Classic look for most of the users. However, you can always have an alternative; some users are using chrome browser extensions such as "Switch to Classic design on Facebook" for getting back to Facebook Classic interface.)
In comparison to the New Facebook Look, Facebook Classic interface provides you more precise options to filter your search.
Alternatively, on mobile, the Facebook Lite App can be more helpful than the main Facebook App allowing you to filter the post essentially up to a definite day or custom time period.
Step by Step Search Process to find Facebook Posts by Date:
Having the above information noted, let's get straight to steps to be followed to Search Facebook posts by date using the aforesaid ways:
Searching Facebook Posts by Date
Go to the Facebook Search Bar and type the Relevant Keywords and then hit Enter key to initiate the search.
The search results get displayed on the next screen; here you will find a lot of Tabs to narrow down the search results such as Posts, Photographs, People, Videos and so on.
Now make a click on the Posts tab and this will again provide you with a set of options to filter the search results a bit more. These filters include Post From, Post Type, Posted in Group, Tagged Location and Date Posted. (You must note that you will get to see these options horizontally in Facebook App on mobile, while on laptop they are usually displayed vertically.)
From among these filters, select Date Posted. This will filter the results for a particular year. To further narrow down the search you can filter it by the month, selecting the "Choose Date" option. In case you are using Facebook Lite App for this search, you can get to access additional options to go for a particular date or a customized time span between 2 specific dates.
Summing up:
That's all for you. With this we come to conclude the article saying that though there is no built in feature to search Facebook posts by date but still you can sort it out using search function as discussed above. You must also keep in mind the points to be taken into consideration while using the Facebook Desktop or Mobile Version including the app to be used for the search.
Hope you find this article helpful, do share it with others and let them search posts from the past.
FAQ
How do I find Facebook posts by date?
Are you willing to find Facebook posts by date and edit them? Here is an article dedicated to your query. Check this out and find the post you want to read or edit.
Read Also: