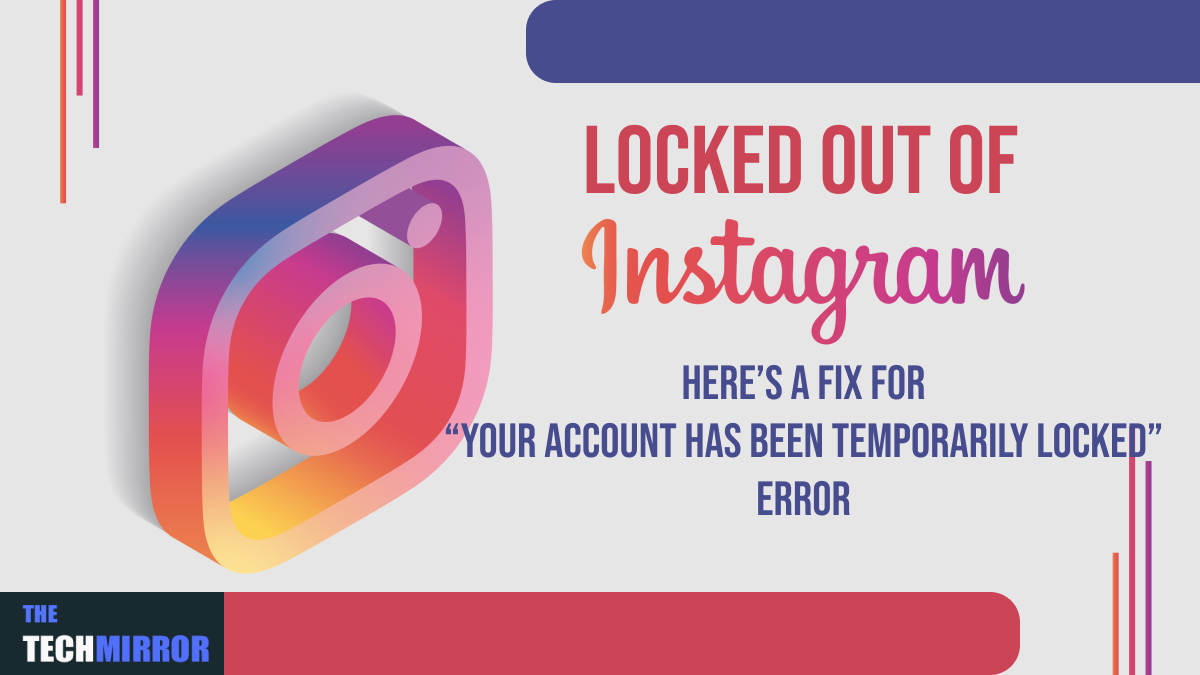 Has your account been compromised or you have been accidently locked out of Instagram? Worry not! Because, you are on the right place and this article is a must read for you. Here you will get to know both, the reasons of getting this error as well as remedy for "Your Account Has Been Temporarily Locked" issue on Instagram. So continue reading forth and understand everything you need to know about how you can unlock your profile if locked out of Instagram in 2023.
What is "Your Account Has Been Temporarily Locked" Error?:
You might have encountered an Instagram error "Your Account Has Been Temporarily Locked" further added with a warning alert that state "We've detected suspicious activity on your Instagram account and have temporarily locked it as a security precaution". This error indicates that your account may likely be phished and in order to secure your account, Instagram has locked it for a while. 
If you fail to log into your account and getting the "Your account has been temporarily locked" message, there's a way out to get rid of this situation and fix the error. Let's check them out.
But before going to the solution you must first be aware of what causes this error and the reasons why your account has been locked.
Why your Instagram account gets temporarily locked?
As a matter of fact, there could be a range of reasons for which Instagram can temporarily lock your account. Primarily it is done to guard account from fraudulent acts as well as to shield the platform. Other than that such suspension also aims to support a superior user experience.
Instagram will issue a temporary lock for your profile if they deem you have violated one or the other user policy or guidelines. To assist you, here's a list of certain account activity which are treated as suspicious by Instagram and might result in getting your account locked. The common activities which act as a ground for Instagram to place an account lock are:
Bot-like activity
Instagram keeps on monitoring the actions being performed too speedily every hour and for a time period of each 24-hour. If any of the underlying acts are performed at an unusually quick pace, Instagram will be treat it as "bot activity" and activate a temporary lock for your account:
Liking and/or unliking way too many pictures in just no time.
Making so many similar comments quite frequently.
Following and/or unfollowing far too many accounts in a short period of time.
Sending direct messages to many accounts at a time or commenting on posts.
By avoiding these activities you can somehow limit the probability of your account being temporarily locked.
Other than the Bot-Like Activity, your Instagram account can be temporarily locked either for the reason that you're using an unauthorized third-party app or you have fallen prey to phishing.
Use of third-party apps
As per the Terms of Use, Instagram prohibits the use of a number of third-party applications on the platform, and even for the recommended ones there is a prescribed approval process for to have access.
Using any of the third-party app that help you to automate actions such as follow or unfollow, like or comment are strictly forbidden. Instagram can straightforwardly spot such actions and might lock your account. Since Insta is not in favor of using Bots as they obstruct hassle-free user experience, any suspicious account will be locked without any warning.
To stop your Instagram account from getting locked, you must get rid of the installed third-party apps. To remove them from your Instagram take the path as: Go to security settings > then to "Apps and websites" > Active > "Remove" third-party apps.
Compromised account credentials
Yet another reason is that you've entered your Instagram credentials on some fraudulent website, and your account may be compromised.
As hackers can get access to your log-in details using a deceptive website, if you by mistake entered your Instagram credentials to a login screen designed similar to that of Instagram, unfortunately you may by the time have given away your credentials to them.
From the time when your account is compromised a red flag gets triggered with Instagram, and in response to that the platform usually places an account lock.
Having understood the reasons behind your account being locked, let's go on to find the fix for this error and learn about how to unlock it.
How to Fix "Your Account Has Been Temporarily Locked" on Instagram
When you get to see "Your Account Has Been Temporarily Locked" message appearing on the screen while you are trying to log in Instagram. To fix the problem and unlock your account, you will require submitting the "My Instagram account has been deactivated form".
Once it is done, you will then be asked for a proof of your identity. Post this you have to wait for a time frame of 1 to 3 business days in anticipation of required actions from team Instagram. A step by step process required to get your account unlock is given below for your perusal:
Open My Instagram account has been deactivated form. This can be done by clicking on the link "My Instagram account has been deactivated" or entering text string "My Instagram account has been deactivated" in Google Search Bar, and even by choosing the Facebook search results.
Once you landed on the form, make all the necessary entries including your full name, email address (one linked to your locked Instagram account), your Instagram username and registered phone number.
Then after explain that your account was locked mistakenly by and you have done nothing that go against or violate any of the policies or guidelines.
Once you have finished with filling up of the form, review it and then submit the form to Instagram.
In the end you will get an email from Instagram which contains code and this email asks for the validation of your identity. You are required to send a photo of yours holding up a piece of paper with the same code to be handwritten on it. (The photo should be natural – no photoshop editing with your face must be visible alongside the paper in hand. There is all possibility of your request be turned down if Instagram get any impression of photo being fake or edited)
Once you have replied to Instagram's email by sending them the required photo, you can expect the Instagram to respond in 1 to 3 business days (which is a usual waiting period for this process).
If your request to reactivate the locked account is accepted, you will then receive a follow-up email from Instagram stating that your account been unlocked. If you won't get any response even after a long time, try your luck again by replying to their email with a photo of yourself holding the code again. However, you must remember that if you keep on sending it time after time, your email may get marked as spam.
How long will temporarily locked out of Instagram last?
A temporarily locked on Instagram is not a permanent thing and your profile can still be recovered. However you must note that such lock on Instagram can lasts for an indefinite period unless you submit a request that your account was locked mistakenly.
Thus, the only way to reactivate your account is to successfully submitting the request to unlocked account as discussed above, or else, you it will remain to be locked infinitely if you are locked out of Instagram for any of the reasons mentioned in the article.
FAQs
Why am I locked out of my Instagram account?
You could get locked out of your Instagram account because your account breaches privacy policy of Meta's Instagram or maybe you're getting this error because of some technical glitch. Read this article if you want to fix this error.
Read Also:
Action Blocked on Instagram? Here's the reasons behind and solutions to fix it…
What Happens When You Unlike Instagram Photos: A Complete Guide
What Does WRD mean on Instagram?
How Do I Change My Instagram Account To Creator Account?
What Does HG Mean on Instagram?