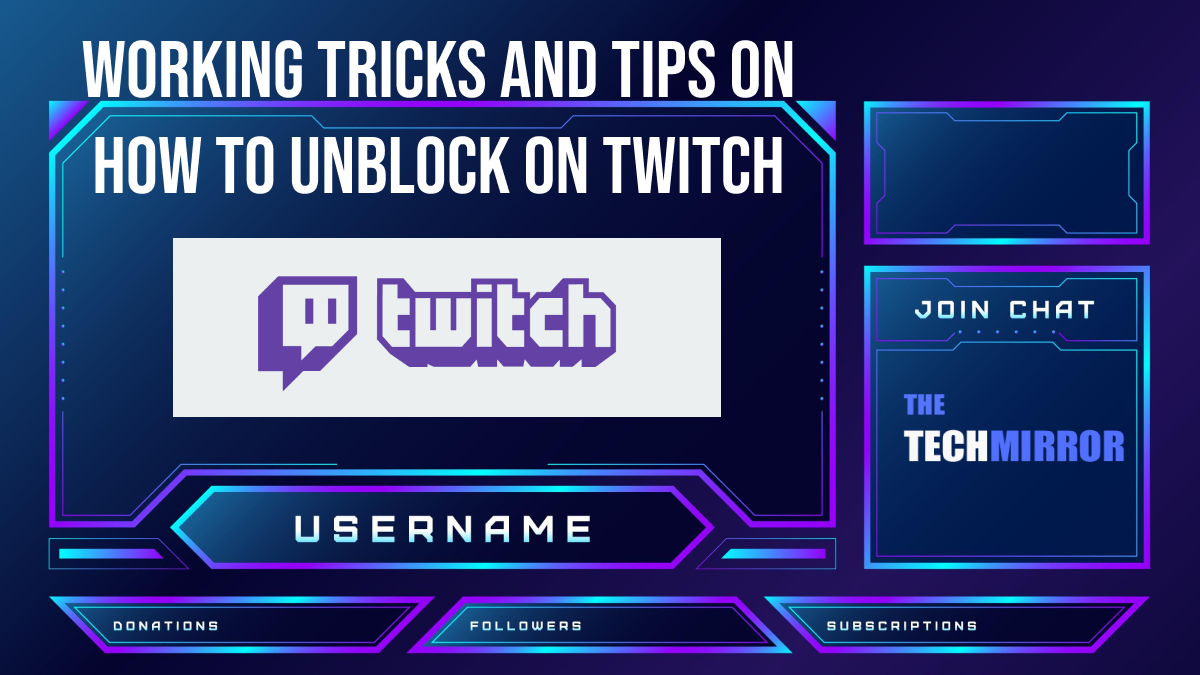 Twitch is literally a gamers' seventh heaven. With a community base of million registered broadcasters this social network is meant for live streaming of hacks and hints. In addition to streaming gaming tricks, users can stream on any other topic of interest including food, travel, literature and the list goes on. To be sensible you may find some users to be handy enough to follow, while a few others as annoying and hard to get through. To help you manage such difficult users Twitch allows its users to block or unblock other fellow users. If you are new to Twitch or have interest in knowing what is to be done to block/unblock people on Twitch probably you've landed on the right page.
Read through this blog article, and get to know the steps to block as well as how to unblock on Twitch in 2023.
Managing Difficult People on Twitch: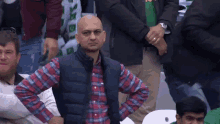 It is quite natural that in this virtual world you may find different set of people, some of them please you while others may be too difficult to get along. In order to manage such difficult people on Twitch you can simply avoid them by blocking their profile. Blocking someone is easy, just tap/click three vertical lines and select block.
Though at times you may misjudge a person and block them or on some instance mistakenly block a friend. If that happens there are sure ways to unblock people on Twitch. Just scroll down to get to know these methods of unblocking on Twitch.
How to Unblock Someone on Twitch App:
If you wish to unblock a user on Twitch it is not a difficult job, but the process is likely to vary depending on your device. The most common method to do so is from the Twitch App which is available on both the Google play store and iOSApp store.
Let's proceed further to know the method in detail.
Unblocking Twitch user on iOS:
Launch the Twitch App on your iOS device.
Tap on the Profile icon available on the upper left corner of the landing page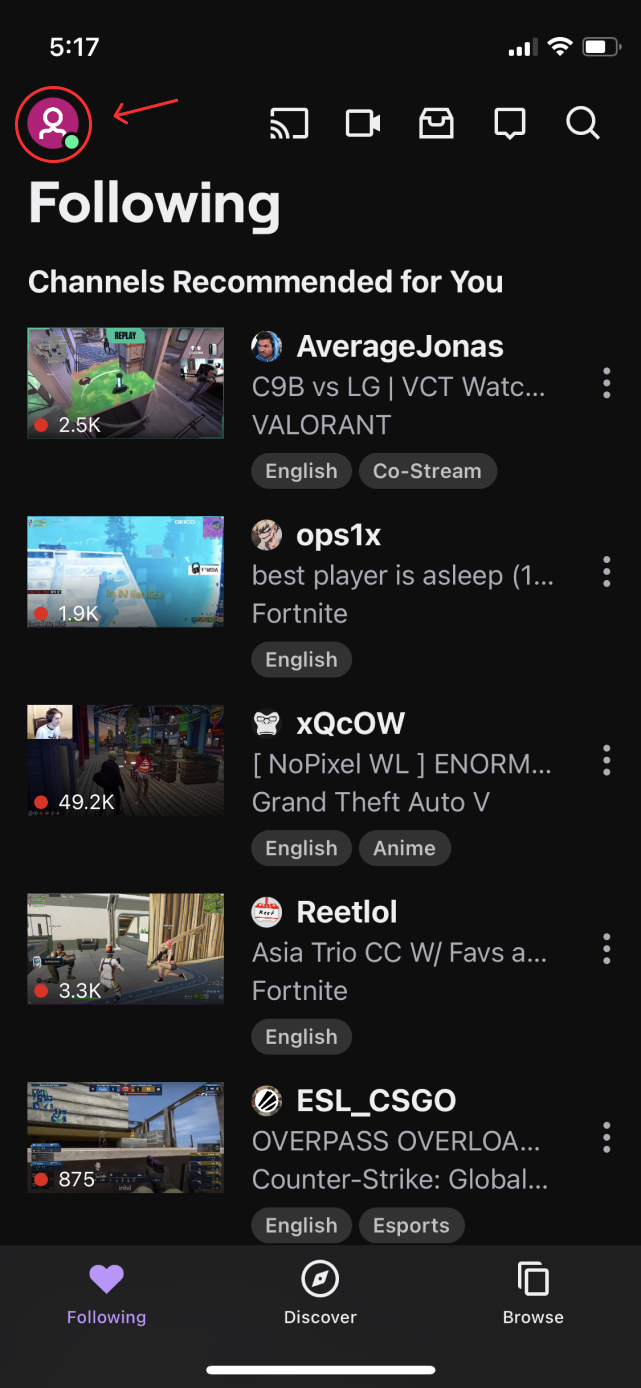 Head to Account Settings.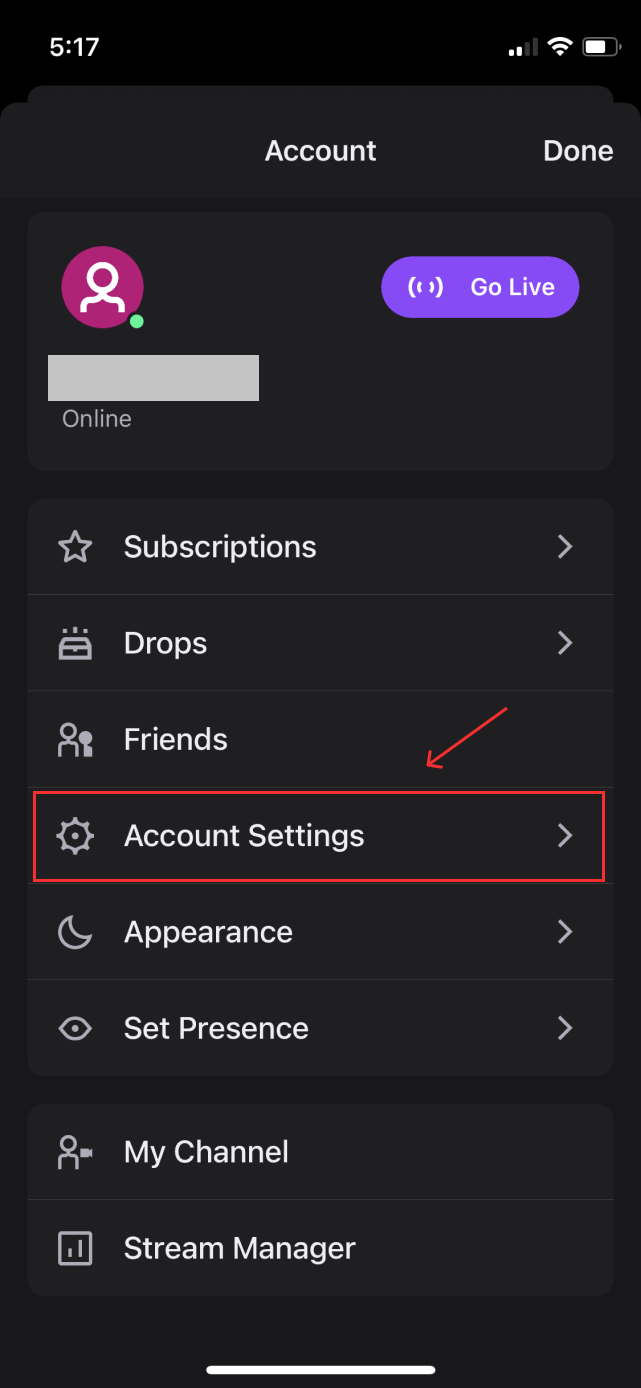 Then tap Security & Privacy option.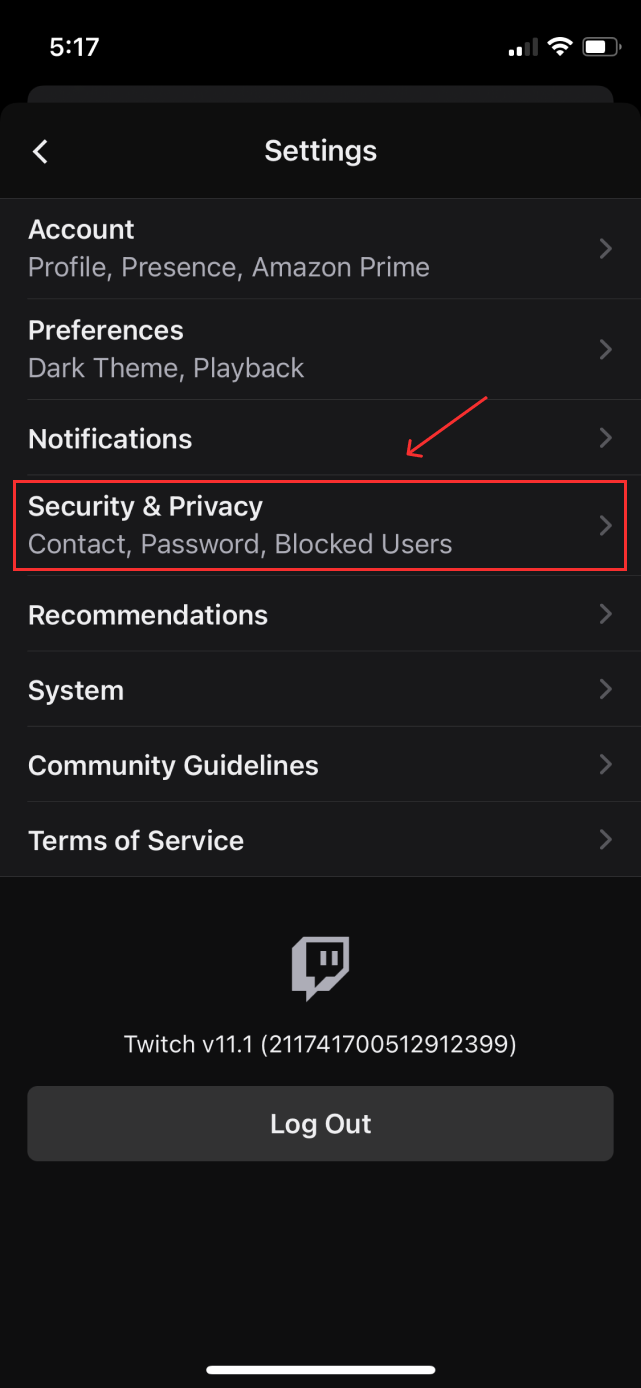 Under the Security & Privacy page, a section named Blocked Users appears to list out Blocked users with an Unblock button next to each of such user.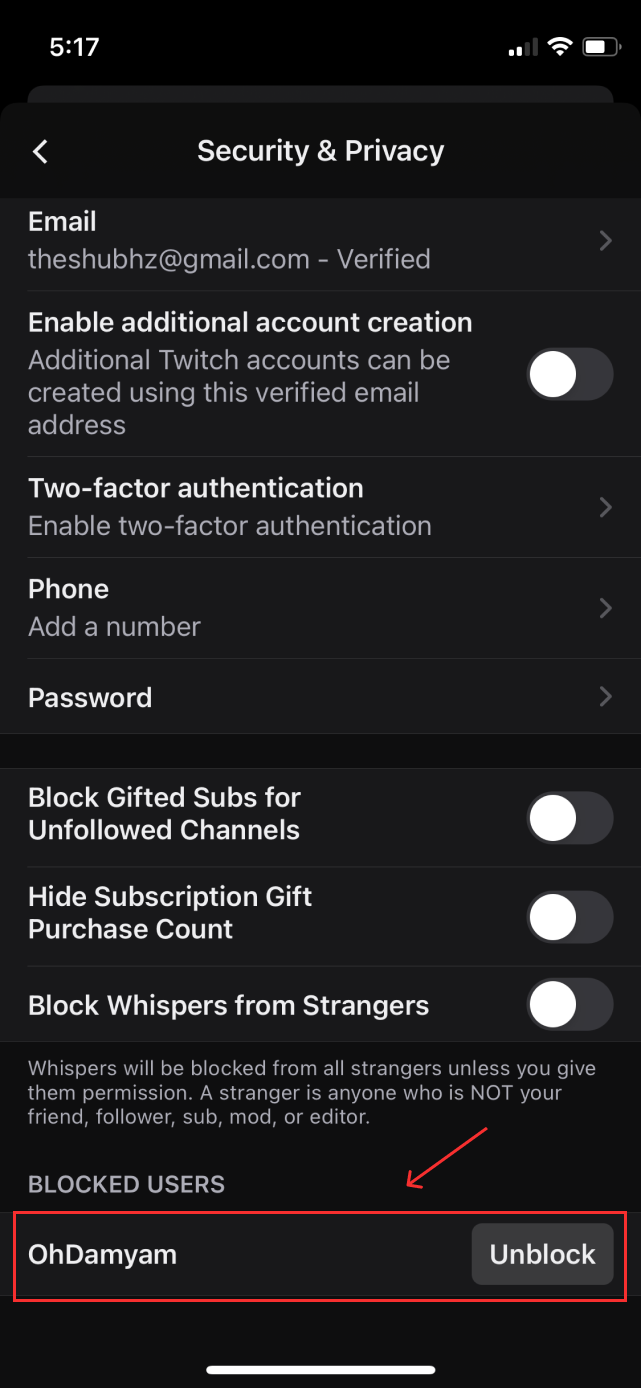 Tapping Unblock button relative to user you wish to Unblock will result in a pop-up message that reads, "Are you sure you want to unblock (username)?".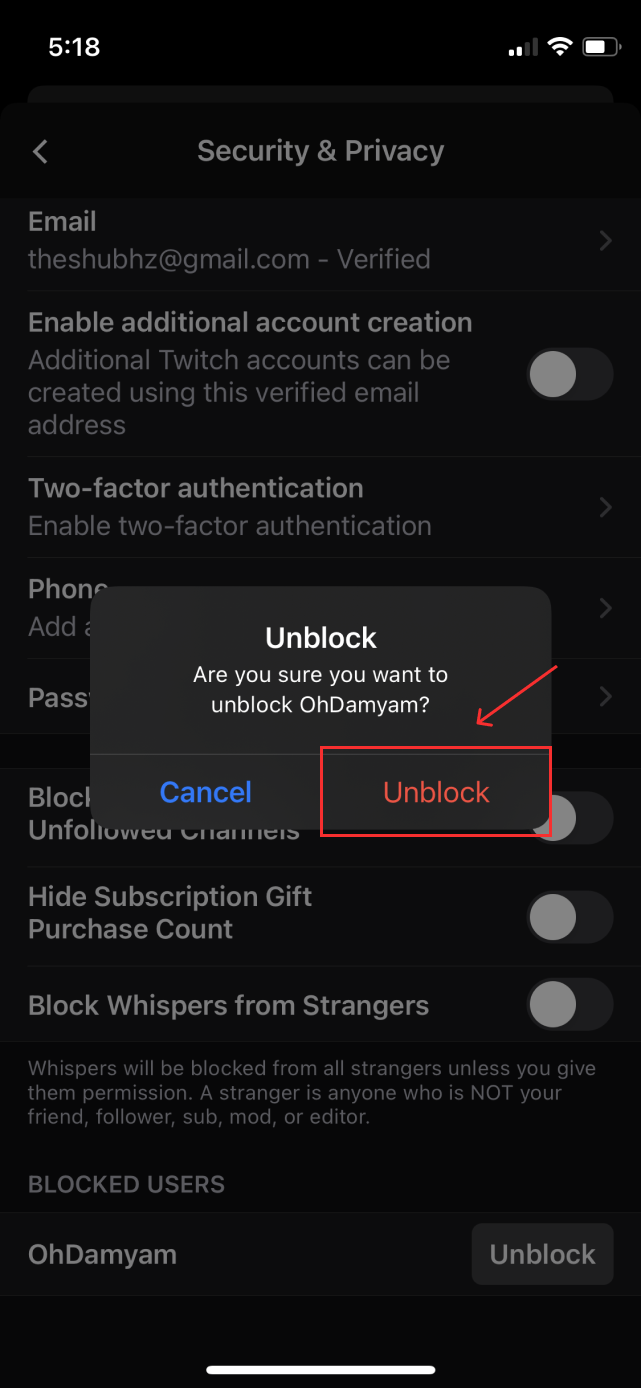 Click on Unblock, as soon as you do that you have successfully unblocked the user and will no longer appear in the blocked section.
It is to be noted that unlike an iOS device there is no direct option available on Android device for unblocking a user. However the next section of this article covers different ways to unblock people while using an android device.
Unblocking Twitch user on Android Device:
As said before there is no direct option available under the Settings & Privacy section of the Android App hence you can log in to Twitch TV on the web browser to execute the task of unblock.
One can perform under-mentioned steps to unblock someone on Twitch TV or Twitch Website:
Log in to Twitch TV on web.
Click on the Profile icon appearing at the top right corner.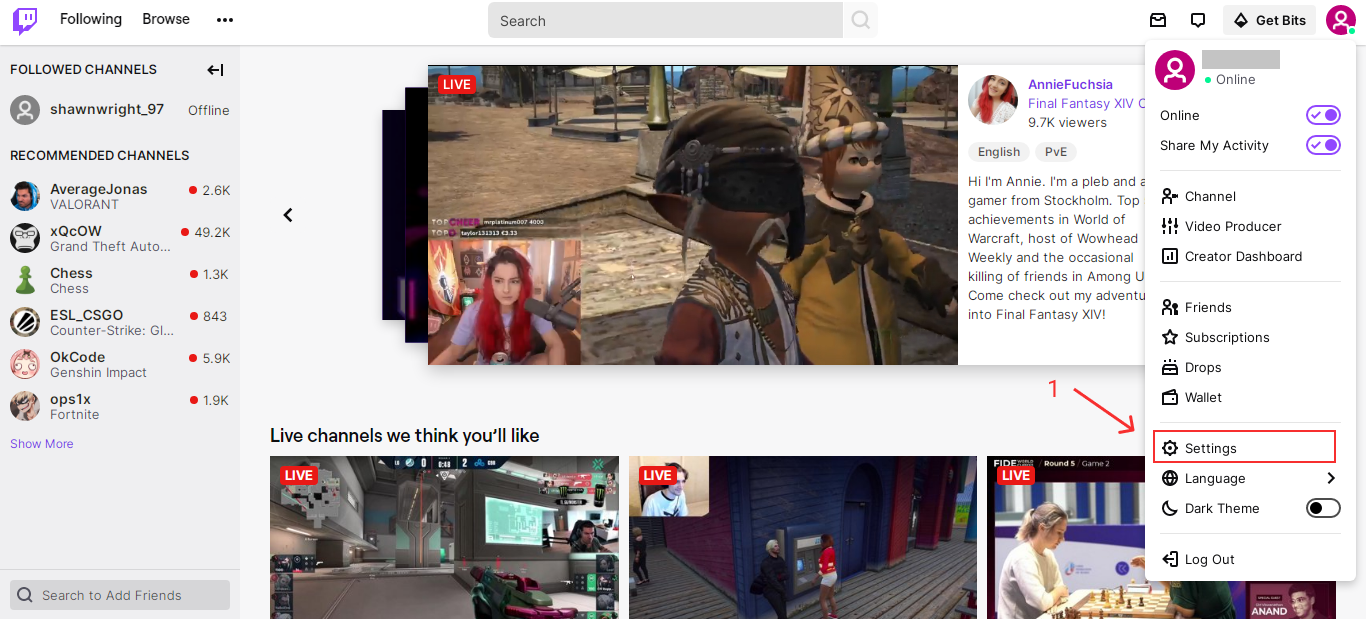 Go to Settings from the dropdown column.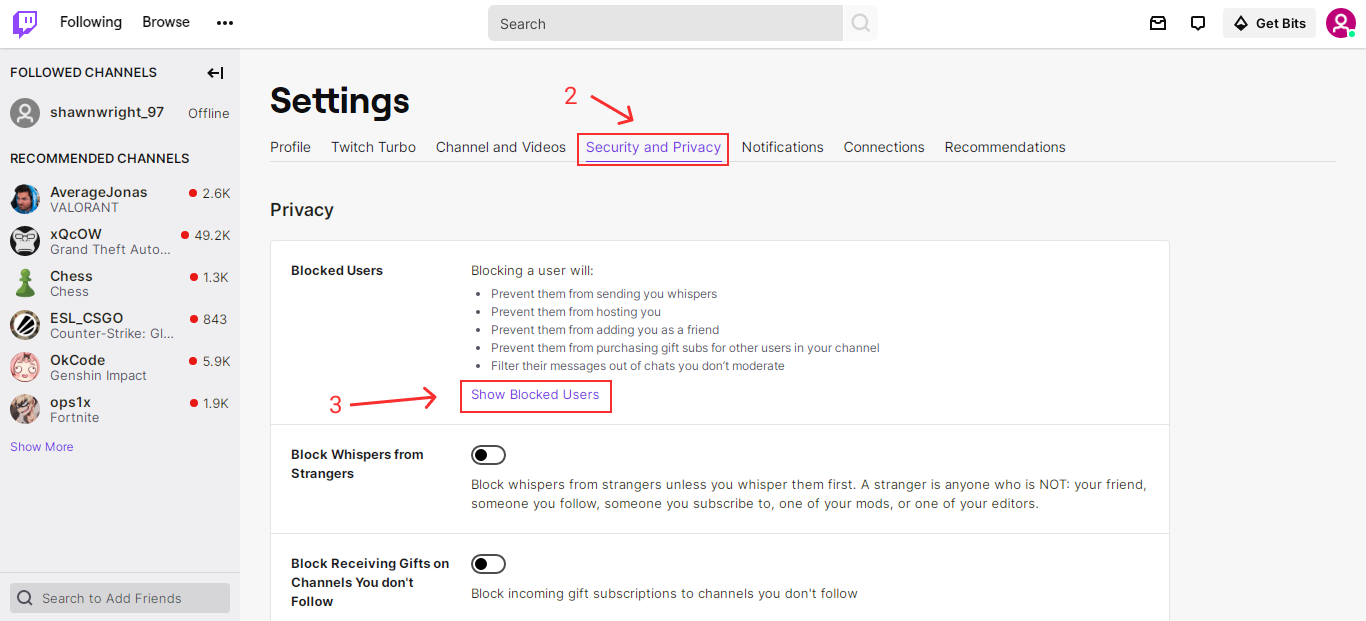 Now click the Security and Privacy option.
Here you will see a Privacy section containing an option of Blocked Users. Click Show Blocked Users.
A list of all blocked users will now appear on your screen with a Delete icon next to each username.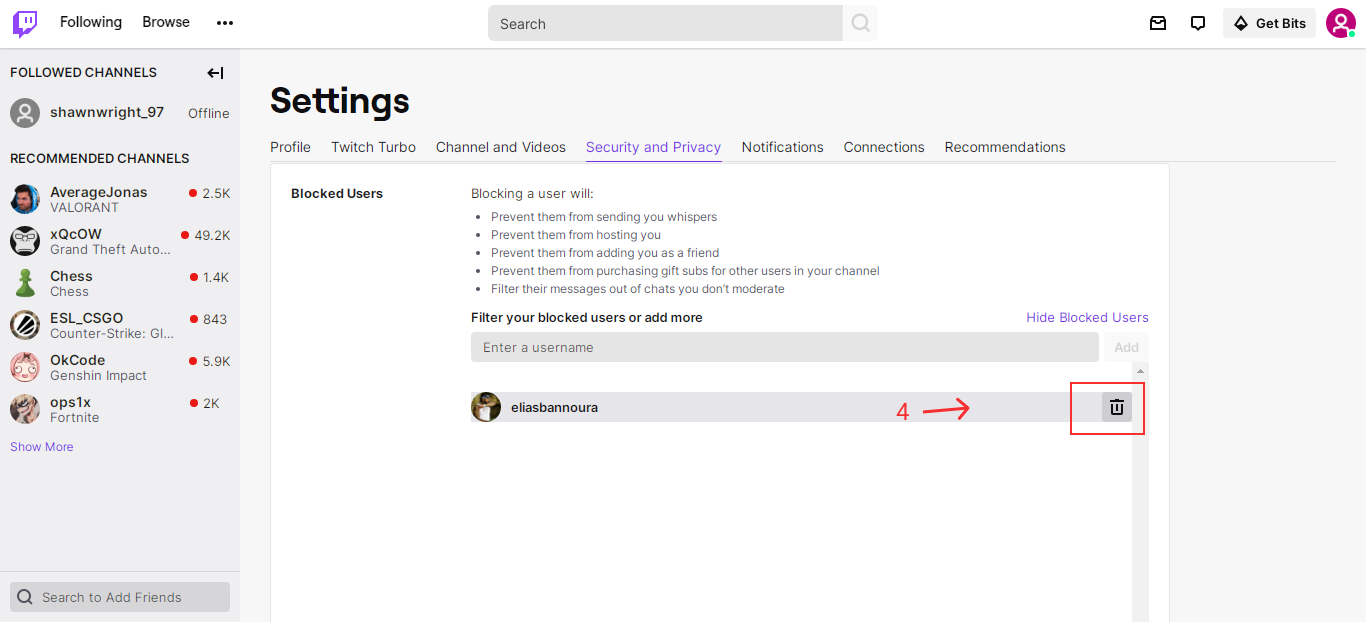 As you tick on the Delete icon the username will fade away from the list, since you have now unblocked the user.
Note: Unblocking users from Twitch TV will also unblock them from the App as Twitch TV and Twitch mobile apps are in sync.
If case of Android devices, you also have an option of blocking and unblocking users right away from within the chatbox. To do so you need to perform following steps:
Log in to your Twitch account on Android device.
Go to the stream chat.
Find the person's name.
And now click on Unblock option.
Besides the above methods a speedy way to unblock someone on Twitch using an Android device is via a third party website t.3v.fi. Below mentioned steps will help you to unblock Twitch user in just a few clicks.
Go to the website t.3v.fi.
Click on the option Sign In With Twitch.
It will now ask for your Twitch account credentials, enter respective fields and click on login.
After you logged in, a list of all the blocked users will appear on screen. To unblock any user from this list, you are simply required to click on the "X" mark next to the respective user.
Note: If you don't quite rely on the third party tools just stick to the option to unblock a user via the Twitch Website.
Read Also: