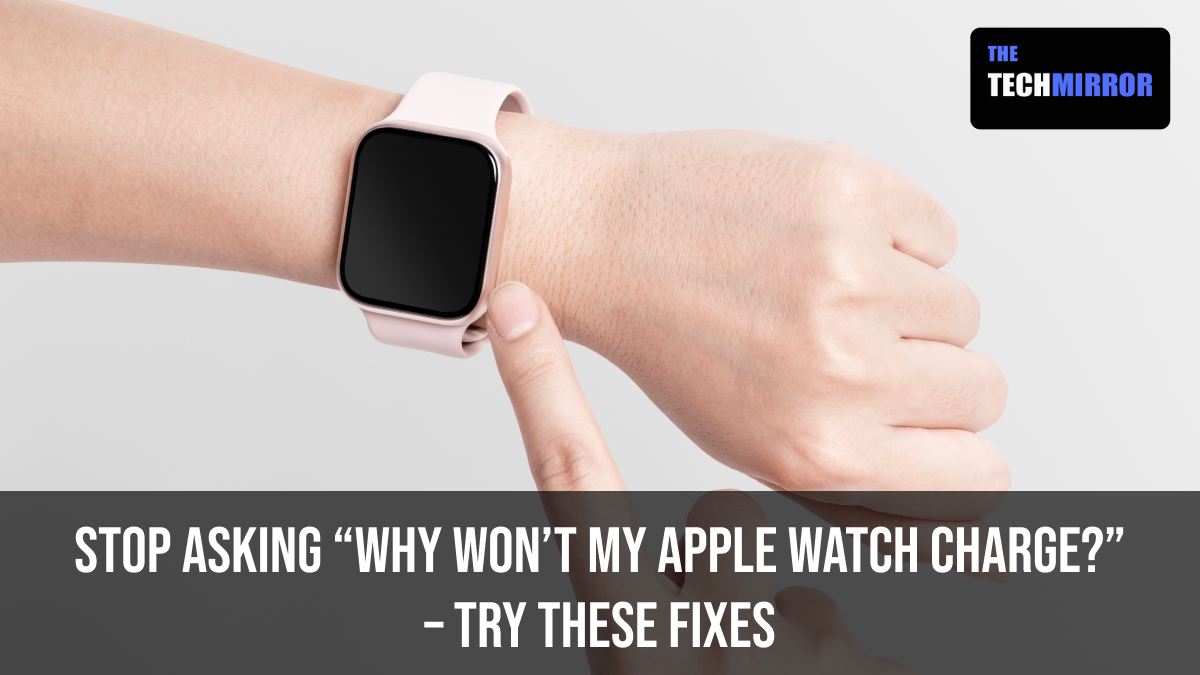 If you are worried about the charging issue on Apple Watch and seeking an answer to "why won't my Apple watch charge?" you have just landed on the right place. This blog article will address the problem in detail and let you know what corrective measures are to be taken if your Apple Watch won't charge. So let's find out the reasons and fixes subject to the Apple Watch not charging issue in 2023.
About charging of Apple Watch
As per the normal terms of usage Apple Watch can hold a charge to keep it going for around 18 hours, whereas when it comes to charging it can recharge to full capacity in just a couple of hours.
But, at times you may come across situation when your Apple Watch not charging. Having that said, if you have any doubt whatsoever as "why won't my Apple watch charge?" note that there could be any possibility that your Watch has encountered a minor problems or some really serious issue. The reason may vary in nature and degree.  
So, if you think that of your Apple Watch won't charge or it won't turn on, you can refer to this troubleshoot guide and follow the steps and instructions mentioned herein to help you fix charging issues with your Apple Watch. 
How to know if Apple Watch is charging?
The simplest way to know about it is to check and see your Apple Watch when plug in for charging. As soon as you connect charging cable to your Apple Watch and turn on the power, you must see a green lightning bolt on the screen, which confirms that it is charging. However, if you don't get to see green lightning bolt this implies that your watch did not start charging.
Whenever your watch is low on battery and needs charging, a red lightning bolt appears flashing on the screen. In such situation you are required to put it on charge.
But, sometime when you plug in your watch it won't get charge. So, if you want to know why it happens, read the section below to have a proper understanding.
Why won't your Apple Watch charge?
When your Apple Watch won't charge or else if you get to see a message saying "charging with this accessory isn't supported" on your watch; it may be probably due to a software glitch or some hardware problem. It may also likely that the actual problem might lie elsewhere. Let's go through the predominant reasons and solutions as to why won't your Apple Watch charge.
At the outset, your Apple Watch won't charge may be because of a hitch restricting the charger to connect with your watch. So ensure that you plug the Apple Magnetic Charging Cable or USB-C Magnetic Fast Charging Cable properly into the USB Power Adapter, and then plug the adapter into a power socket. Also make sure to completely remove any plastic wrap at either ends of the charger.
For the reason that Apple Watch charges magnetically, every now and then a little twist may let is to lose connection. So just try reseating your Watch on the charger by moving it around a bit will fix the problem.
If you are using a damaged cord or charging cable, it won't let your watch to charge in the approved manner. If that is the case, the best thing you can do is to replace the damaged cable with a new one. You must buy original Apple equipment for best result and optimum performance.
The problem may arise as well if you use a third-party charging stand; to avoid inconvenience, you must use the Apple Magnetic Charging Cable or USB-C Magnetic Fast Charging Cable that is shipped in the box with your Apple Watch.
Another reason could be a bad power outlet or non-functional socket, to fix this issue you can try to plug in the charging cable to a different power source and check if it could solve the problem.
Any dirt and debris might result in preventing your Watch to connect with the charger and hence it won't charge. Make sure that the back of your Apple Watch and the magnetic charger are clean. If they aren't, use a dry soft cloth or slightly damp washcloth to clean your Watch and charger.
On the other hand, it is quite possible that there is a software issue. So in case, your Watch has some power left, try to restart your Apple Watch and then try charging again. To do so, just press and hold both the side button and Digital Crown for around 10 seconds or until the Apple logo appear on screen. Once restarted, it will clear out minor software glitches and start charging as normal.
The above points may help you to get rid of the charging issue. Once you verify the above reasons and performed the actions as prescribed thereto, put your Apple Watch back on charge and then wait it out see if it begins charging.
Note: If your Watch is completely out of power, it might take a few minutes for the green lightning bolt to show up after you start charging it.
Even after following the aforesaid steps, if your Apple Watch is still unresponsive and won't start charging, last of all you need to approach Apple Store for a replacement (if it's under warranty period) or seek some professional help in getting it repaired.
So when the next time you are struck with the charging issues on your Apple Watch don't ask "Why Won't My Apple Watch Charge?", instead try using the fixes mentioned here in this article.
Read Also:
How To Check AppleCare: A Handy Guide
Know if Apple Pencil is Charging: Here's an Easy Guide
Apple Watch keeps Pausing During Workout
How to Eject Water from Apple Watch using Water Lock in 2023