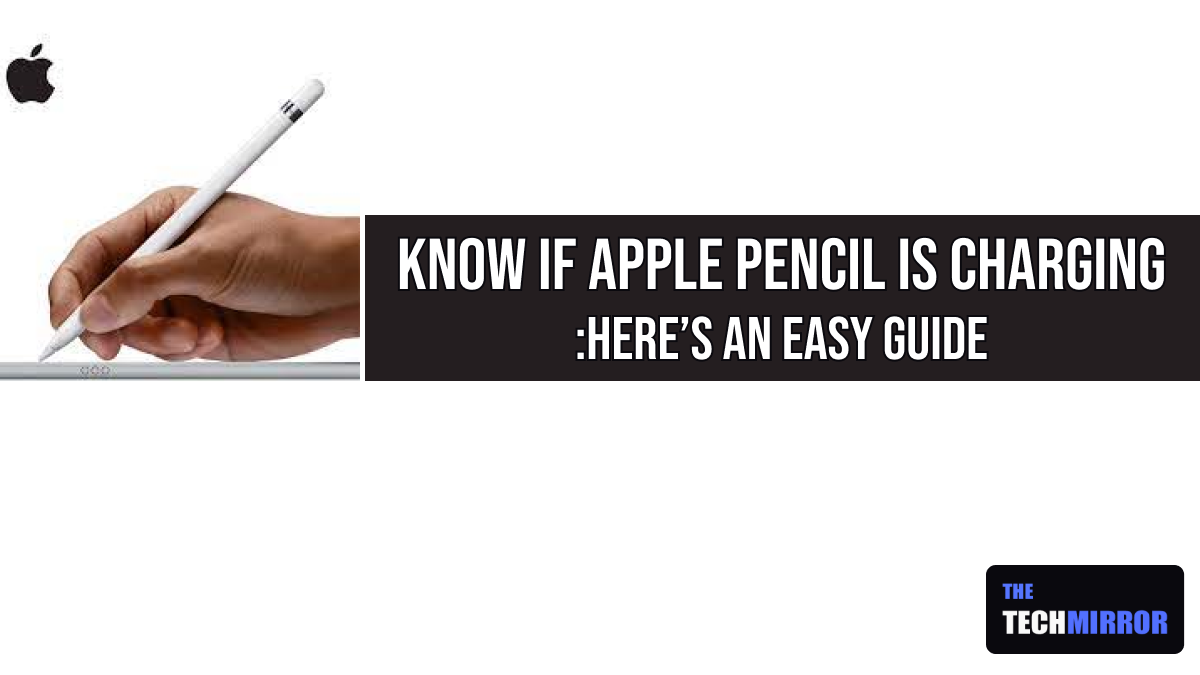 With its "Magically pair. Wirelessly charge." feature, Apple Pencil gets attached magnetically to the side of the iPad Pro or iPad Air. It then automatically pairs with these devices and the charging process is on. Though Apple pencil is an amazing tool, but it won't be of help if it isn't charged enough. So if you don't know much about the process, here's a guide for you to know if Apple pencil is charging.
About Apple Pencil:
Designed for iPad Pro, iPad Air and iPad mini, Apple Pencil is undoubtedly is a great tool for drawing, sketching, colouring, taking notes, marking up PDFs and much more. It allows you to shape a wide range of creative and opens up new horizons for designing possibilities. Quite similar to a traditional pencil, it is handy tool to craft fine shading and turn out a wide range of arty effects with pixel-perfect precision.
Apple pencil comes with a flat edge which attaches magnetically for automatic charging and pairing. Let's go on to find out how to know if it is charging or not.
How to tell your Apple Pencil is charging
If you want to tell if an Apple pencil is charging or not, you need to take the following points into consideration:
Initially you have to check for the generation of Apple pencil you have. Since charging of the Apple Pencil (2nd generation) differs from that of Apple Pencil (1st generation). 
Secondly, after confirming whether it is a 1st or 2nd generation Apple pencil, you must make sure that it is compatible with your iPad model.
Lastly, you need to follow the steps given below to connect the Apple pencil to your iPad and know if Apple pencil is charging.
For Apple Pencil 1st Generation
Pluging: You can plug your Apple pencil directly to the lightning connector on an iPad model that supports 1st generation to get it charged. To do so all you need is to remove the cap and plug Apple Pencil into the Lightning connector on the iPad and then tap on the Pair button.
There is a silver band around the Apple pencil at the top of it. You must note that the cap is above this silver band. Once you remove the cap top you will get to see the lightning adaptor. Now you can either plug it into your iPad or into a converter to connect it with a Apple USB Power Adapter or the Apple Pencil Charging Adapter which came with your pencil at the time of purchase.
Note:Once you have paired an Apple Pencil to your iPad, it stays paired until you restart it, turn on Airplane Mode, or pair with another device. So you need to pair your pencil again if any of these cases apply.
Charging: To know if Apple pencil is charging, you need to look on the top of the iPad's screen. You will get to see the charge percentage of your Apple Pencil. It will be displayed with the battery icon and a lighting bolt in the center, which indicates that the Apple pencil is charging.
For Apple Pencil 2nd Generation
In case of a 2nd generation Apple pencil, you need not have to connect it with a lightning adapter. As an alternative, it will charge as soon as you attach the Apple Pencil to the magnetic connector along the side of your iPad.
You will only be able to use this Apple pencil with the two models of iPad listed above, so be sure that it is compatible before you try to connect it.
After placing the Apple pencil along the side of the iPad, to check the battery level you must look at the Today view on your iPad. To pull this view up, all you need to do is to swipe left to right from the home screen or the lock screen. Once you get to Today view, you will find a section called Batteries, and in case your Apple pencil is charging, it will be displayed on the list.
You will see an icon of the pencil with the words Apple Pencil, alongside the percentage of the battery and the lightning bolt if the Apple pencil is charging.
Note: If you are not getting the charge status appearing on the top of the iPad screen, you must ensure that Bluetooth is enabled / turned on.
Keeping track of Apple pencil Charge Status
While using the Apple pencil if you want to know how much charge it has left, you can verify it from the Today View on your iPad or check the Batteries widget. Here's how to add a Batteries widget to your Home Screen to stay up to date on your Apple pencil charge status.
How to add the Battery Widget
You can add a Batteries widget to the Home Screen of your iPad and its accessories to include AirPods, Apple Pencil, and other. You need to undertake the following steps for it:
Touch and hold the Home Screen background till it start to shake.
Tap on the "+" icon provided at the top of the screen.
Now tap on Batteries.
Swipe left and right across the Battery Status widgets to find your preferred size option.
Once you get the perfect size, tap on "Add Widget", followed by "Done" button.
Read Also:
Meaning of Background App Refresh and How it functions on iPhone, iPad & iPod…
iMessages Won't Deliver: Is Someone blocked you on iMessage?