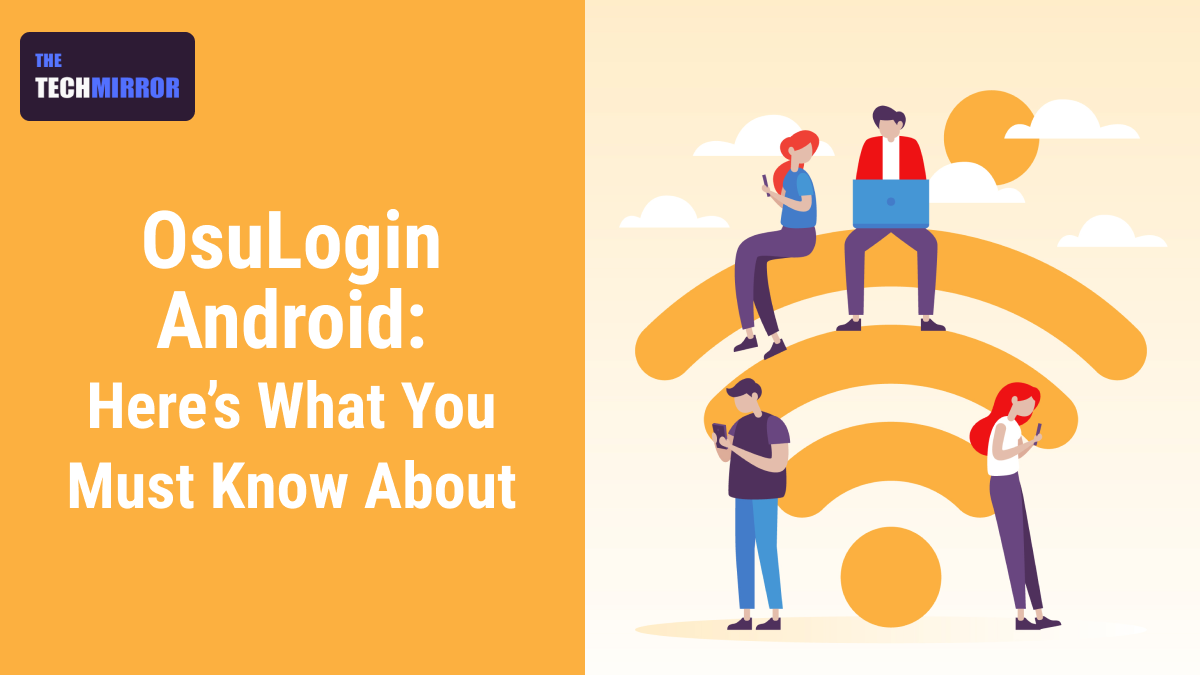 If you are seeking information on OsuLogin Android and are in search of some helpful literature to have a better understanding about OsuLogin you have just reached to a perfect place.
We have compiled this blog article to explain you about the main function of this android app, its working and other frequently asked questions related to OsuLogin on Android. Just read through the piece of writing to find answers to all of your queries. So, here you go….
What is OsuLogin for Android?
To start with you must learn about what it is. Well, as a mobile phone user you might know about the hotspot connection feature on Android. Hotspot is the connection of one device with another one via WiFi LAN, Bluetooth, or a USB cable. Fundamentally the OsuLogin is a component interface meant for the mobile hotspot on Android devices.
The package name of the OsuLogin app is com.android.hotspot2.osu and is present in most Android devices like Samsung, Xiaomi, OnePlus, etc. 
For what OsuLogin is used?
This built-in application, the OsuLogin, is the one responsible for taking care of the mobile tethering of your device.
Whenever you select a Wi-Fi Hotspot network to connect, your device automatically gets connected to an encrypted Online Sign Up (OSU) server over Wi-Fi network. This OSU signup interface is provided by the OsuLogin app.
How it works?
OsuLogin or Online Sign Up Login is an Android system application which let you to connect your android device to nearby Wi-Fi Hotspot 2.0 networks automatically. This is made possible by provisioning the device Over-The-Air (OTA) directly from the Wi-Fi network and then creating a Hotspot 2.0 profile for that particular device.
Once your device is provisioned, the credentials of device are used for authenticating your device by generating a trusted Certificate Authority. When you connects to the same Wi-Fi Hotspot 2.0 network next time, the OSU server confirms whether the device has a valid CA certificate or not. If it is there then the device is permitted to access the network with no further Online Sign Up process.
Permission for OsuLogin Android
Basically, it requires no specific permission for OsuLogin.
Even if you want to look for the permissions for this application, you can check the internal settings section of your android device. You can see it quite similar to that of any other app and also keep a track of the same in the system apps. Here's how you can verify it:
Go to Settings > Apps > Show system apps > OsuLogin > Permissions which reads "No Permissions Required."
OsuLogin Android: Is it a Malware or Virus?
There are lots of users who do not have proper information about this system application and may find it weird. Some perceives OsuLogin to be a Virus and think that it may lead to malicious activities on their device. However, the reality is that, it is a system app which plays an important role in establishing hotspot connection with other nearby devices without using internet. Thus, it is not a virus or malware.
Fixing issues/problems related to OsuLogin
As stated earlier, OsuLogin is a built-in program and there are noticeable benefits of having it on your device. Nevertheless, if you are facing any issues with the working of this application then you can try to fix such problems by clearing the app cache, disabling/force stopping the application or performing factory reset of your phone.
In order to clear the OsuLogin app cache you are required to take the route as follows:
Head to Settings > Apps > Show system apps > OsuLogin > Storage > Clear Cache.
In order to disable the OsuLogin app you are required to take the route as follows:
Head to Settings > Apps > Show system apps > OsuLogin > Disable.
In order to Force Stop the OsuLogin app you are required to take the route as follows:
Head to Settings > Apps > Show system apps > OsuLogin > Force Stop.
In order to perform Factory Data Reset you are required to take the route as follows:
Head to Settings > General Management > Reset > Factory data reset.
How to Uninstall OsuLogin Android?
If above methods does not help you to resolve the said issues, you can uninstall the app. But, it is not possible to directly uninstall this app; you can use a third-party Android app like System App Remover or Root Explorer (root required) or Android debug bridge (ADB) to uninstall it.
Uninstall OsuLogin via System App Remover
Initially, download and install the system app remover application on your device.
After that, open the app and search for OsuLogin
Now check the box provided next to it.
Lastly, tap on the Uninstall button to remove OsuLogin app and entirely delete its data as well.
Uninstall OsuLogin using Root Explorer
To begin with, download and Install the Root Explorer Android application.
Launch the app and browse to /system/app/OsuLogin/OsuLogin.apk.
Delete the OsuLogin APK file.
Lastly, reboot your device.
Uninstall OsuLogin using ADB
Go to Settings > System > About phone.
Tap the build number 7 times to activate Developer Options.
Open Developer Options from the Settings and enable the USB debugging.
Next Download ADB on your PC. After it is downloaded, extract the ZIP file into a folder.
Open the extracted folder, press and hold the shift button and then right-click in a blank area.
Click on "Open Powershell window here."
Then enter adb devices command.
Try to connect your Android mobile to the PC via a data cable.
Finally, run the command adb shell pm uninstall –user 0 com.android.hotspot2.osu to remove the app.
Summing Up
That's it. You have just successfully learned about OsuLogin Android. Hope you have found answers to your queries and understood everything about this system application. Thank you for reading and do share the blog with your friends and let them also be benefited by reading this and other similar tech articles.
Read Also:
qualcomm atfwd : A quick referral guide
LIA Informant – What Is It And How It Works? Learn Here…
Make a Mark of Their Presence: Here's How to Tag Someone on Instagram