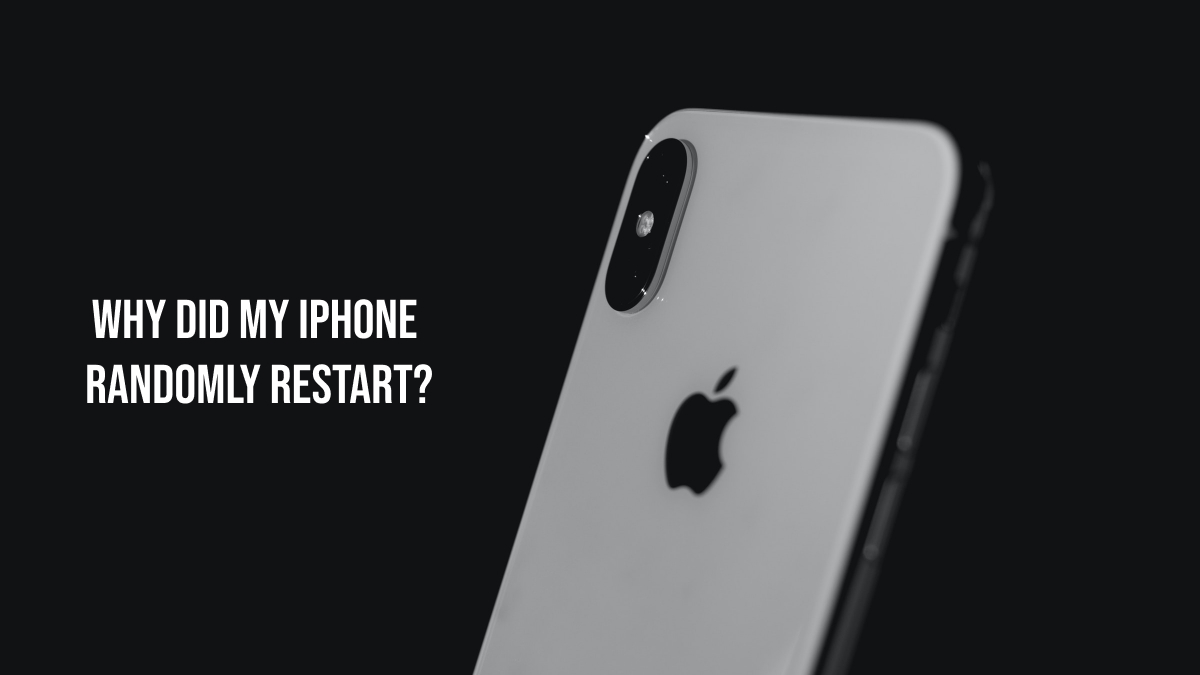 Apple introduced the first iPhone in year 2007, since then it has become an status of symbol for people. According to reports, over 2.2 billion iPhones has been sold as of November 2018. iPhone is a great line of smartphones that isn't only full of features but has a great hardware packed inside. There are people still using their 5-6 year old iPhones. But, if your iPhone is restarting randomly and the question has arise in your mind, why did my iPhone randomly restart? Here you have come to the right place.
Why did my iPhone randomly Restart?
It could be because of some software issue, glitchy app, storage problem or maybe something is wrong with hardware of your device. But worry not, we have made this ultimate guide to troubleshoot your problem and fix the issue.
Backup your iPhone
The first thing you should do before trying any solutions is, backup your iPhone. So, your data stays safe and you don't have to worry about getting anything erased from your iPhone. You can backup your device on iCloud or you can use iTunes on your PC or Mac to backup your iPhone. Its not like every troubleshoot will cause deletion of data. But, safety should be our first priority.
Troubleshoots for iPhone Randomly Restarting
Below are the fixes that you can use to solve iPhone restarting randomly issue.
Force Restart your iPhone
If your device keeps restarting, giving it a force restart could fix the device if there is a software glitch or an abnormal software/app behavior. The method to force restart the device varies between different models. But, you can go to Settings > General and tap Shut Down to turn your device off. Keep it power off for a minute and turn it back on by pressing the side key.
This should fix your random restart issue. But, if it doesn't read the next troubleshoots.
Try uninstalling Apps
Do you remember if you're facing this problem after installing a particular app? Try uninstalling that. It could be that particular app causing this issue.
Reset all Settings
An iPhone stores network configurations, Wi-Fi passwords, location, privacy settings and a lot of different settings that you have set to run your device. These settings sometimes interfere with other system apps and restrict them. This could make your device get into a random restart loop. Go to Settings > General > Transfer or Reset iPhone and tap Reset. First try resetting network settings and see if it works, if it doesn't than perform a Reset All Settings.
Update your iPhone
Make sure your device's software is up-to-date. Apple releases new updates frequently to fix bugs and provide security patches. I have seen many people who are still running their device on a year old iOS update. If you're one of them, you seriously need to update your device. Maybe this will fix the problem? Give it a try! You can check for updates by visiting Settings Apps > General and then Software Update.
Update all Apps
Just like Apple, other app developers also regularly share new updates of their applications on App Store. There are chances that a particular app is causing random restart on your device. So, try updating all apps on your iPhone and check if everything works fine or not!
Contact Apple Care
If nothing fixes your problem, give a call to Apple Care and they'll help you fix the issue. Maybe your device's software needs to get reinstalled or maybe there is a problem with hardware. They will book an appointment if needed and run tests on your device and fix it for you.
FAQs
Why did my phone randomly just restart?
Usually it happens because of a poor quality app or due to software issues. Read the above troubleshoots to fix random iPhone restarting problem.
Read Also: