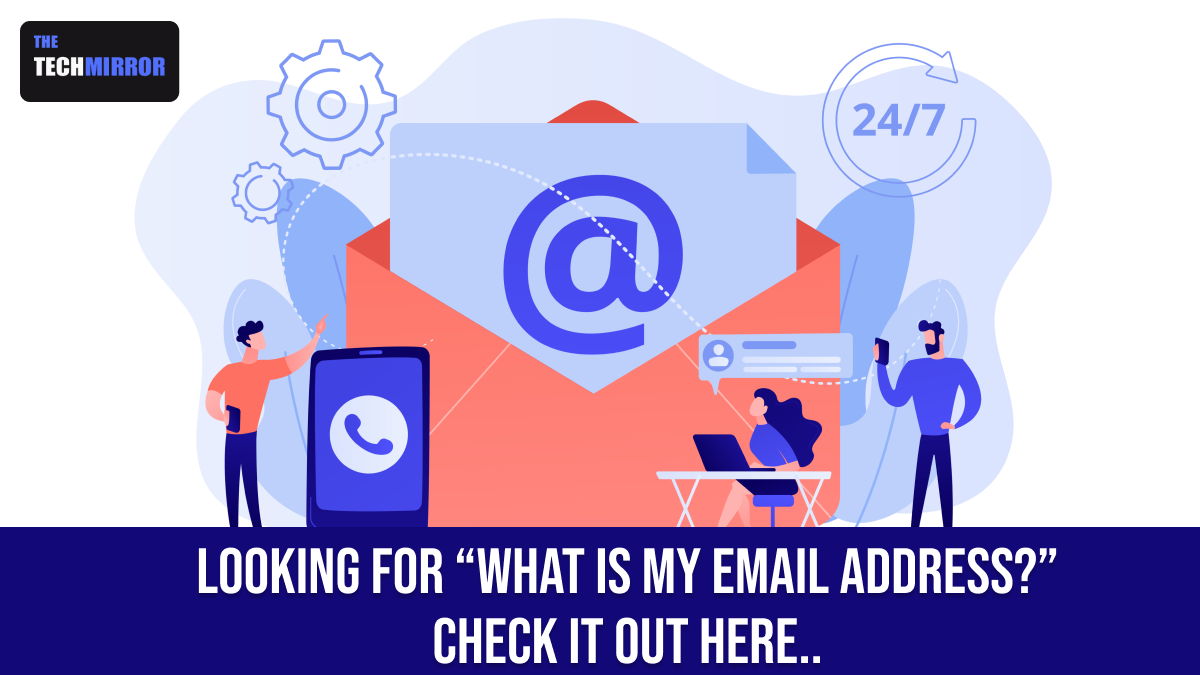 Just out of curiosity, have you ever tried to find out how your email address appears to others or in case you hold a multiple account on certain email service and it simply slipped from your mind which account you are currently logged in. Either way if you are looking for "What is my email address", this is probably a best place to have an answer.
When you just couldn't recall "What's my email?" stop panicking as finding your email address is quite simple and straight. We have compiled this blog post to let you know, what your primary email account is using the general instructions alongside step-by-step process for a few popular email service providers mentioned herein.
So let's check out an answer to your query, "What is my email address?"
Finding, "What Is My Email Address?"
Basically, the steps to find what email address people see when you email them or which email you are currently logged into (in case of multiple email account registered with particular provider) depends largely on the email service you are using. Below are the general instructions that might work well for all email services, however we have also got you covered with specific stepwise process for some leading and popular email providers. So, here's how to know what your email address is?
What's Your Email Address? : General Instructions To Know It
To begin with the process of finding your email address for most of the email service, you must ensure that you are having a sound internet signals on your device and your email is working right. Once you confirm it follow these instructions to know about your email:
Open the email service program or application on your device
Head to new email message.
Then locate the section or line that starts with From, here you will get to see your email address.
Note: In case you have linked multiple email address for sending, all the email addresses typically appear as options in menu in the From line while you compose an email. You can opt for any of them to send emails.
Having that learned, let's take a detailed look at the steps to be followed for identifying your email on various email services.
What is My Gmail Email Address?
In order to find out your default email address used to send email from Gmail on the desktop PC as well as the Gmail mobile apps for Android and iOS devices you are required to undertake the steps mentioned below:
Open Gmail web or mobile app on your device.
Select Compose to start a new message.
Locate the email address in the From line.
Click the default address provided next to From to see other email addresses you have configured for sending mails in Gmail.
(Note: The From field will only be visible if you have added additional email accounts in Gmail.)
On the other hand, if you want to find the email address you used while registering on the Gmail account, these steps will help:
Open Gmail on your device.
Click your profile picture or avatar located at the top right corner.
Here you can see your primary Gmail email address listed underneath your name. When you have added multiple Gmail accounts, the current account is listed on top.
To see your primary Gmail address in the Gmail app, follow the instructions provided as under:
Launch Gmail app on your mobile device
Tap on your profile image located at the top right.
Here, you will see the your primary address listed below your name.
What Is My iCloud Mail Email Address?
For checking the default email address used to send mail in iCloud Mail at icloud.com, you need to log in to your Apple account with your Apple ID. Now here you can get to see your iCloud email address in the Reachable At section of the page.
What Is My Email Address in iOS Mail (iPhone or iPad)?
If you want to know, "what is my email address in iOS mail?" Here is how to find it out:
Open the Settings app on your iOS device.
Head to the Passwords & Accounts section.
Here under the Accounts section, make a tap on the desired email account.
Now, you can view the email address for the selected account located at the top of your screen.
What Is My Email Address in Outlook
In case you are using Outlook and want to see which email address you are currently operating with? Here's how to know your email address in Outlook:
Steps to know email using Outlook for Windows:
Open Outlook and press Ctrl+N to create a new email.
Go to the From line and see your email address here.
You can also click From to view the other email addresses that can used to send mails.
Steps to know your email address in Outlook for Mac:
Open Outlook and head to Menu.
Now, select Outlook followed by Preferences.
Here, under the Personal Settings go to Accounts.
Finally you can find the address for each of your account listed under its name.
Steps to know email using Outlook for iOS and Android:
Launch Outlook on your mobile phone.
Select compose to start a new email.
Here you can see the default email address listed below the New Message provided at the top. In case you have multiple accounts or email addresses configured, tap on the default address to see all options.
What Is My Email Address in Mail for Windows?
For finding out what email address you are using in Mail for Windows, just perform the steps listed under:
Open Windows mail and check if the email sidebar is visible completely or not. If not, select the hamburger menu button to expand a collapsed sidebar.
Here in the Accounts section, you can view email address listed under each account name.
If you have more than one email address; you can use any of them for sending mails by clicking the From line and then selecting email address to be used.
What Is My Yahoo Mail Email Address?
If you are looking to know about your primary email address for Yahoo Mail account, all you need to do is to select your name or nickname located at the top Yahoo Mail navigation bar. You can find the default Yahoo Mail email address mentioned right below your name.
That's all. Kudos!! You have successfully find out the steps to know your primary email address on various email services and be able to answer the question "What is my email address?"
Read Also:
Want Gmail No More? Here's How to Delete Your Gmail Account
{Solved} 'Email Queued': Gmail Getting Stuck In Outbox