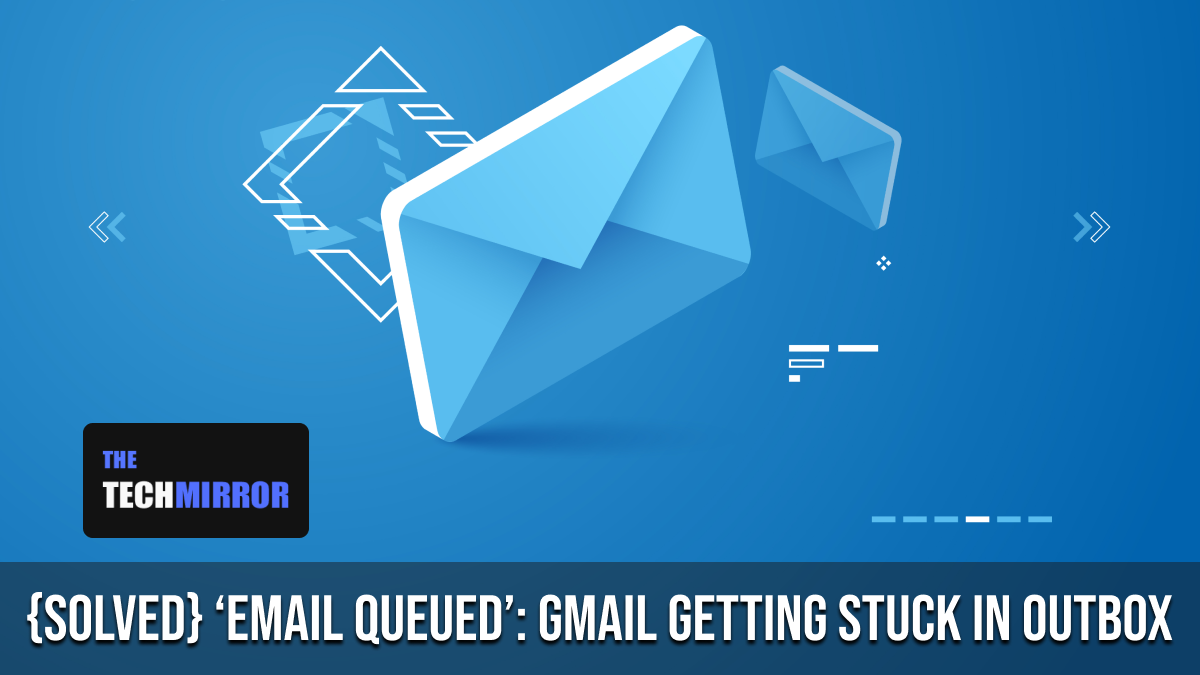 Gmail is one of the most popular mailing services. Although it is by and large an error-free mail app, yet users occasionally get to experience a few minor errors. One of the most common Gmail issue faced by Android users is 'Email Queued in Gmail'.
If you are also facing problem with your emails marked as 'queued' and getting stuck in outbox, you must be looking for solutions to fix it. So, here's an article to help you in this regard.
This blog article will let you understand about what does the Email Queued in Gmail means, why such things happen and how to resolve the issue of Queued email.
What Email Queued means in Gmail?
Email queued Gmail is a generic error on Android version of the application. It usually occurs when Gmail app marks your mail as 'queued', it refers to the situation where it is not viable to send the email instantly and the Gmail app will make an attempt later on to send the email.
However there could be various reasons behind the occurrence of this error and you must be able to understand about the causes of 'Email queued Gmail' issue before moving towards finding solutions to fix this problem. Here's a list of reasons causing this error in Gmail app on Android devices.
Why Your Email is in Queue on Gmail App? – Potential Reasons
If you are encountered with this error than possibly it could be because of the reasons listed below:
Low storage space on your device: First and foremost reason behind this error could be the low storage space on your device. The queued mails will continue to be stuck in outbox until there is enough free storage space be available on your device.
Connectivity issues or network problems: The next reason on the list is problem with your internet connection or the network. To resolve this you must have to contact your ISP or else wait until the network issues gets sorted out by its own.
Reached the threshold limit: Another probable cause resulting in this error in Gmail is that you might have reached the threshold limit for too many emails either in your outbox or sent mail box or else the size of attached files.
Having understood about the reasons behind the problem, let's now jump to find remedies to resolve this issue.
How To Fix Email Queued in Gmail?
There exists some easy ways to get the problem fixed. But prior to apply these methods you must try basic troubleshooting by restarting/rebooting your mobile phone. In addition to that you must also check your emails on your PC or laptop and see whether your Gmail is working thereto or not. If it remains the same way then the problem may be with the application itself where the Gmail itself might be down, hence you have to wait it out. But if the email functions work well on PC or Laptop then it is confirmed that problem is with your mobile app. And in such instance, you can get rid of the problem by using below mentioned methods.
Fix#1 Clear the Gmail App's Cache
The first solution you must try is to clear the cache data. This can be done by using steps as provided under:
Go to Phone Settings > Application Manager > All 
From the available apps installed on your phone, choose Gmail.
Here you will get to see options Clear cache and Clear data.
Finally, click on both these buttons to get the job done.
Now, you have successfully cleared Gmail's cache on your phone. This will help you to get some space freed and thereby letting queued emails send to the given address.
Fix#2 Disable Sync and then Enable it
Next method which may work for you to get rid of email queued in Gmail is to Disable Sync and then Enable it back again. Here's how to do it
Open Gmail app
Go to the Menubar by tapping on three lines provided at the top and select 'Settings'
Then select Accounts.
Now choose the Email Account in which you are getting queued mail.
Disable sync by selecting Uncheck or toggle button provided next to it.
Thereafter restart your phone.
Once the phone is powered on, enable the sync back again to get the problem fixed.
Fix#3 Remove and re-add your Google account
Another way to resolve this Gmail issue is by removing your Gmail account and then adding it back. Following are the steps to be performed to remove and add Google account on Gmail app.
Go to the phone settings and find Accounts and backup.
Now tap on Accounts and here locate the Gmail account in which you are facing problem.
Select that account and then tap Remove account.
A pop-up window will appear on the screen and ask you to confirm that you want to remove your account. Click on OK to confirm.
Thereafter restart/reboot your device.
Once the phone is powered on, open the Gmail app and re-add your account using add account option followed by entering your email address and password.
That's all you have to do to fix the queued email problem in Gmail on your Android phone
You have learned the easiest and most effective ways to fix the issue of emails ending up in queues while using the Gmail app on your Android mobile device. You can try these methods to resolve email queued Gmail issue, the next time it occurs on your phone. Hope it will work for you.
Read Also:
Keep Your Mails Confidential- Here's How to Send Secret Emails in Gmail
How To Automatically Delete Emails In Gmail? – Learn It Here
Write-now, Send-later: Here's how to Schedule an email in Gmail