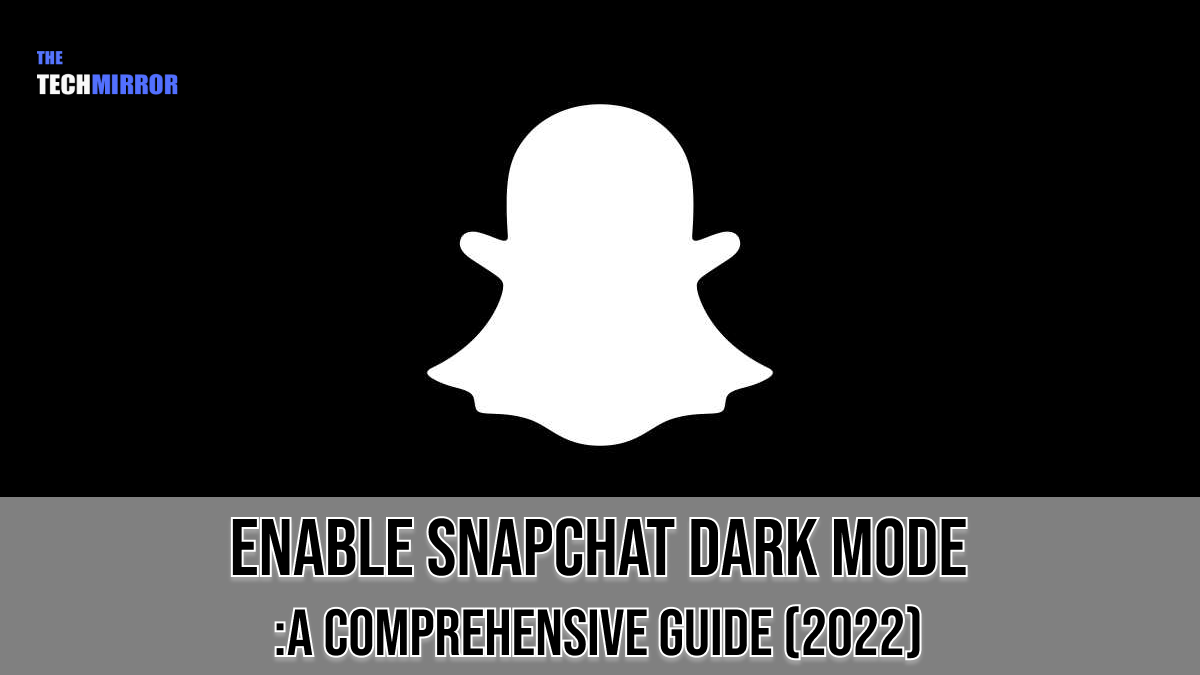 Snapchat, despite the fact that it is very well-liked mainstream social media app, often being criticized by the users as it lack the dark theme support. If you are looking for turning on dark mode in Snapchat, just read through this blog article to have the Snapchat Dark Mode feature enabled on your mobile phone.
As the dark theme setting is missing from quite a long, many Snapchat users have been repeatedly raising queries about how to get dark mode in Snapchat on their device. If you also want an answer to this, you have landed on the right web page. So, with no ado, let's dive in to learn more about Snapchat dark theme and how to enable it on your iOS and/or Android phone.
Snapchat Dark Mode for iOS and Android
Not a while ago, just about every other software developer aims to incorporate dark mode on the respective apps. Subsequently most of them work on rolling out these feature but Snapchat didn't became a part of this herd until last year when the photo sharing messaging app launched out dark mode on iOS. However the feature for Android users is still to be rolled out and hopefully the company may turn things around this year.
So here we have compiled the step-by-step guide to make you understand about the process of turning dark mode on for Snapchat app on iOS device. Here's how to do so… 
Turning on Snapchat Dark Mode on iOS and Android
If you are an iPhone user you must note that the Snapchat app on your device now includes an inbuilt option to turn on or turn off the dark mode. For enabling or disabling the dark theme on your iPhone you just have to perform few steps mentioned below:
How to Enable Dark Mode in Snapchat on Your iPhone
Open Snapchat and log in to your account by entering valid credentials (if not logged in).
Go to your Snapchat profile by tapping on the Bitmoji icon provided at the top-left corner.
Now tap on the gear icon located at the top-right corner to enter Settings.
Here find "My Account" settings, and then tap on "App Appearance" option to change the theme of Snapchat.
Underneath the "App Appearance" settings, select "Always dark" option to enable Snapchat dark mode on your iPhone.
How to Enable Snapchat Dark Mode on Your Android Phone
Sorry to say, but as of now there is no official dark mode setting available for Snapchat on Android devices. Still if you want to get Snapchat Dark mode for Android app all you can do is activate the "forced systemwide dark mode" option. To enable dark mode in Snapchat for Android phone you are required to undertake following steps:
Go to the Settings section on your Android phone and select "About phone".
Now, scroll down until you find the "Build Number" and tap it seven times. (Note – The steps might vary in different phones).
Having done that you have now enabled developer mode on your Android device.
Again go back to the Settings and take the path as: System > Developer options > Override force-dark.
Now enable the option using the toggle button provided next to it. (The forced dark mode toggle button helps you to enable or disable the dark theme in Snapchat manually for Android.)
That's all. You just have enabled forced dark mode on your Android phone.
Note: Newer versions of Snapchat doesn't support the forced dark mode, and thus the app still shows up the light theme. To get dark theme, you need to have an older version of Snapchat. You can download and install the same from APKMirror or clicking the link: APKMirror link and try the above steps once you have installed the older Snapchat.)
Well, that's all you have to do to get Snapchat dark mode enabled on your Android device.
Hence, you have successfully learned about the methods to have dark mode for Snachat on your iPhone as well as Android phone.
Read Also:
Delete Snapchat Messages The Other Person Saved: Here's Easy Tricks
How To Get Rid Of Snapchat Stuck On Sending Messages