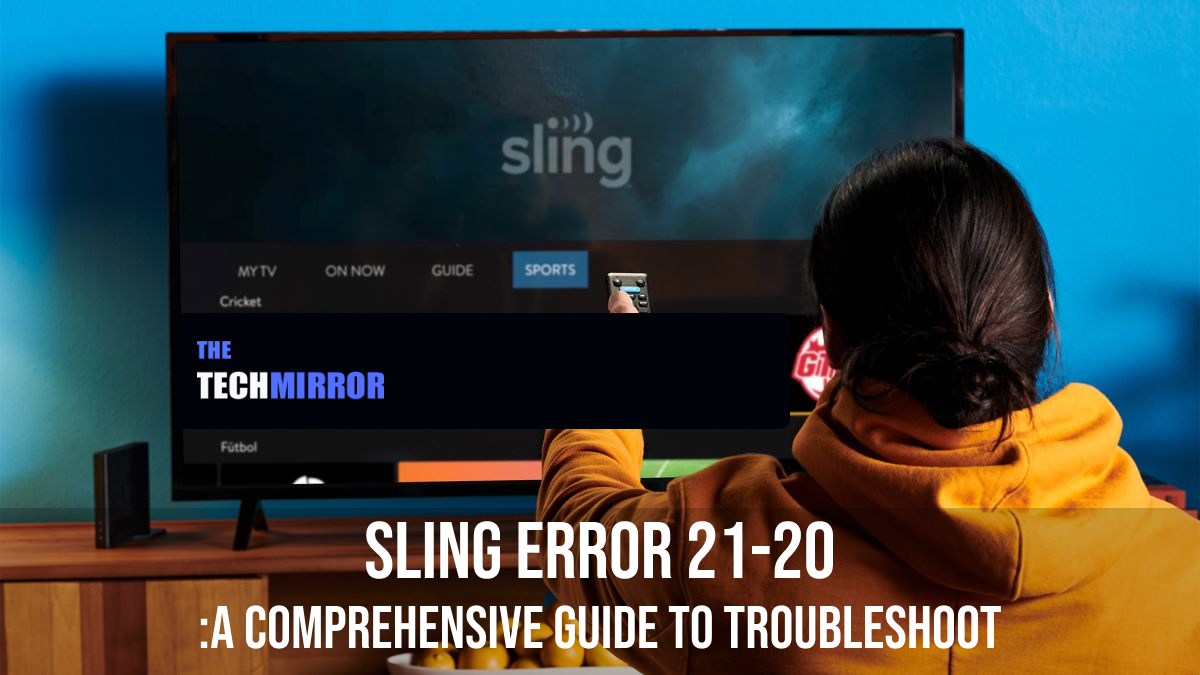 Have you encountered with technical issues on Sling TV and looking for the ways to troubleshoot Sling TV error 21-20? Here's an article addressing one of the most common errors likely to encounter on Sling TV and a comprehensive guide for its troubleshooting.
An Intro to Sling TV Service:
Sling TV,a wholly-owned subsidiary of Dish Network, is an American streaming service operated by Sling TV LLC. As one of the best cable TV alternatives, the service also allows you to access movies & shows on demand. With 200+ channels, it has to offer something for everybody including live sports, TV shows, movies news and much more.
However Sling TV users often encounter quite a few service errors which spoil the viewing experience. One of the most common errors includes Sling error 21-20. This blog article will provide you important insights on this error and how to get it fixed. So here is a briefing on the simple fixes that can help you to restore seamless streaming service.
About Sling TV video playback issues (Error 21-20 and error 24-1):
The most frequent and widespread video playback issues faced by users on Sling TV are the error codes 21-20 and 24-1. These errors often occur while viewers try to watch a program. And as a result of that user won't find Sling loading appropriately or sometimes get to see a black screen.
Reasons behind occurrence of Sling error 21-20:
Error code 21-20 on Sling TV can take place owing to more than a few reasons. The predominant among them are enlisted as under:
Authentication problems
Buffering issues
Network disturbances
Some momentary glitch
Presence of Bug or Virus in the system
How to fix Sling TV error 21-20:
If you are one of such user who has being facing the Sling error 21-20, first thing to do is to get yourself relaxed. Ensure that there is nothing to worry about its happening, as there are more than a few proven ways to resolve the Sling TV error 21-20 and 24-1. Here's a short description on these methods:
Fix#1: Re-launch the Sling App
The first and foremost solution to fix Sling 21-20 error code is Re-launch the app. To do so you need to Close the app and then open it back again. This exercise will let you fix a few temporary glitches or bugs upsetting playback.
Once you re-launch the Sling app, check if the issue is resolved or not. If the errors persist, then you can try to fix it using next method given below.
Fix#2: Un-install and Re-install the Sling App
Another way to get rid of Sling TV video playback issuesis to uninstall the Sling TV app and after that installing a new, up-to-date version of it. As and when you get an updated version of the app, it will likely take away bugs, corrupted data or cache, and other settings which possibly are resulting in the error. Hence by re-installing the Sling app you can get the problem resolved.
Fix#3: Reset the Device
Another way to fix it could be resetting your streaming device. You can look for the instructions for resetting the device in the manual provided or look for it on the internet. You can make a search query something like "how to reset device name".
Fix#4: Switch the Streaming Device
If you are still facing the problem even after trying the above methods, we recommend you to try switching the streaming device and this way you can learn if there is something wrong with your streaming device.
Fix#5: Wait it out
If none of the above methods help you to fix the issue, the only thing left is to wait for the issue out. If the problem is due to network issue or some temporary glitch you would definitely see that it will get resolved by itself. So you just have to be patient and wait it out for some time.
However, you must note that the error codes 21-20 on Sling might also be occurring from the Sling TV server-side, and if that is true in your case, make a call or contact customer support to seek help on resolving the issue for you.
Summing Up:
When you get to see this Sling error 21-20 for the next time, you can try several fixes as mentioned above. These solutions include re-launching and/or re-install the app, resetting the streaming device, or switching to some alternate device.
Read Also:
Element TV Troubleshooting: Handy Do-It-Yourself Fixes
Wanna Resolve DirecTV Now Buffering Issues? Here's Quick Fix
Easy Fix To Completely Resolve Netflix Code NW-1-19 Error