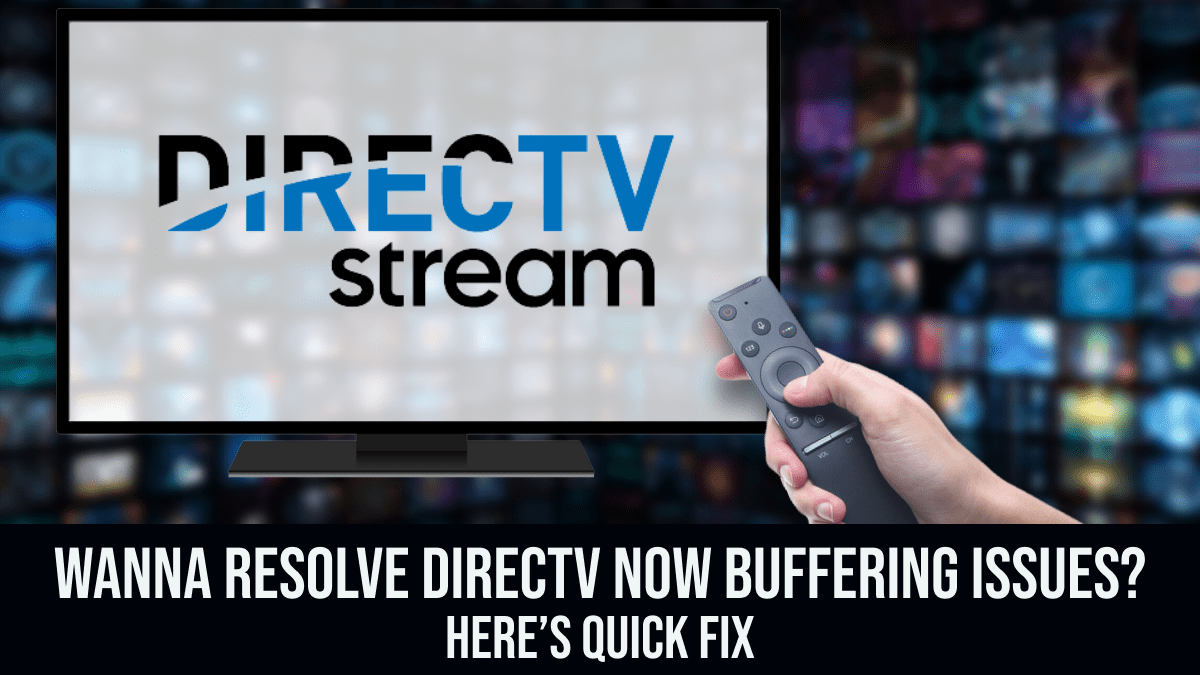 DirecTV is one of the best of live TV and On-demand streaming platforms offers you an access to extensive assortment of TV channels, TV shows, movies, music, news, local sports, and about 65,000 on-demand titles. It let you to enter a new space of entertainment where you can enjoy stuff of your choice with no disruption. But at times you may face DirecTV Now buffering issues leading to an awful viewing experience. If you want to know more about DirecTV Now buffering issues and looking for ways to fix the problem, read through this blog article.
What DirecTV buffering issues occur?
As and when you watch any content online via DirecTV Now, the forthcoming part of that get downloaded and saved in as cache. This buffering feature allows you to have seamless streaming thereby improve the viewing experience. But, when buffering occurs constantly can it can cause devastating disturbance for viewers.
There DirecTV Now buffering issues can be encountered because of various software and hardware related solutions. A few predominant causes are listed as under:
An Obsolete DirecTV App – Outdated or older versions of the app may contain bugs and have poor interfaces that can root to buffering issues.
Bandwidth Issue – when the network is accessed by a lot of people at the same point of time you may have bandwidth problem and experience buffering problem.
Poor Network Connection – this includes poor Wi-Fi signals (in case of wireless connection) while or loosely attached or faulty cable (in case of Ethernet cable) which may result into unsteady internet speed, causing the buffering issues.
Slower Internet Speed – at some time you may be encountering constant buffering problem due to slow speed of internet as there might be a problem with your ISP or network router.
Streaming device – One cause of DirecTV Now buffering problem could be a problem with the streaming device itself.
Note: This is not an all inclusive list of factors and there may also be some other reasons behind the occurrence of buffering issues on DirecTV Now.
Fixing DirecTV buffering issues?
Whenever you get buffering problem on DirecTV Now on your streaming device, you can take note of fixes given below and try one or the other solution from the list to get rid of the issue.
Fix1: Restart/Reboot your Device
The basic and elementary fix to resolve buffering issues is to restart or reboot your device. As such issues can occur because of some minor software problems with the streaming device and would be fixed when you restart or rebooting it.
However when it comes to restarting or rebooting of devices you can either try, soft reset wherein restarting the device by powering it off for a while and turning it back again or else hard reset it and restore the device back to factory settings.
Fix2: Update your DirecTV App
As per the above list of causes, an obsolete app is one of the major reasons behind the constant buffering problem. The simplest solution which may work well for you in this case is to get the latest version of app on your device. For doing this you must look for the recent update and get it installed from the respective app store.
Fix3: Resolve the Network Issues
No matter whether you are using a WiFi enabled wireless network or a wired one using Ethernet cable there are all likely chances of buffering issues being caused due to a poor network connection where you will get irregular as well as slow internet speed.
Thus to overcome the problem you can switch to a stronger router or lessen the distance between your streaming device and the router.  On the other hand, you can also try a LAN cable for connecting your device to the internet. If you are already using a LAN cable you can get the current cable replaced with a better quality cable.
This way you can fix the problem and enjoy seamless streaming.
Fix4: Get better Internet Speeds
When your internet speeds are excessively low, you may get such buffering issues. You might experience lower speeds in case of undersized or overloaded network bandwidth.
The issue can be fixed by bringing down the number of devices connected to the network at given point of time when you are using DirecTV Now. You can even buy a faster internet service package to ensure better speed.
Fix5: Pause and Play after awhile
In general Buffering issues occurs if the downloading speed is lesser than the one at which the program is playing the video. This will create a time lag between the two processes and results in frustrating viewing. To fix the problem you can simply follow the two step solution:
Press on "Pause" button, be patient and wait a while to let the download complete
Now once it does, press "Play" button to continue watching the video without buffering.
Fix6: Switch to some other Streaming device
As discussed above a faulty device is a potential cause behind getting constant buffering issues. Thus in such situation switching the streaming device with some other device may let you get over with the problem.
Say for instance, if you are currently using it on Roku then you can switch to your computer and browse it thereon.
Fix7: Contact DirecTV Support Team
Having tried all of the above solutions, if the DirecTV Now buffering problem still persists, it's probably the time for you to contact the DirecTV support team. To do so all you need is to, click on their customer service page using the link here.
That's all, hopefully this article have given you helpful insight on how to get the problem of constant buffering on DirecTV Now resolved.
Read Also:
Spectrum Login Redirect Loop: Here's How To Address & Rectify It
"Hulu keeps logging me out?" – Absolute ways to fix