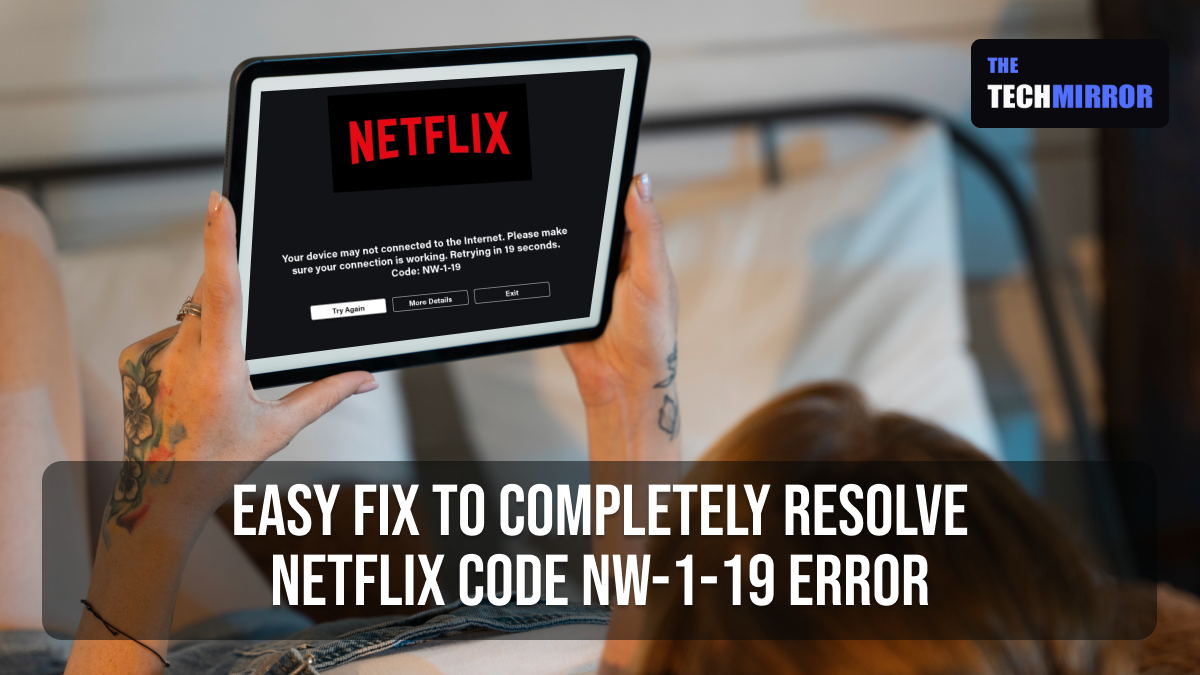 Netflix, is one of the most watched streaming platforms that offers you access to unlimited movies, TV shows and much more. Not only has that it also allows "Watch anywhere. Cancel anytime", making it more convenient for you to watch, pause and resume your favorite videos. However, quite a few times when you log in to the platform you are encountered with "Netflix code NW-1-19".
But there is nothing to be worried about as this blog post will tell you easy fix to get rid of this error so you can resume streaming or continue watching your video.
What Does Netflix Error Code NW-1-19 Mean?
The "Netflix code NW-1-19" error can occur on any device and more or less all Netflix users encounter it at one or the other time. The complete error message reads "Netflix: error code NW-1-19: Your Device may not be connected to the internet. Please Make sure your connection is working", and in general indicates that you have a connectivity issue. It means there is a problem with your network connection.
Netflix cannot stream a movie or TV show without internet connectivity. You can enjoy seamless streaming as long as you are connected to the internet but whenever you are unable to find the internet connection, you are likely to experience this situation and will receive the Netflix error code NW-1-19.
What Causes Netflix NW-1-19 to Occur?
In all probabilities the problem may be with the local internet connection or the gadget you are using. As the most common cause for receiving this error is the network connectivity problem, so in case you are getting the Netflix error code NW1-19 on your device screen, then by and large it means you have lost the internet connection.
This error code restricts your device from reaching the Netflix services, However you can try under mentioned methods to resolve the Netflix code NW-1-19 issue and fix this error.
Fixing Netflix code NW-1-19 on Smart TV
Since the majority of the viewers use Netflix on their smart TVs, we are considering this fix upfront. If you are the one among these viewers and encounter this error on your smart TV, you must ensure that your network supports online streaming on your TV set. Also make sure that it is showing strong internet signals. If done with that perform following steps to resolve issue code NW-1-19:
Switch off your smart TV and then restart it after couple of minutes
Similarly restart your modem by turning it off and on again
If the error is yet to be resolved by this you should get your equipment checked and replaced (if there is some technical or mechanical fault)
Note: Alternatively, if the error persists, you can use Bypassing. Though not a convenient solution, but you can still give it a try and connect your smart TV directly to the modem via the ethernet cable.
Fixing NW-1-19 error on Set-top box or streaming media player
In case you receive this error while playing Netflix on a streaming media player, you need to take following steps to get rid of it:
Ensure that the network is letting you online streaming service.
Check for the strength of your local internet connection device.
Restart the streaming media player as well as your modem by switching off and then turn back on after 2 minutes.
Play Netflix now with interruption free streaming.
Fixing Error Code NW-1-19 on Roku
If you want to fix the code NW-1-19 on Roku, the method is quite similar to that of the one discussed above. To resolve this error on Roku you need to follow the steps given below:
Ensure that the network allows you with online streaming.
Check for the strength of your local internet network connectivity.
Restart your Roku and network and then restore default connection settings.
If you continue to receive this error, you can try to relocate your modem and for a better signal strength keep all other wireless devices away from the modem.
Note: In addition, you can also try to connect the device directly to the modem via an ethernet cable.
Fixing Code NW-1-19 Netflix Error on Blu-Ray Player
When encountered with the Netflix NW-1-19 error message on a Blu-Ray Player then perform the under-mentioned steps to resolve the said problem:
Make sure that your network allows streaming and you are connected to the internet.
Unplug your device to turn off the Power.
Now restart your device by plugging it back after a while.
Restore your default connection settings and then start Netflix again.
Fixing NW-1-19 Error Code on Xbox
If you get to see NW-1-19 Error Codewhile streaming Netflix on Xbox, Xbox One or Xbox Series X/S, you must take steps as mentioned below:
Ensure that your network allows online streaming and check your internet connection
Then confirm and verify your Xbox's DNS settings
Now restart your device and network
If this doesn't work then try to connect your console directly to the modem.
That's all. You can get the Netflix Code NW-1-19 error fixed completely by using the methods given above subject to the device you are using Netflix on.
Read Also:
Easy Fix to Solve Netflix Won't Go Full-screen on Chrome Issue
How To Remove Credit Card From Netflix?