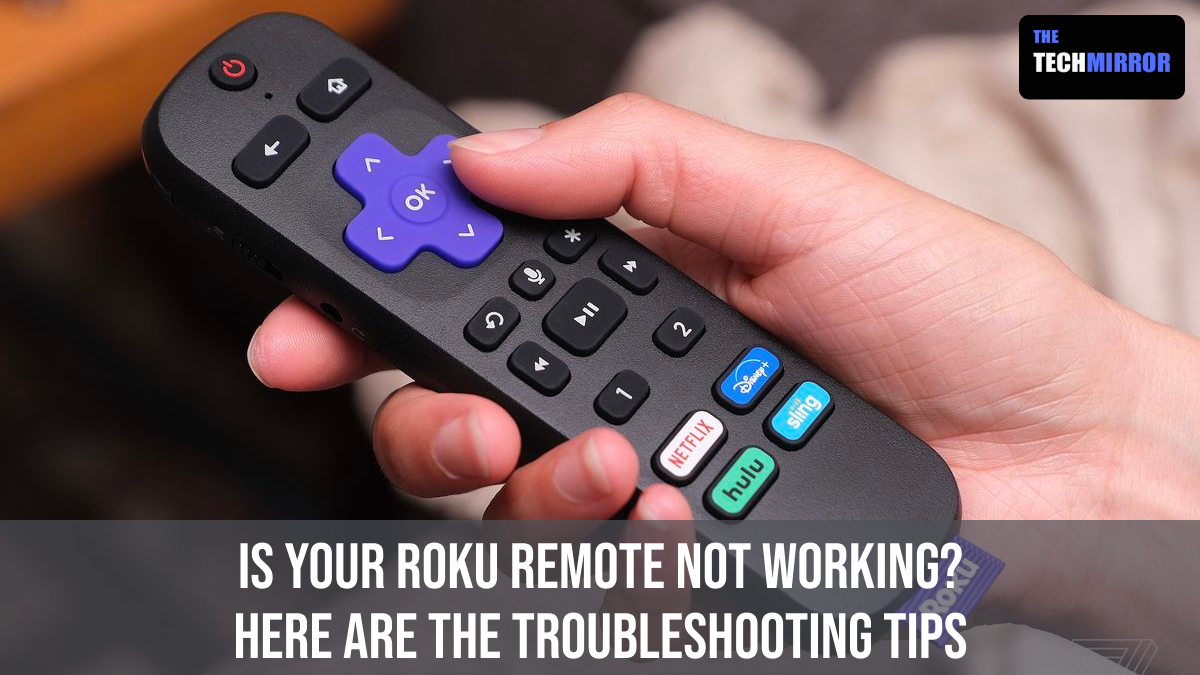 Just in case your Roku remote has stopped functioning or it is not working as expected, this is the perfect place to find easy and effective ways to get it back on track. We have compiled details of a few handy troubleshooting tips to help you fix the common issue; Roku remote not working.
The article will also cover the steps as to how you can pair and restart your Roku remote if not working in the approved manner. So if you want to know how to fix a Roku remote not working issue, read through the article and get the job done.
Roku remote: An overview
Roku is undoubtedly one of finest streaming devices, and all Roku players come with a compact yet powerful remote control. With its petite profile and comparatively a small number of buttons, Roku remote controls are pretty simple and straightforward. To get going and enjoy streaming, you need to pair remote with your Roku player. As a matter of fact, there comes two type of Roku remotes; Roku simple remote and Roku voice remote.
If you wish to use the remote with a different Roku player, you have to reset the remote. However, a few Roku models come with an infrared remote without a reset button, and such remote doesn't even require pairing or resetting. Also in case of your remote failing to function properly, you need to reset the remote. This can be accomplished in minutes by rebooting the Roku player followed by pressing the reset button on your remote.
On the other hand, if you find Roku remote not working, you need not have to panic as there are easy solutions available to let you go back to streaming in a flash. Here's how to fix it.
Fixing Roku remote not working issue
Whenever, the Roku remote stop syncing, don't straight away seek to apply any complex solutions. Rather you must first take a note of which type of remote you posses as the troubleshooting will vary to some extent subject to your remote type.
So ahead of troubleshooting, determine whether it is a Roku simple remote or a Roku voice remote which you are using with your Roku streaming device. To identify and differentiate, note that Roku voice remote is the one with a voice button having a microphone icon or a magnifying glass icon on it. On the contrary Roku simple remote does not have a voice button.
Below are the ways to fix Roku remote not working issue on both of these remotes. Let's check them out.
Troubleshooting Roku simple remote
Remove obstructions
The first thing you must do to fix the issue with your simple remote is to locate and remove visible obstructions. The issue is quite likely to occur due to missed button presses, resulting when remote signal is partially or fully blocked. To overcome the problem you must see to the location of your Roku device and make sure there is a clear path between your remote to your streaming device.
Make your Roku player visible
Don't install Roku player inside a closed cabinet or behind your TV. If it is attached to your TV move the player a bit and make it visible to a position where the signal is not expected to be blocked.
Test your remote from different angles and positions
Another thing which you can try is to hold your remote pointing downwards the front of your Roku device. Now move it slightly to the left and right, to verify the position from where it becomes more responsive.
Troubleshooting your voice remote
If you are using a voice remote and it goes unresponsive, hare are the troubleshooting tips you can try to fix the said issues:
Charge batteries
It may be possible that the rechargeable batteries be low on power and need to be charged. Here's how to recharge a remote with rechargeable batteries:
First, connect the micro-USB end of the charging cable to the charging port provided on your remote.

Then connect the other end of the charging cable to USB power adaptor.
Once get connected, the status light starts flashing slowly indicating that it is charging and after the charging is over it turns into a solid green light.
Note: In case the status light fail to flash after a few seconds, just try to switch ends and alternate charging cable and power adaptor. Also ensure to use the micro USB cable that came into the box with your remote.
On the other hand, if your remote uses standard batteries, simply open the battery compartment to remove the batteries. Insert new batteries and you are ready to go. If the problem still persists, restart your device and check further.
Restart your Roku device and remote.
You can try your luck to fix the Roku remote not working issue by restarting your Roku streaming device. To do so, you are required to undertake following steps:
Press Home icon on your Roku remote

Then scroll down to select Settings
On Settings, select System followed by Power. (Note: If you don't have a Power submenu, just skip and proceed to the next step.)
Finally, select System restart to reset your Roku device
Once your Roku device is restarted and show up the home screen, it's the time to restart your remote by reinserting the batteries (in case your remote works on standard batteries) or else using the steps below (in case your remote has a rechargeable battery.)
Press and hold the pairing button for about 20 seconds. It will let the status light to slowly flash green, then stop for a moment, and then start flashing more speedily. Once this happens, release the pairing button. With that your remote has just restarted.

Now, wait for half a minute and see whether your remote connects with your Roku device or not. To confirm press the voice button and check for a status indicator on your TV screen.
In case you see no response, try to re-pair your remote again until it automatically detect the voice remote and reconnect.
Re-pair the remote to your Roku device.
Here's how to re-pair your remote:
Detach the power cable from your Roku device, wait for 5 seconds and then put the power cable back again to connect with your device.

Let your Roku device to show up the home screen.
Now, restart your remote. (In case of remote using standard batteries, just remove and reinsert the batteries to restart the remote. While if the remote is rechargeable, then press and hold the pairing button for 20 seconds. Allow the status light to slowly flash green, stop, and then flash fast. After that release the pairing button and see if remote has restarted.)
Once you restarted remote, press and hold the pairing button for 5 seconds and see the status light begin to flash.
Having everything done, wait for 30 seconds to see the remote establishing a connection with your Roku device. If it doesn't, probably your remote need charge or the batteries are due for replacement.
Replace your remote
If the troubleshooting methods mentioned above fail to fix the issue, as a final point you may require to replace your remote. Just go out to some nearby Roku accessories store and buy a new Roku remote for you.
That's all we have for you. Just to recall, if you are facing Roku remote not working issue; at the outset try and fix it by swapping in new batteries. If the problem still persists try your luck with a few other methods like, re-pair or reset your remote, restart your remote or Roku device etc. And if none of the tips fail to work, replace your remote with another one from Roku store.
Read Also:
"Hulu keeps logging me out?" – Absolute ways to fix
Disney Plus Subtitles Not Working: Quick Fixes To Try
How to Fix Disney Plus Error Code 401 on Roku in 2023