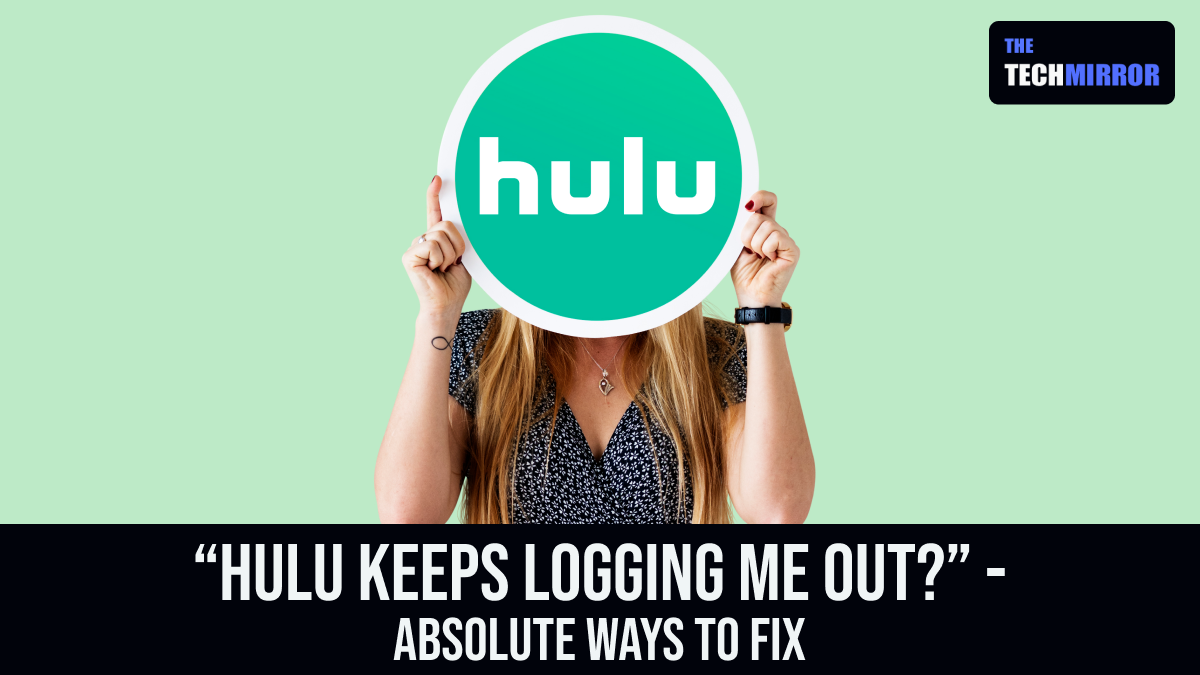 Hulu is one of the top online premium streaming services which offer live and on-demand TV. It has a huge collection of Hulu Originals as well as TV shows, movies, web series, kids shows and even provides you with events and news updates from every part of the world. This popular streaming platform allows users to have a Hulu profile that can be accessed on all devices that support the streaming app.
But several users have reported an error where Hulu keeps logging out soon after they log in to their profile, irrespective of the platform they are using be it a browser (Firefox, Chrome), Game console (PlayStation, Xbox) or new generation  smart TV (Apple TV, Amazon Fire TV, Roku) and others. If you are also having a concern about why "Hulu keeps logging me out?" luckily you will get it answered through this blog post.
So, no matter which device you are running Hulu on, this guide will cover absolute assortment of troubleshooting methods to identify and resolve the problem when Hulu keeps logging you out. So let's continue reading forth to know the fix that could work for you.
What to do when Hulu keeps logging you out
If you have a complain stating that "Hulu keeps logging me out" every time to try to log yourself into your Hulu account. However there is nothing to worry about the situation as you can solve this problem with ease and continue streaming your favorite videos on Hulu.
Here you go to learn in detail about the methods which may help you to fix the "Hulu keeps logging me out" issue.
Method #1: Sign out of other Hulu Account
You may be probably getting this Hulu keeps logging you out problem when one or the other social media or e-mail accounts currently opened on your browser are linked to an additional Hulu account. If at any time earlier you had sign up for a Hulu account using your Facebook, Gmail, or any other account, you must delete that Hulu account and then try logging into the new one.
If case where you don't remember about it or fail to recall which account you used before, just simply keep logging out of all your social media and e-mail accounts one after other to identify the particular account. After you get to know which account you have used formerly, check out for the old Hulu account associated with it and get that Hulu account deleted.
Where you have used Facebook to sign up for the older Hulu account follow under mentioned steps to get the job done:
Launch Facebook and go to Settings
Select Apps
Then head to Logged into Facebook
Look for Hulu and delete it
Dissociating the other account might help you to get rid of the keeps logging out of Hulu account.
Method #2: Update your browser or try an alternate browser
Since your current browser could be the possible reason which is resulting into this issue. Thus you must also check for updates with respect to your browser and install all recent updates. Or else just simply uninstall the browser and get it reinstall back again.
Additionally the problem can be fixed if you try logging in to Hulu profile via some alternate web browser, for instance use Microsoft Edge in place of Chrome or Firefox.
(Note: you must ensure to log out of the previous browser, while trying to log into Hulu account using an alternate browser.)
This may help you to get over the issue, but if it isn't the case you can proceed with some other method to resolve it.
Method #3: Delete multiple devices from Hulu
You might face the problem of getting logged out of Hulu on your smart TV or other device if you have multiple entries for devices. To fix the issue permanently, you need to take the following steps:
Navigate to the official Hulu website, sign in to your profile and go to Your Account
Select Manage Devices provided next to Watch Hulu on Your Devices
Look for the device you are using by scrolling down. It must be appearing as a duplicate
Click on Remove option provided next to the old entry or entries (in case you have more than two)
Now Restart your smart TV or device you are using
Fortunately, this may let Hulu account work well on your device.
Method #4: Clear Cache Data
Cache, both on a browser or an app, may speed up your browsing experience while visiting a website or exploring an app. On the contrary it can cause a conflict while logging in to Hulu account if the browser has some earlier cache data of the website.
Hence, one of the most frequent reasons for Hulu keeps logging you out instantly is cache upsurge either on your browser or on the device you are using.
To clear the Cache data and cookies you can refer the guide by clicking the following links.
https://help.hulu.com/s/article/clear-browser-cache
https://help.hulu.com/s/article/clear-cache
Method #5: Uninstall and reinstall the app
Another possibility behind occurrence of this error could be the fact that your app might have corrupted.
Thus in such a situation it is quite obvious that you should uninstall the app and get a latest version of Hulu app reinstall on your device.
Note: Once you have uninstalled the app, you must clear the app data as well.
Solution #6: Close bandwidth-intensive apps
In all probability the problem may be caused by a background application, such as, a Windows update or so, as it has a bearing on other application to function properly.
Thus you must ensure that any of such bandwidth-intensive apps aren't running on your device or some other devices connected with the same internet network. If it is so then turn them off or pause downloads while signing into Hulu again.
To do so open the task manager using the shortcut Ctrl + Shift + Esc and find the apps and services which are consuming the most bandwidth? Put end all such processes and then try logging in to your Hulu profile.
Summing Up:
Despite the fact that Hulu has an enthralling collection of TV shows and movies, but you may come up with an argument at any point saying that Hulu keeps logging me out. And when that happens, hopefully you may get the problem fixed by using the methods mentioned above in the article.
Read Also:
Administer Your Hulu Account: A Guide to Add or Remove Hulu Profile
Experience the New Age Entertainment: Get Hulu on Sharp Smart TV