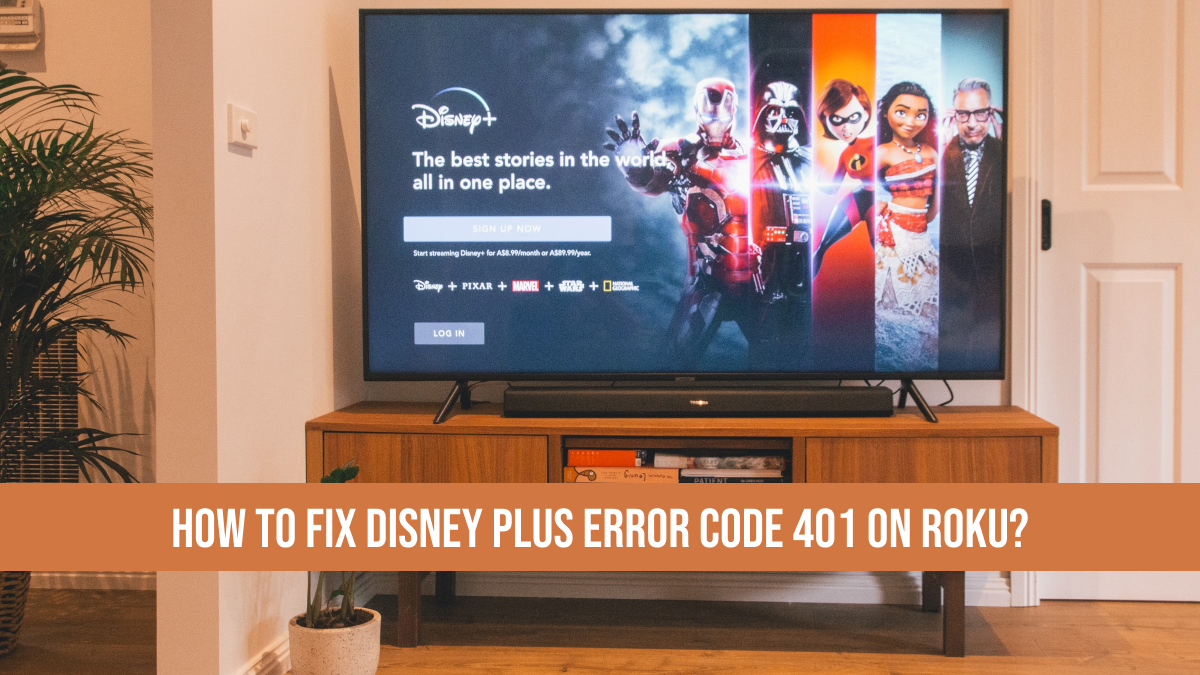 You were enjoying your favorite show and suddenly an strange error turns up on the screen! "Error 401" and boom your mood is off now. You tried to replay the show, turn off/on the TV and Roku but still the error won't go away! This issue usually is caused by network connectivity issue or problem with Disney+ servers. But, worry not! We understand that how important a show or movie could be for someone in their free time. So, today we have brought various fixes that will help you get rid of Disney Plus Error Code 401.
Easy Fixes for Disney Plus Error Code 401
Below we've added simple methods on how to easily fix Disney Plus Error Code 401:
Check if Disney+ & Roku Servers are Working
Before trying any troubleshoots, the very first thing you should do is check if Disney+ and Roku servers are working or not. Usually this error appears only when Disney+ server is down. You can go to Downdetector and check the current status of Roku and Disney+ servers. If server of Roku or Disney+ is down, all you can do is wait until their team resolves the problem.
Check your Internet Connection
It could be your internet connection that might be causing the trouble. Also your internet connection should be offering speed of 5 Mbps or higher to play HD movies on Disney+. So, check your connection first. If it is working properly, check the connection speed on websites like Fast or Speedtest and if the speed is slow, ask your service provider to solve this issue.
Check for Roku Device Compatibility
Roku OS is compatible with Disney+ but older Roku models aren't fully compatible with Disney+. So, you should check if your model is compatible or not. If not, you should upgrade your Roku device or browse Disney+ using a web browser.
Try watching a different Show or Movie
If there isn't a problem with servers, hit the back button and try watching a different movie or show. This error might also appear when a show or movie becomes temporarily available on Disney+. You can try playing another media from their library and if it works, their is surely an issue with that particular title showing this issue. In this case, you can go to Disney+ website and contact their team and ask why the certain show is temporarily available or showing error 401.
Clear Cache and Data
Just like all other apps and browsers, Roku also stores temporary data to fasten up things. But, this data can get corrupted and cause apps not to work. You can clear the cache and cookies of Roku device by following below mentioned steps.
Access the main menu of your Roku device and select Home tab.
Now press the Home Button on the Roku remote five times followed by the Up Button.
Now, press the Rewind button two times.
And the last thing you need to do is press Fast Forward Button twice and wait until Roku TV clears its cache and data.
Update your Roku Device
Updating your Roku device to newer software could also fix this issue. Check if there is a software update available for your model. You can go to Settings > System > Software Update and select Check Now to see if there is a new software update release.
Reinstall Disney Plus
If you're still having issues, you can try reinstalling the Disney+ app. All you need to do is Go to Streaming Channels and look for Disney Plus and press Ok Button to select it and than hit Remove Channel to delete the app and reinstall the app again.
Reset your Roku
The last thing you can try is, Factory resetting your Roku Device. But, remember that it will delete all your data from Roku TV. To perform a factory reset, follow the below mentioned steps.
Go to Settings and than System Tab.
Now choose Factory Reset.
Follow the on-screen prompts and reset your Roku TV.
Report the problem to Disney+ and Roku
You can contact support of Disney+ and Roku and ask them if they could help you solving this issue. Because this is the only thing you can do after trying all the above troubleshoots.
FAQs
Why does my Disney Plus keep saying error?
There could be a connectivity issue with your streaming device. Try checking your internet connection, Disney Plus servers or follow the above methods to fix it.
Read Also