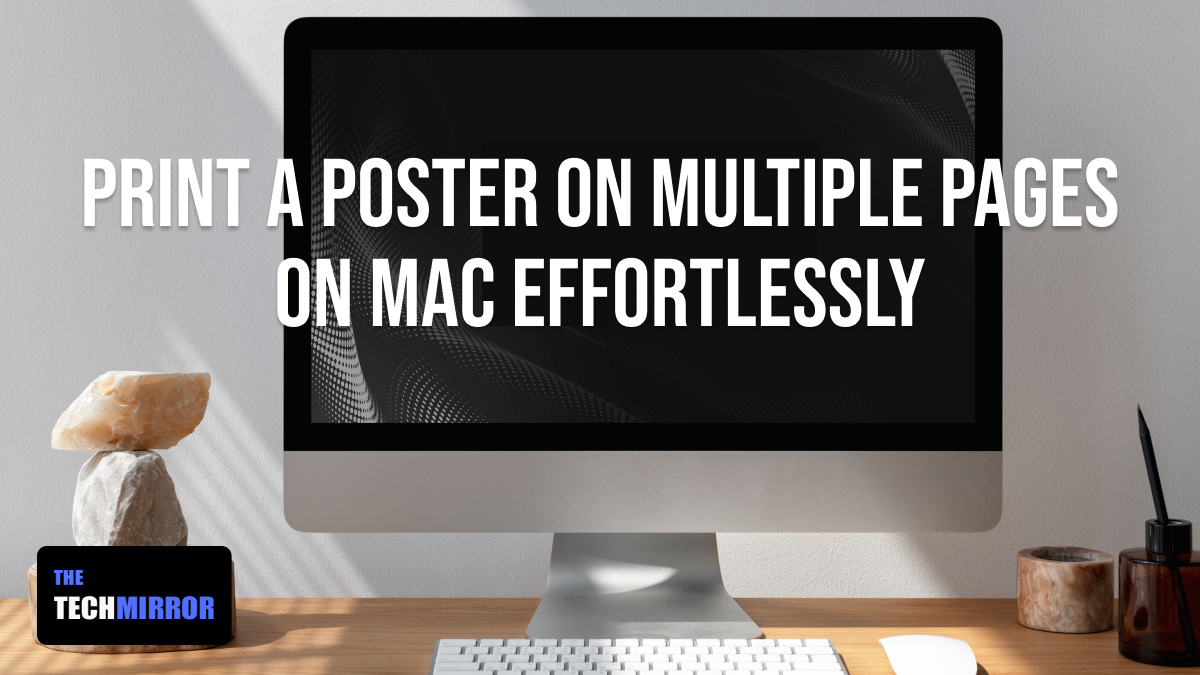 Liked some random image and want to print a poster-sized image from it using a standard size printer? If you are thinking about what it takes to print a poster on multiple pages on Mac, here's a piece of writing to tell you the ways of doing it with ease. We have compiled this blog post to let you know about printing a large image on multiple pages and help you get the finest results. So what are you waiting for? Continue reading forth to explore more about how to print a poster on multiple pages on mac in 2023.
Why to print a large image on multiple pages?
As per the requirement for promotion of some event, business or something else, you may need to create a banner or poster and hence it call for printing a large image. In such a situation instead of printing the image on a single sheet, you would rather have to print the image on multiple pages or sheets. The desired task can be accomplished using tiled or raster-bated paper.
You can perform it on either of the devices be it a Mac or a Windows PC, and the methods used are more or less similar as most of the tools used for printing larger images on multiple pages work equally on both operating systems. 
However, for your concern we have covered how to print a picture on multiple pages on Mac. 
How to print a poster on multiple pages on Mac?
Older Macintosh systems were well-equipped with options for printing a large image on multiple pages, but such feature got missing in the latest updates.
However you can still manage to print a poster on multiple pages. Mac has in-build feature called Pages which can print a large image on multiple pages. In addition to that you can also use other third-party tools/apps such as Adobe Acrobat Reader, Photoshop or Microsoft Excel.
We have covered herein a two step process to help you out in getting the print of a preferred image.
Step 1: Creating a Poster-sized image or Enlarging other image
The first and foremost step is to have an image for print. If the image is large enough to be printed it will be great to get the job done. But if it isn't you first need to create or enlarge an image to concert it as a poster-size image. Several apps meant for Mac and Windows (like PosteRazor, Rasterbator, SplitPrint, TilePhotos etc.) are available on respective app stores  to create a big poster or wall art and then get it printed on multiple pages.
Here's couple of examples about using the above listed apps:
Using PosteRazor App for creating poster:
PosteRazor is available for free download for Mac and Windows Computer Users. You can get the app from its official website or by clicking here PosteRazor. This app let you to create a poster-size image from a normal picture. Following are the steps to create a poster or enlarge an image on Mac using this App
Navigate to official website of PosteRazor and go to Download Section.
Locate OSX Version (Universal Binary) and then click it to start download.
Open the downloaded setup file and get it installed.
Once it is installed on your Mac, launch the PosteRazor App.
Now place/upload the Image your want to enlarge and select the criteria and size details.
Thereafter click on "OK" or "Proceed" to create a Poster from the selected Image.
Lastly, Save the Poster as PDF and then take a print of it.
Using Rasterbator for creating poster:
Rasterbator is another tool widely used to enlarge image and convert normal image to poster-size on both Mac and Windows. It works as a browser tool and need no installation to create a poster-sized wall art or other stuff as per your likings. Following are the steps to be performed for this purpose:
Navigate to the official website of  Rasterbator
Upload the image you want to enlarge or convert into poster.
Configure the changes by selecting color, style, and other options. 
Go to Output Size section and specify the size for poster. Rasterbator will determine the height of the paper or image based on how many sheets wide print you have specified. 
Once specification is done, click on the Rasterbate your image.
This will convert image into a PDF file and you can download it on your device. 
Now select the downloaded Poster and take a print of it.
Having known about creating a poster or enlarging image to poster-size and convert the said image file into PDF, the next step is to get the print of this image. Here's how to do it.
Step 2: Getting the Poster Printed on Multiple Pages
Once you are through with Step 1 and got the image ready to print on multiple pages, you have different options to be chosen from. You can either use an in-build app Pages or opt for third-party tools including Adobe Acrobat Reader, Photoshop or even use Word or Excel from Microsoft Office Package.  Following are the steps you can undertake to print a poster on multiple pages on Mac:
Using Apple Pages App:
Open the Image, use Print command and then select Save as PDF.
Now click on the PDF File and open it with Pages App.
Go to Menu and select the Print option
A setup window will appear on your screen. Here, you will get to see options like Image Size, Orientation, and other options, configure the image by making necessary changes you wish to.
Then set the Page Border at Minimum Level and click on the Print button.
Using Photoshop
Open the image in Photoshop.
Check out for the maximum size that can be printed with the available printer.
After you have determined the size of the poster, use the Marquee Tool to cut the sections out of your image.
Now copy each of these sections on the clipboard and get them printed one by one. 
Note: The exact steps may vary depending upon the version of Photoshop installed on your device.
Using Adobe Acrobat Reader
Open the Image with an Image/Picture Viewer App on your device.
Use Print Command and select Save as PDF to save the Image.
Now open the PDF File with Adobe Acrobat Reader.
Select the Print option.
Make a selection of the connected printer by choosing Printer Name.
Select the Poster tab and make the necessary changes by adjusting the Tile Scale, Overlap, and Image Orientation options.
Finally, after verifying everything, click on Print.
Using Excel
Go to the Image File and open it with Microsoft Excel
Select Size and Properties.
Select "Keep Aspect Ratio" to make sure that the Image will be safe from unrelated resizing.
Change Height or Width accordingly and then use Print Command to break the Image into multiple pages.
That is it. You have successfully learned to print a large image. The methods mentioned above may be of great help if you want to print a poster on multiple pages. 
Read Also:
Update Python on Mac: An Easy Guide
Mac Won't Let Me Add Fingerprint! What to do?
AirPods Not Connecting to Mac? Try These Methods