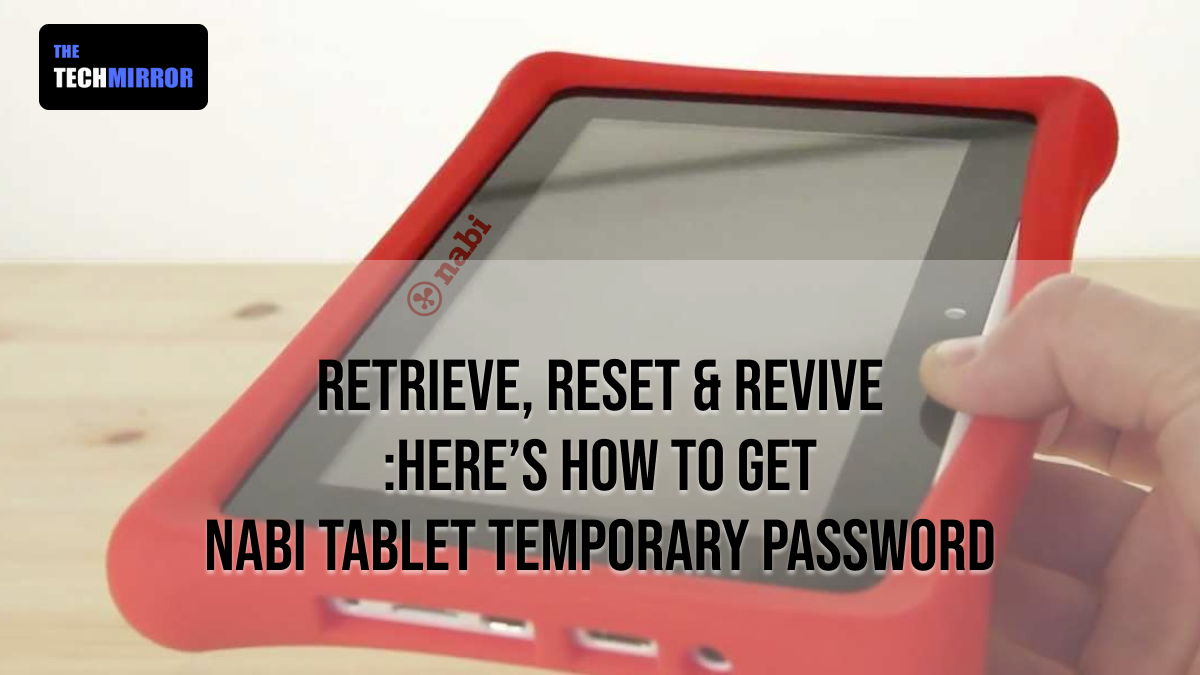 If you own a Nabi Tablet and facing logging issues with it, this blog post is a must read for you. The problem that you can't be able to access your device may be concerned with the Nabi tablet temporary password or Nabi services. We have compiled this article to help you out in either of these situations.
The article will let you understand steps to get Nabi tablet com temporary password and also to reset password for regular as well as special edition models of Nabi tablet including the Nabi JR, Nabi tablet 2, and other. It will also address how to resolve "invalid password" error. So let's find them out here…
How To Get Nabi Tablet Temporary Password?
If you are looking for the steps to get Nabitablet.com Temppassword, here's a set of instructions to be performed to get the job done:
To start with, you need to power on your Nabi tablet.
Then select and press the Menu button.
Thereafter, select from any one of the two modes available, i.e.; Mommy or Daddy Mode. 
Now type in the temporary password as "zxcv6789", and then tap on "Submit" button.
That's it. After performing the steps mentioned above you will now be able to access and use all the features and functionalities provided on your Nabi tablet.
But in case you didn't get the problem resolved, you must give a try using another method to reset password of your Nabi tablet as listed below.
How to Reset Password on Nabi tablet?
When the above method doesn't work well for you to fix the password issue related to your Nabi tablet, you can try to reset the password. For resetting your Nabi tablet password you are required to follow the steps provided as under: 
Firstly, power on your Nabi tablet.
Once it is switched on, select and press the Menu button.
Then from the two modes available, i.e.; Mommy or Daddy Mode, select one. 
After that you need to make a tap on Forgot Password option.
Having that done, wait for email which will be sent to you on the email address that you have registered with Nabi.
Go to your mailbox and check for the email from Nabi.
Open the mail and then tap on the button provided therein which says "Reset Password."
Finally, enter your email and new password, tap on continue and you are ready to go. 
After you have reset the password, you can opt for the mommy mode and then login into your device by entering your new credentials (email and new password that you have just reset using the method mentioned above). 
But if you are facing problem in logging into the Mommy Mode, what to do next? Well, to find an answer, refer the section below to resolve it.
How to Fix "Invalid Password" Error on Nabi tablet?
When you can't be able to access the device even after entering the correct login credentials, and you are constantly getting to see an "invalid password" error instead. Most likely this issue could arise due to problem with Nabi servers. Here's how to fix the problem.
To start with, go to the settings on your device
Now, turn off the WiFi or else switch on the airplane mode on your device.
Finally, enter your login credentials and hopefully you are through.
This might help you to fix the "invalid password" and you will be able to log in at ease. If the problem still persists and you can't access the device, even after performing the steps above, the only option left for you is to go for a factory reset. Here's how to perform a factory reset on your Nabi tablet.
How to Perform Factory Reset on Nabi Tablet?
To begin with the process first power off your Nabi tablet.
Next you need to press the Volume and Power button at once. 
Now you will get to see a menu appearing on the screen, using the Volume button go to the option that says "Wipe Data/Factory Reset."
Finally press the Power button and wait until your tablet get restart. Once it is on, just set up your device similar to what you did at the first time. (Note: if your Nabi tablet does not restart automatically, you can use the power button to restart it.)
Note: You must take a backup of data on your device before applying the factory reset process as it will wipe out everything from your Nabi tablet, including Nabi apps as well as other related data.
Conclusion:
So, that's all we have to share with you regarding the logging problem with Nabi tablet.com. Temporary password will help you get the access back for Nabi device. The steps by steps methods above can be used to retrieve, reset and revive login password for your Nabi tablet. Hope the information provided here will prove useful for you. Thank you for the reading and do visit us next time to learn more tech tips and solutions.
Read Also:
Revitalize Your LG Smart Device with LG SmartWorld
Here's How To Get Tubi TV Activation On Your Smart Device