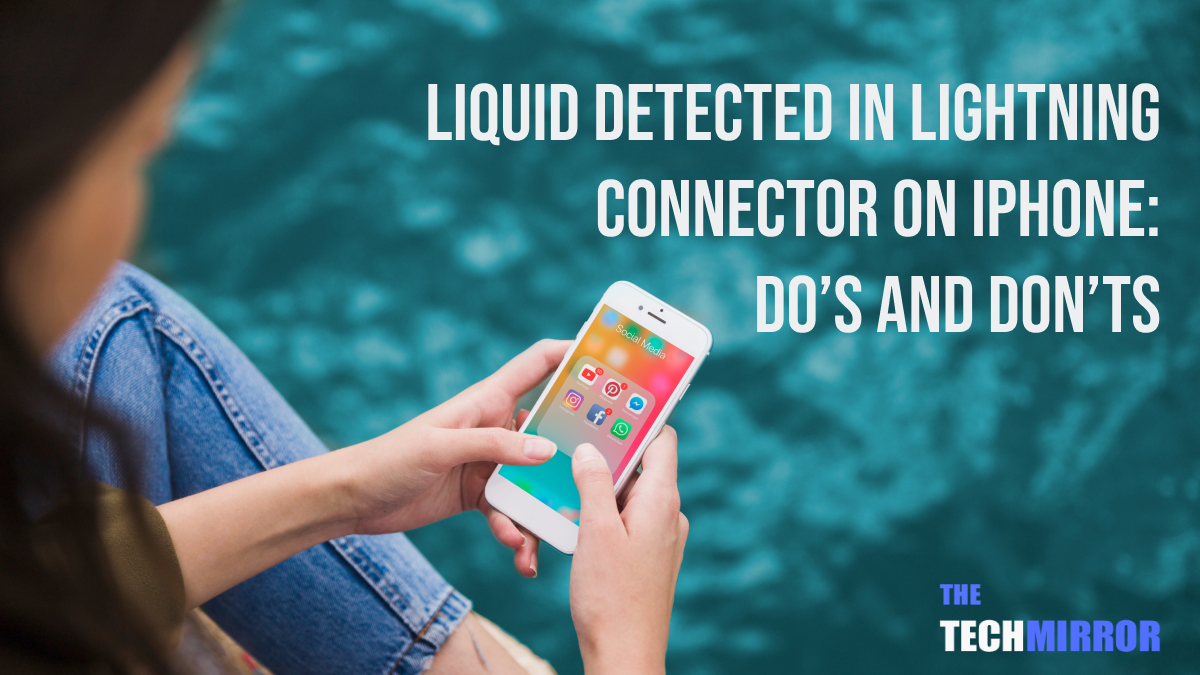 Are you stuck after getting 'Charging not available' alert and have no idea whatsoever to fix 'Liquid detected in Lightning Connector' error on your iPhone? Just ponder a while to read through this article to understand the reasons and solutions to rectify the said issue in 2023.
Charging Port iPhone Alerts: What and When?
It might happen on occasion that when you connect your device with a Lightning cable or an accessory to get it charged your iPhone warns you about liquid detection in lightning connector. Apple has introduced a feature in iPhone XS, iPhone XS Max, iPhone XR, and later version which gives an alert pop up to notify users if there's water in charging port.
Usually iPhone users come across couple of alerts if it has detected liquid in the Lightning port or even on the Lightning cable or other accessory. Here's what the alerts are and why the notification window appears:
Alert 1 – Charging not available: This error alter appears when you connect your iPhone to a charger and liquid is detected.
Alert 2 – Liquid detected in Lightning Connector: On the other hand when you try to connect an accessory to your iPhone to charge it but it doesn't get charged reason being the same; liquid is detected.
Read Also: How To Customize Sleep Mode In iOS 14 On iPhone
As charging the device while the Lightning port is wet may cause serious damage to your iPhone including work stoppage of major functionalities or other connectivity issues relating to device or accessory. In such occurrences to safeguard the device and other accessories, charging and accessory connection are unavailable awaiting dry lightning connector and accessory.
Keeping precautionary measures in mind it is advisable that you shouldn't put the iPhone on charging if it's wet. Though in case of an emergency you have the option to override the liquid detection and reconnect the charger on your iPhone.
Note: If you got a Qi-certified wireless charger, you can still use it to get your iPhone charged. However, don't forget put it on charge without ensuring that the back of your device is completely dry.
Liquid Detected, How To Dry Water Out Of Charging Port On Your iPhone
Apple has bundled iPhone X and later versions with a feature to lend a hand to users and avoid their device from damages resulting from liquid detected in connector. Not necessarily it is always due to presence of liquid in the charging port or a wet cable; it could possibly be some moisture therein. However under mentioned easy steps can to be taken to ascertain a fix this issue:
Place your iPhone in your palm.
Hold it with the Lightning connector facing down.
Now tap it gently touching your hand to remove excess liquid.
Then keep the device in a dry area with a little airflow.
Leave it there for about 30 minutes.
There after connect it for charging via a Lightning cable or similar accessory.
If the alert window again pops up and won't let you to charge the device, there may likely be liquid in the Lightning port or under the pins of your Lightning cable.
Put your iPhone back in dry area allowing substantial airflow for next 24 hours, as it might take a day for the device to completely dry. Now place your iPhone on charging and hope that it works.
Despite of applying all the above home hacks, if the charging is still averted; there is a possibility that the connecting cable or accessory may be damaged and not functioning as normal. Hence it is the time for you to contact the manufacturer or reach out Apple Support to seek technical assistance.
iPhone or Lightning Accessory Is Wet: Do's and Don'ts
When your iPhone detects liquid in the lighting port or on the lightning cable, it immediately throws alerts. Possibly there may be some water in your iPhone's charging port or the cable. If you get an alert that reads, "Charging Not Available. Liquid has been detected in the Lightning connector. Disconnect to allow the connector to dry. Charging now may damage your iPhone", here are a few things you can try to do:
Unplug all cables or accessories.
Override the liquid detection only in case of emergency.
Use wireless charger as an alternative.
On the contrary, below is the list of tasks not to do in such situation:
Don't plug up until the equipments are completely dry.
Don't heat up your iPhone using any external source or compressed air.
Don't put in any object, like a cotton scrub or a paper, into the Lightning connector.
Concluding Remark:        
Getting "Charging Not Available" on iPhone is most likely due liquid detection in lightning connector. The issue can be fixed by performing certain home hacks to make the device of cable fully dry. Hope the above tricks work well for you. If not, don't panic much and contact Apple Support to get the problem resolved from its root.
FAQs
I didn't even expose my iPhone to water, still it says liquid detected in lightning connector! Why?
You might see this error sometimes in cold temperature or in moisture filled areas. It has nothing to do with water getting inside of your iPhone. Just keep calm and wait for it to get dried properly.
Read also: