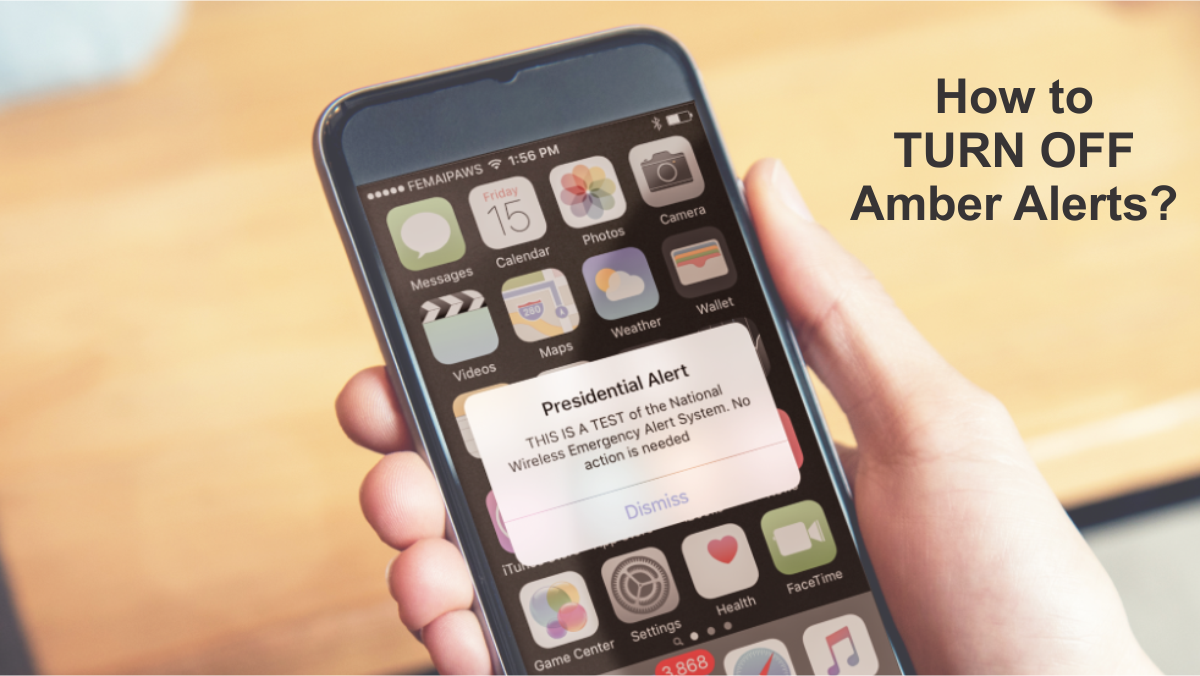 As a liable civilian you must keep on up to date about unprecedented emergency situation arising or any unexpected & unfortunate event taking place near and/or around you. One of the top suggestions in this regards comes in the form of you enabling government alerts on your iPhone/Android phones. However, your iPhone always ensure that you never fail to spot AMBER and other kinds of emergency government alerts. The United States of America engage citizens in an emergency notification service called AMBER (America's Missing: Broadcasting Emergency Response). An AMBER alert typically allows citizens know about missing person, who is likely to be in your vicinity, being tracked by police. The utility of such alerts accounts in terms of maintaining contact with authorized authorities may it be national, state, and local, creating awareness about public safety emergencies and any required action. Want to turn them off? This article will help you with how to turn off Amber Alerts on iPhone or Android in 2023.
Wonder when you received an AMBER or other emergency alerts on your iPhone. Find them bothersome and know how to turn off Amber alert on your iPhone or Android device? Have no idea as to why to leaving Amber alert on iPhone turned on? Let know everything you want to know with this all useful article.
What is Amber Alert? How it works?
AMBER is a backronym for America's Missing: Broadcast Emergency Response. The alert was named after a nine-year-old girl Amber Hagerman, victimized of abduction and murder in Texas back in year 1996. Amber alerts notifies citizens about child abductions in areas nearby them. The emergency alert system for sure can be life-saving, and helps to keep people their loved ones out of danger.
Amber represents a warning sent out by the police over an emergency system using radio and TV broadcasts, roadside electronic displays, etc. pertaining a missing child.
How you can get emergency alerts on your iPhone
Apple puts public safety, emergency, and Amber alerts enabled on your iPhone by default. The company has included Amber alert notifications, as well as other emergency government notifications like Emergency Alerts and Public Safety Alerts as an inbuilt feature for its products.
Why to leaving Amber alert on iPhone turned on?
People can prevent injury and save lives by getting these alerts. Turning on Amber alert and other emergency alerts can help you save lives. Considering a simple example of a natural disaster, if you get a prior alert that a disaster is coming your way, you can probably prepare yourself well in time and save lives of self and your dear ones. At times people may find such notification useless but it never harms to check and make sure that you obtain these important alerts, particularly in difficult times. However, when the crisis passes by, you can simply change your government alert settings at any point of time.
Regrettably, all countries around the globe do not carry emergency alerts.
So why not have emergency alerts on iPhones.
Before we go the distance, we strongly recommend you not to turn off Amber alerts.
How to turn off Amber alerts on iPhone
Get your iPhone and browse setting menu there you will find notifications, tap on it.
Swipe to the bottom, there you will find an option for Government Alerts. If you don't see this option it simply means there isn't a emergency alert system in your country and you don't have to turn it off.
When you see this option, toggle Amber alerts on and off, you can also opt or opt out for emergency and public service alerts.
How to turn off Amber alerts on your android phone
Each manufacturing brand of android devices is known to keep UI and functionality different from the other brand. So it might be a little difficult to say where this feature can be found on your device. But, yeah most probably it is available in your text messaging app.
So, open the text messages app and tap the options icon (the three vertical dots)
Now head to settings and tap wireless alerts, emergency alerts or anything similar to it – as we already told different brands title it differently.
Once you find it, just tap on it and turn it off. Hope you have found the way to turn the emergency notification off. But, we still request you to keep this feature on as it might save someone's precious life.
FAQs
Can AMBER Alerts be turned off on iPhone?
Yes you can turn off AMBER alerts on iPhone. Just visit Settings and go to notifications there you will find government alerts option. Toggle it off to opt out of emergency and public service alerts.
Also Read: