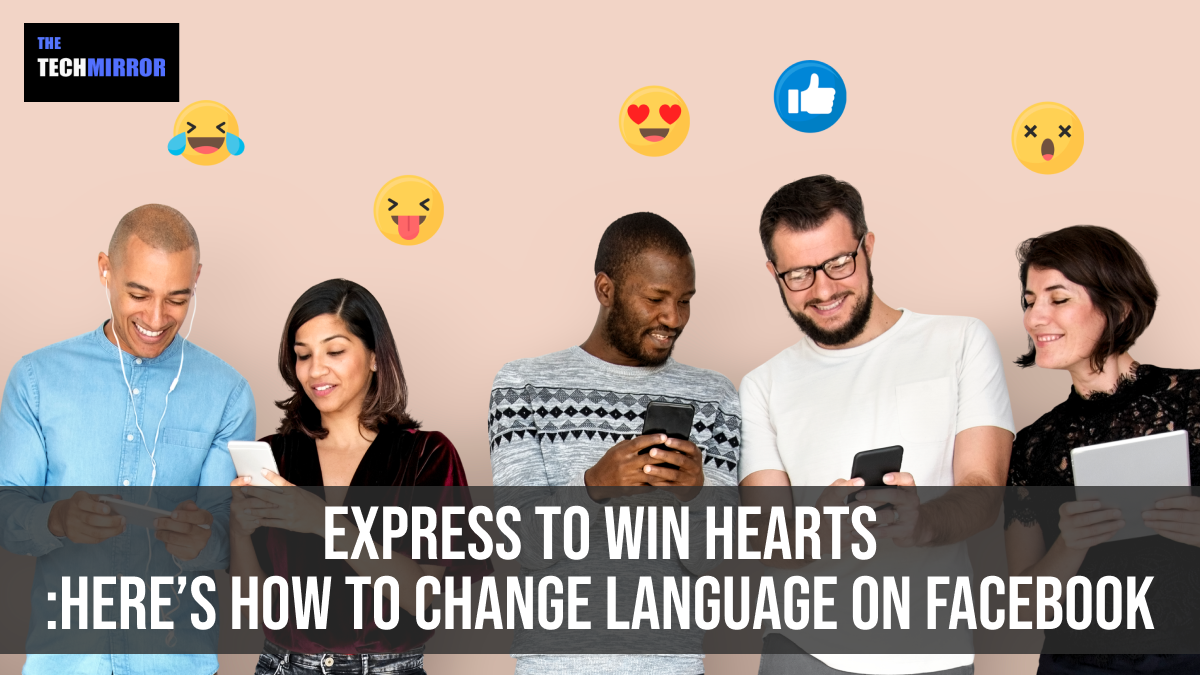 Most of the netizens find it difficult to use social media platforms as they may be more comfortable expressing themselves in their native language. Even, Nelson Mandela once said, "If you talk to a man in a language he understands, that goes to his head. If you talk to him in his own language, that goes to his heart."
Fortunately, Facebook has a feature that allows you to opt for a language of your choice and switch between other languages. So, if you are looking for the ways to better express yourself and wish to change language on Facebook, we have compiled this blog article to let you understand the 'Language and Region' settings on Facebook and help you learn how to change language on Facebook.
So with no further ado, let's dive into the article to explore ways on how you can do so.
About Language and Region Settings on Facebook:
Facebook supports several languages and allows you to set the language in which you can see the content and would like to see your post translate. You will be surprise to know that you can translate your Facebook into more that 100 languages of the world.
Facebook allows you with a feature to change your language and region settings and thereby be able to see most of your text as well as including other things like buttons, notifications, tool-tips and so on in a different language, the one which you prefer.
Note: It is to be noted that region settings are only available with the web version and can be accessed on your computer at the present time.
Here's how you can update or change your language and region settings:
Head to your Settings.
Here, click Language and region option provided in the column located on the left-hand side. Once you clicked on this option, you will be able to change multiple things including the language that you see on Facebook.
Thereafter, click Edit button provided next to Facebook language and then select a language from the list.
Finally, click on Save Changes.
Note:
1) You must keep it in mind that when you change your language, your region settings (like date, time and numbers) gets automatically updated to match your region format.
2) Changing the language settings for your Facebook account will have no bearing on the default language setting of your device. i.e.; if you change language on Facebook the settings of your computer, mobile phone or tablet will still be the same and won't change.
3) When you change Facebook language settings on one of your device, the change will not be reflected on any other device unless you change it there too. For instance, if you change your Facebook language settings on your mobile phone, you will also have to update it on your computer as it won't update automatically.
Besides, changing the Facebook language settings, you can also perform other tasks, like:
Altering the language in which you would like to have your posts translated.
Turning off translations for your posts in other languages.
Updating if posts in a different language gets automatically translated.
Changing Language On Facebook
Whenever you create a Facebook account, and open it on your device it becomes visible in the same language as that of your device's language settings. However, Facebook allows you to change your language and you can opt from several language options other than English.
If you find it difficult to understand and use the 'English' language on Facebook, you can switch it to other foreign as well as regional languages. Well, if you wonder how to have a go at it, here's how to change the language on Facebook.
How to Change Language on Facebook?
As mentioned above that changing the language settings in Facebook account on one device will not change the settings on other devices. Hence you have to manually change the language settings. If you wish to change your language on Facebook, you can either get the job done by accessing the official Facebook website on your computer or else use a mobile Facebook app on your Android or iOS device to change your entire Facebook in the language of your choice.
Change Language Settings on Facebook App (on Android Device)
To start with, launch the Facebook app on your Android device.
Tap on the three lines (the hamburger menu icon) located at the top right corner.
Now, scroll down to find the Settings & Privacy option and then tap on it.
Here underneath the 'Preference' section, tap on the setting option followed by the 'language and region' option.
Choose the first option mentioned as the language for buttons titles and other texts from Facebook, select your preferred Language from the list of available languages.
Change Language Settings on Facebook App (on iOS Device)
First of all, launch the Facebook app on your iPhone/iOS device.
Tap on the three lines (the hamburger menu icon) placed on the bottom right corner.
Thereafter, scroll down the options to locate and tap 'Settings & Privacy'
Now, tap on App Language
This will direct you to your iPhone device settings from where you can opt for the preferred language for your Facebook app.
Change Language Settings for Facebook in Browser (using Computer)
To begin, open your preferred browser and navigate to official website www.facebook.com.
Now log in to your account by entering valid credentials (your user Id and password).
On the home page, click on the drop down arrow provided in the top right corner of your screen.
From the options, select 'Settings & Privacy'
Thereafter, click on Settings followed by the option called 'Language and Region'
Using this option, you can change the language in which you will see your Facebook. Just click on Edit provided next to the Facebook language section
From here, click the down arrow underneath 'Show Facebook in this language' and select the language of your preference
Once you are done with selection of a language, click on the Save Changes button.
That's it. You have now successfully learned to change the language on Facebook. You can any time try and use the steps mentioned above and get your entire Facebook in another language. Hope you find this article helpful. For more similar tips and handy hacks, keep visiting us.
Read Also:
M Facebook Touch: A Real Touch Of Better User Experience
Who Views Your Facebook Profile Not Friends: Easy Methods To Let Know
Facebook "Content not Available": A Quick Referral Guide