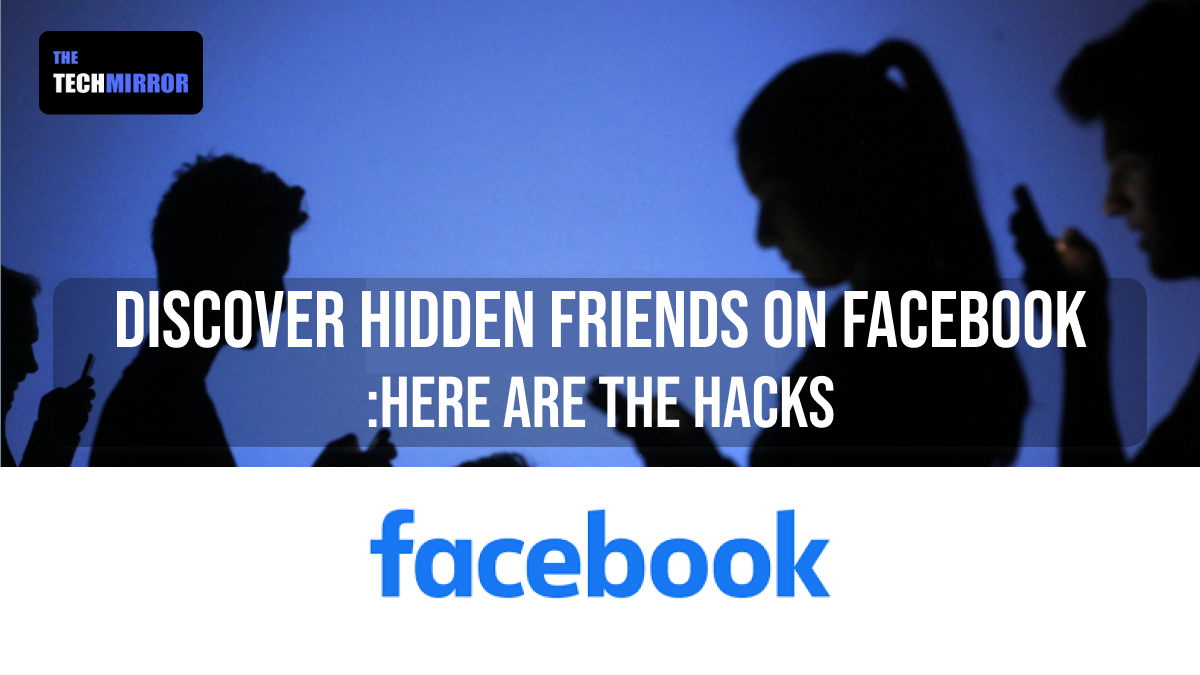 Facebook is one of the most popular and widely used social networking platforms. What makes it as the preferred choice of many is obviously that Facebook cares a lot about the safety concerns of users and offers a lot of features to protect the privacy of its users. One of such thing is Hidden Friends on Facebook which not only let you to hide the identity of your friends but also protect their privacy as well. But what if you want to see someone's hidden friends on Facebook, are there any hacks available? Let's find out by reading this piece of writing.
Finding Hidden Friends on Facebook:
Whenever you visit someone's Facebook profile, as a general rule you will find only the 6 friends being showed on the profile tab. You will get to see either the person's profile displays the Mutual friends you have with that someone (if any) or it simply shows up a no Friends section. The probable reason of this could if that the person might have set the friends list as private thereby their friends will be hidden from the profile.
However, there are a few very simple yet effective tricks which may work well for you if want to see someone's hidden Friends on Facebook. You can give it a try to any of these proven methods listed under to find hidden Facebook friends of a targeted user.
How to View Soneone's Hidden Friends on Facebook ?
People are quite inquisitive to know about activities of other users on Facebook. And it usually happens that you wish to check for someone's friends but didn't get to see it as if most users make their list hidden. Following are the methods by which you can hack on someone's hidden friends on Facebook.
Using Friends Viewer Feature:
In order to see the hidden friends of someone on Facebook, you need to have their profile ID, which you must copy and paste in the Friends viewer link. Friends viewer link is common for all users and is accessible from every device. Here's how to see someone's hidden friends using this method.
Launch the Facebook app.
Look for the profile ID of the person whom you want to check for the hidden friends. At times users change their ID and replace it with a custom username; hence to find the actual profile ID you need to undertake steps as under:
Open the link: https://www.facebook.com/messages/t.
Now here search for the person to chat on Messenger and tap on their name.
Once done their profile ID will be shown up in the URL section.
Now open the link: https://www.facebook.com/profile.php?id=NUMERIC_ID&sk=friends.
Replace NUMERIC_ID with the profile ID (you just got from steps above) in the given URL.
This will display a list of friends of that person.
Note: It is to be noted that if the user has made their friends list private then you won't be able to view their friends. In such case you can simply click on add friend button of the person's Facebook profile and wait till the person accepts your request. Thereafter you will be able to see their friends list.
Via Mutual Friend:
The next method to view hidden the friend list of someone is using the mutual friend's feature. For applying this method you need to collect the Facebook ID of the person whose friend list you want to view and any one of your mutual friend. This can easily be done using the steps mentioned in the above method. Once you have both the IDs ready with you. Visit the link we have provided below;
https://www.facebook.com/target_name/Friends?and=Friend_of_target.
Now by replacing 'target_name' and 'Friend_of_target' with the IDs you have collected, you will get to see all the hidden mutual friends of these two users.
Note: This will not be useful and won't work for private profiles. In case you get to see the mutual friends on the profile of target user's friends tab and if the total displayed profiles are more than 6, then you can try your luck with this method. However, if the target user isn't friend to you and there's no friends showing up on their friend tab, then you will only ended up in getting a message saying 'No friends to show'.
From the Friend Finder Page
Another handy method for getting a list of hidden friends of particular target user is the Friend Finder Page. The only essential condition for applying this method is that you must have at least one common friend with the target person, and this shared link will help you access the hidden friend list you intend to view.
With this approach you can identify the close friend list of an individual on Facebook. But you need to have at least one shared link with the person whose. Following are the steps to be undertaken for using the Friend Finder Page to see the mutual friends between that person and the common friend you have with them.
Open Facebook and Login to your account.
Go to the 'Friend Finder Page'.
Here keep scrolling to find the mutual friends section.
Once you landed on mutual friends section, look for the profile of the person whose hidden friends on Facebook you want to see.
That's it. You can now get the desired list.
Through the Friends Tab:
If you want to view someone's friends on Facebook and if the person is not on your friend's list then you would not be able to see all the friends rather than the only mutual friends.
To view all friends of someone on Facebook,
Launch Facebook on your device.
Go to the profile of that person whose friends you want to view on Facebook.
Now look at the 'Friends tab' on the profile or go to link:
https://www.facebook.com/profile.php?id=NUMERIC_ID&sk=following
Here in the URL link just add the profile ID of that person by replacing it with the 'NUMERIC_ID'.
Once it is done, you will get to see list of all friends that the person has added.
Using Chrome Extension: Facebook Friend Mapper
One of the methods which will help you to find hidden friends on Facebook for someone who wish to spy on is by using Chrome Extension called Facebook Friend Mapper.To do so, you need to first install the said extension to your Chrome browser. Following steps must be performed to find the hidden friend list of someone using this method:
Navigate to Google Chrome, search for the Facebook Friend Mapper extension and get it installed on your device.
Now log in to your Facebook account by entering the valid credentials
Go to the profile of target user and make a click on friends. Here enable the extension and you will get to see a new link/tab named as 'Reveal friends'.
As soon as you click on it, the extension will start processing to scan for desired list to show the Hidden Friends on Facebook for the target.
That's all. You have successfully learned the hacks to see the hidden friends on Facebook for the person you want to spy or just the otherwise. Hope the methods discussed herein will help you serve you purpose.
Read Also:
Does Facebook Notify While Someone Taking Screenshot of Story?
Facebook Marketplace Won't Load: Letting You To Get Over The Issue
"This person isn't available right now" on Facebook: Here's Easy Fixes
How To Not Crop Profile Picture On Facebook: Easy Hacks and Tricks