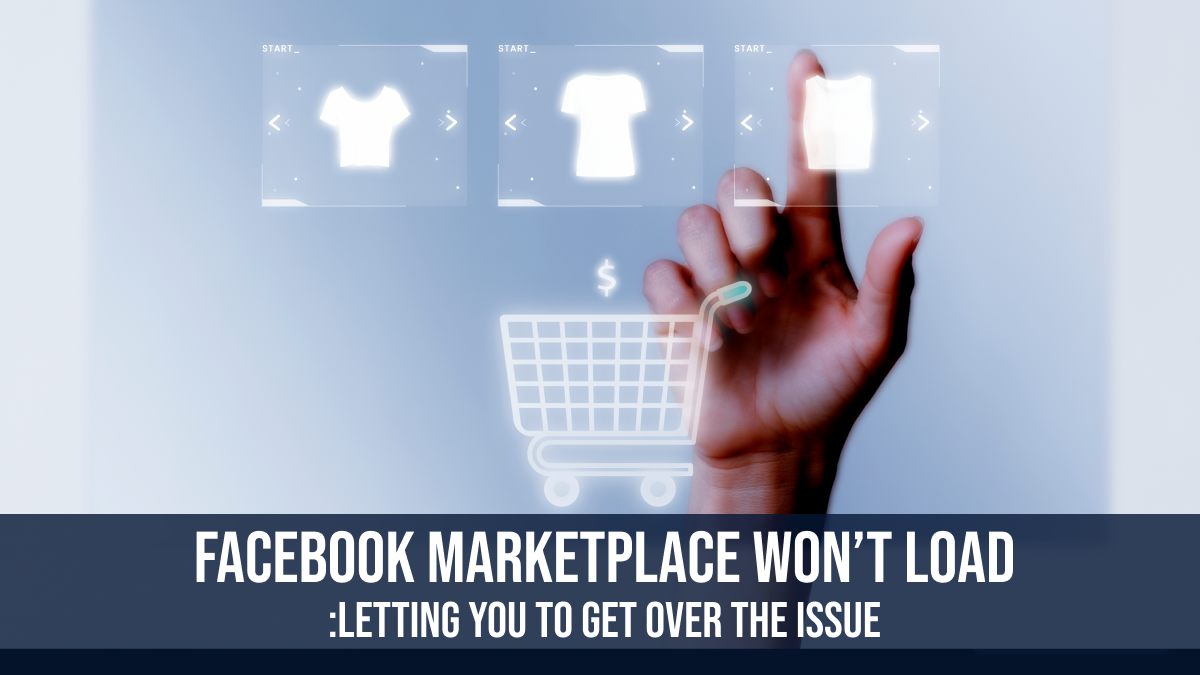 Facebook surely is an unswerving social media platform for quite a long. Over the years, it has evolved as an imperative tool for businesses and brands interested in selling their products to targeted audiences. The platform has introduced Facebook Marketplace, well-situated for people to find out respective parties to buy and sell items. Here they can explore and discover things via filtering the results by location, category and price. But users have often reported a common concern were Facebook Marketplace won't load on their device. Facebook Marketplace not working issue is a frequently encountered problem whether you try to access it on a Computer or Mobile Phone.
If you are facing trouble in getting Marketplace loaded, this article we provide you with the solutions to be deployed to completely fix the Facebook Marketplace won't load issue.
So with no further ado, let's start with first knowing about the reasons triggering this issue.
Reasons As Why Facebook Marketplace Won't Load?
Before going through the solutions that could help you solve this issue, you must be aware of why the problem occurs. We have compiled a list of the most fundamental reasons which result into Facebook Marketplace not working issue. These reasons are:
Inaccurate Login
Corrupted Cache
Browser Issue
Suspicious Browser Extensions
Unconfigured MarketPlace Settings
Note: The list is not all-inclusive and there may also be various other factors that may lead to Facebook Marketplace won't load error.
Now as you have known about the most predominant reasons behind this problem, let's get into the discussion as to how this issue can be fixed.
How To Fix Facebook Marketplace Not Working:
At any point of time, when you experience this error you can get it resolved by using below mentioned methods:
Method#1: Restart your Device
The first troubleshooting method you can try in the first place is restarting your device. Restarting will help you to get rid of some minor software issues and thereby resolving the Facebook Marketplace won't load issue. Once you restart it, check if the problem is fixed or not.
Method#2: Un-install and Re-install Facebook
The next basic troubleshoot which may let you to get over the problem is to uninstall the Facebook application and then reinstall it back again on your device.
Method#3: Re-login to Facebook
In the problem arise due to inappropriate login then you must try your luck by re-login to your Facebook account.
For doing so you must first sign out from your account by selecting the log-out icon provided at the top-right corner, and then log in back again after wait a while.
If re-login to Facebook help your cause, it's well and good. If not then you must try other solutions listed below.
Method#4: Clear the Cache
Cache and cookies of your browser is yet another major reason for encountering the Facebook Marketplace not working problem and thus by clearing them up you can probably get the issue sorted out. To clear the Cache on Chrome, use following steps:
Launch Chrome browser and then make a click on three dots provided at the top-right corner of the screen.
Select "More Tools" and then click on "Clear Browsing Data".
Use the "Specify the time range" option provided at the top and select the "All Time" for deleting everything.
Next to that, check the box provided next to "Cookies and Other Site Data" and "Cached Images and Files".
Now select "Clear Data" and then restart your device.
See if the "Facebook Marketplace not Loading" problem is resolved. If it still persists then you can also try to re-install your Chrome Browser as mentioned in next method below.
Method#5: Reinstall Your Browser
Open Run box using "Windows + R" and head to "Control Panel".
Here look for "Add or Remove Programs" and then click on "Google Chrome" from the provided list of applications installed on your system.
Right-click on Chrome and select the "Uninstall" option.
Once uninstallation is successful, reinstall Chrome back again by clicking here 
Now just follow the on-screen instructions.
In all probability, reinstalling Google Chrome will help you to fix the Facebook Marketplace not working.
Method#6: Try An Alternate Web Browser
In case you are facing this problem on your default browser (be it Chrome) then switching to some other browser like Internet Explorer, Firefox and so on, may be quite handy to resolve Facebook Marketplace issue.
Alternatively, you can directly access the Marketplace using its official website Facebook Marketplace  from the web browser instead of visiting it via your Facebook profile.
Method#7: Disable Browser Extensions
If the problem happens because of some browser extensions then you can even try disabling such suspicious extensions to resolve this problem. To do so you need to perform following steps:
Power on your PC and then open the "Chrome" browser.
Select three dots icon provided at the top-right corner of your screen.
Find "More Tools" and then click on "Extensions".
"Disable" each of the extension by selecting them separately.
Now restart your browser, log in to your Facebook account and check for the issue, whether fixed or not.
Method#8: Configure Facebook Marketplace From Menu
One of the possibilities behind getting this problem is that of unconfigured MarketPlace Settings. To overcome the issue, you can get it configured using the steps below:
Launch the Facebook app on your device.
Select the "Menu" icon provided at the top-right corner.
Look for the option called "See More" and select it. Now click on "Marketplace" and configure it accordingly.
On visiting the Facebook Marketplace next time you will perhaps see that the issue is fixed. If it doesn't, you must also try to reconfigure your account settings.
Method#9: Reconfigure Your Account Settings
To reconfigure your account settings ensure to set your default language to English and reassure that the location mentioned on the Facebook Profile matches with the one on listed as accepted locations/countries on Facebook Marketplace. If that's not the case, you can request for the same by sending an appeal through the Facebook Support page.
Method#10: Contact Facebook Help Center
Majority of users who have faced this problem reported that they were able to got this issue fixed by contacting Facebook help center. For seeking help from Facebook, you can drop a mail at Support Email or call on Customer Support Number (+1 877-398-6240).
Read Also:
"This person isn't available right now" on Facebook: Here's Easy Fixes
Facebook Messenger Last Active Disappeared? Check How to See in 2021