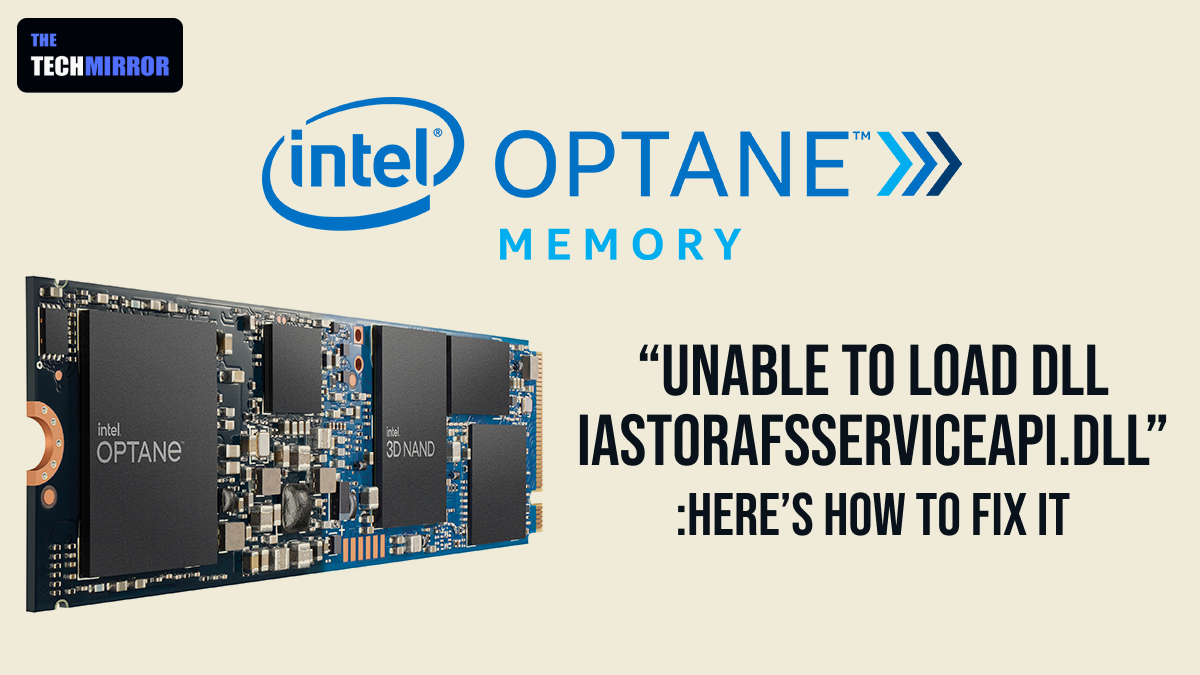 If recently updated a latest version of Windows 10 or just newly installed a one, you might encounter with an error triggering on your system. The error results in a state where you being unable to load dll 'iastorafsserviceapi.dll' file while using the Windows Explorer.
If you want to know more about the Intel Optane Memory Pinning Unable to load dll iastorafsserviceapi.dll error and how to get rid of it?, just read through the blog post and have it answered.
What is Intel Optane Memory?
Intel Optane Memory is responsive memory designed for accelerated performance. It helps you speed up your mobile or desktop system, by increasing responsiveness without compromising system space. Optane Memory keeps a track of your repeatedly used softwares, documents, files etc letting you a quicker data transfer.
But if you encounter Intel Optane Memory Pinning error, here's how to get it fixed.
Prerequisites to resolve "Unable to load dll iastorafsserviceapi.dll":
When it comes to resolving this error you must ensure to have particular system hardware configuration in-order to support the methods provided herein. The minimum requirements being an Intel processor "Core i3/i5/i7 processor" of "7th generation" or above, alongside a motherboard equipped with/able to support an Intel Optane chipset.
If you have these specs available at your end proceed with the fixes given below or else you can just go on to uninstall the Optane Memory.
Fixing the unable to load dll 'iastorafsserviceapi.dll' issue:
Fix#1: Modify Optane Memory
The first method which you can try to resolve the issue is to Modify Optane Memory, i.e.; to re-install the missing features. To modify the Optane Memory you need to take the following steps:
Go to the search bar next to the Start menu
Type and enter "Apps and features"
Now click on the "Search this list" bar and search for Intel Optane. It will then display Intel Optane Pinning Explorer Extensions in result
Left-clicking on it will give you two options, viz.; "Modify" and "Uninstall"
Select the "Modify" option and wait for the installation process to complete
Close the window and restart your computer (if it ask for a quick restart)
That's all, check if the issue is fixed or not.
If you still get the problem and are unable to load dll iastorafsserviceapi.dll try using any of the methods given below.
Fix#2: Repair Optane Memory
In case where the modifying option didn't work well for you, try to repair Optane Memory for fixing incomplete driver installation. To repair Optane Memory you need to perform steps as under:
Go to the search bar next to the Start menu and open "Control Panel"
Now go to programs and then click on "Programs and Features"
Scroll through the list of applications to find "Intel Optane Pinning Explorer Extensions".
Right-click on it and then select the "Repair" option.
Having done this check if unable to load DLL iastorafsserviceapi.dll issue is resolved or not.
Fix#3: Uninstall Optane Memory
If above two fixes fail to serve your purpose to help you resolve the problem, you can uninstall the Intel Optane Memory to get rid of this issue. To uninstall Optane Memory you are required to take steps provided as under:
Restart the computer and tune into BIOS by pressing your BIOS key (which could be "F10, F2, F12, F1, or DEL" asset by your manufacturer
Head to the "Advanced Mode" and find "Intel Rapid Storage Technology"
Select "Intel PCIe" (Optane module with serial number) followed by the "Reset to Non-Optane" option
Now save the changes and restart windows to check if the Intel Optane Memory Pinning issue is fixed.
Note: While you are at it you can also disable Optane Memory from your system BIOS. Ensure to uninstall Optane Memory from Control Panel disabling Optane Memory in BIOS otherwise you might get to experience a Blue-Screen error.
Fix#4: Uninstall Optane Drivers
Go to the search bar, type "Device Manager" and hit enter.
In the software components, find and select "Intel Pinning Shell Extensions"
Right-click on it and then select "Uninstall"
Let the un-installation process to finish and then restart your computer
Fix#5: Install RST Drivers Manually
Navigate to the "Downloads for Intel Rapid Storage" page by clicking here
Download the most recent version of Intel Rapid Storage Technology Driver Installation software, as per its compatibility with your OS
"Unzip" the file and then double click it to begin the installation process
Once the installation is done, restart your computer and probably the changes incorporated therein may help you to fix the issue.
Hopefully, the methods mentioned above in the article may be of great help to you in getting over the unable to load dll iastorafsserviceapi.dll issue.
Read Also:
Enjoy Seamless Gaming: Learn To Fix NP-34957-8 Playstation Error