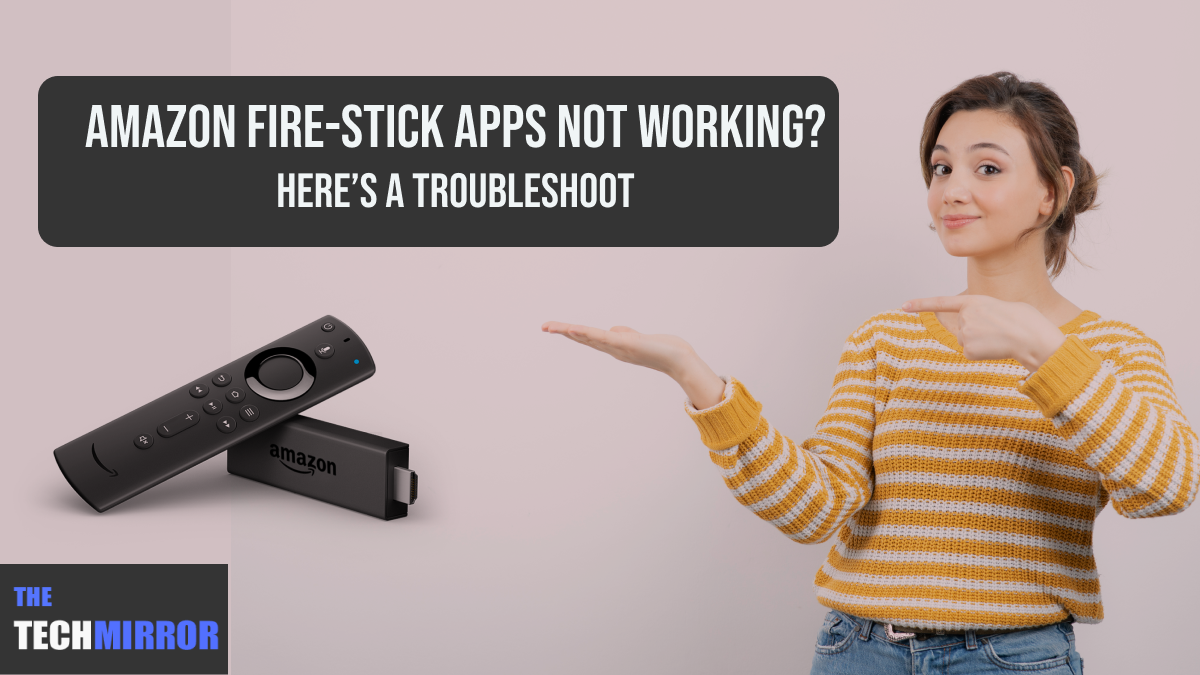 The Amazon Fire-stick is a media streaming device built on the Android platform which converts a normal TV to a Smart TV. It is quite a handy tool which lets you stream video, install gaming, utility and other apps, play music and much more. Though the device is compatible with most of the applications, occasionally users face issues with Amazon Fire TV apps not working.
If you are also facing problems with Amazon Fire TV as the Fire-stick apps not working as they should or they are not loading up or keeps on buffering?? Having no idea like what to do about these problems or how to get them fixed? This blog is a must read for you.
Before getting to the solutions you must understand the reasons as why Fire-stick apps are not working. The first section of this article will make you aware about what causes this problem to occur. So continue reading and learn the reason and remedies subject to Amazon Fire TV stick apps not working issue.
Why Fire TV apps are not responding?
There may be numerous reasons for getting Fire-stick apps not working problem. However the predominant are:
Compatibility with the streaming device,
Unstable internet connection and poor or slow network
Outdated or obsolete app
Storage or memory problem on your system
Note: This list is not all-inclusive as there may also be few more reasons behind the problem.
How to fix Fire-stick apps not working issue
For whatever the reason is, you can always try some basic troubleshooting methods for getting the problem fixed. These methods are discussed as under:
1. Restart your Fire TV
The first troubleshooting which you must try upfront is to restart your Fire TV. This can be done by performing any of the following tasks:
Task 1: Press and hold the Play/Pause button with the Select button at the same time for five seconds.
Task 2: Head to Settings > Select Device > Choose Restart.
Task 3: Unplug the power cord, and then plug it back in after waiting for 10 seconds.
2. Clear the Cache and Data
Next troubleshooting method which may help you to resolve the issue is to clear the cache. For doing this you need to undertake steps as given below:
Head to Settings and then select Applications.
Next tap on Managed Installed Applications.
Select the app which is not working / responding.
Now select Clear Cache followed by Clear Data.
Apart from the above mentioned troubleshooting methods you can try to fix the problem by uninstalling the app, and reinstalling it back again.
Amazon Fire TV apps not working on iPhone
In case when the Fire TV apps are not working on your iPhone, the first thing you need to go to the App Store and look for pending updates of the Fire TV app. Let the update be finished if there is any and check if the problem is fixed. If it still persists, you must go for Force Close the app using steps provided below:
Swipe up from the bottom of your screen and then take a pause halfway till you see multitasking option opening up.
Then swipe the Fire TV app off the top of the screen.
Return back to the home screen by tapping the wallpaper.
After you are finished with it, restart your iPhone.
Amazon Fire Stick won't load apps
When your Amazon Fire-Stick streaming device is not loading apps properly or the apps not showing up on Fire Stick once you open them, the fixes which may work well for you are:
Restart the Fire Stick
Unplug the power cord.
While the device is unplugged, hold the power button for 20 seconds.
Plug the device back and then turn on the power.
Next, go to the Fire Stick input channel and see whether it loads.
Check for the connections
Another fix that you can try is to check for the connections. Make sure that your HDMI cables are not loosely attached or damaged. In addition to that you must also check whether there are any issues with the internet connection.
Restart your Router or Modem:
Another step you can take is to power down and restart your device. Alternatively, restart your router or modem. If that does not work:
Go to Settings > Applications > Manage Installed Applications > App Data and Cache
Now select the clear App Data and Cache and then restart your device.
Amazon Fire TV apps keep buffering
In case the problem which you are facing is one where the Fire TV apps are not connecting and instead it keeps on buffering, you need to perform following troubleshooting tactics:
Restart your Fire Stick device.
Check for the internet speed.
Restart your router or modem.
Uninstall all avoidable and unnecessary applications.
Free up RAM
Avoid using a VPN.
Turn off the option to collect app data by using the path as;
 Settings > Applications > Collect App Data Usage > Turn OFF.
Turn off the data monitoring option to optimize the performance of your device by using path as;
Settings > Preferences > Select Data Monitoring > Turn OFF.
Clear app cache by using the path as;
Go to Settings > Applications > Manage Installed Applications > Select the app that is buffering > Select Clear Data and Clear Cache.
To Sum Up:
In an event of Fire stick apps not working on your device you must first know the root cause of the problem and try the basic troubleshooting techniques and tactics. These troubleshooting include restarting device, router or modem, reinstalling the app, checking for the internet connectivity, clearing the cache and so on.
Read Also:
How To Install Google Chrome On FireStick & Fire TV?
Easy guide to fix Amazon video insufficient bandwidth issue