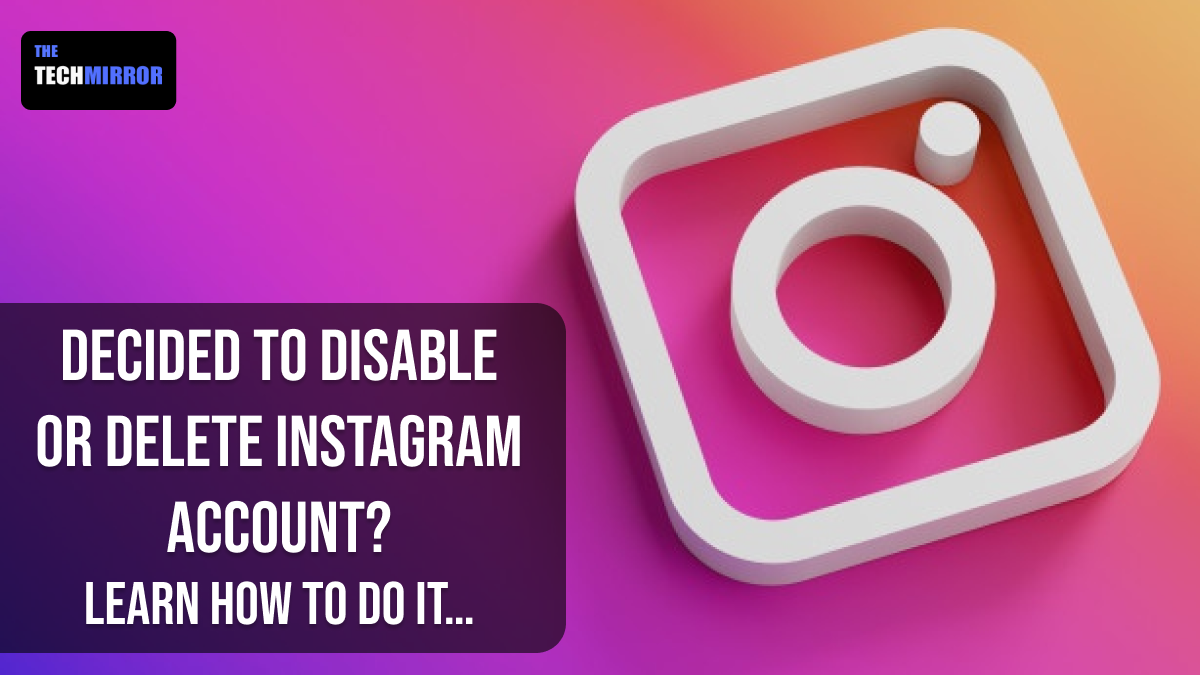 If you're looking to get away from the virtual world of social media for a while, or otherwise just wish to delete Instagram account. Here's an article to guide you through We have compiled this blog post to address one of the most frequently raised questions by Instagram users about how to delete an Instagram account? So without any further delay, let's get straight to the topic and learn…
Deleting your Instagram account
Whenever you decide to remove your account from Instagram and do get it deleted, Instagram in response to that delete your account profile and everything you have on the said account including media files (like photos, videos etc.), followers, likes and comments. All these stuff will get permanently removed from your profile.
But if you don't want to lose it for eternity, you can go other way round by opting for a break and temporarily disable your account as an alternative to deleting it.
Let's check out the process to temporary disable your account on Instagram.
How to temporarily disable Instagram account?
In case of disabling your Instagram account for the time being, your profile and things associated to it such as – photos, videos, comments and likes etc. will be out of sight and be hidden. Once you reactivate your account by logging back in, you can regain all these stuff on your profile itself.
As you can only temporarily disable your account from web and you won't find any feature for that within the Instagram app. Below are the steps to be performed to disable your Instagram account from a desktop computer or mobile browser.
Steps to temporarily disable your account on Instagram
Navigate to the official website Instagram.com from your computer.
Enter the valid account credentials to log in (if not logged in) to the account you wish to disable temporarily.
Now click/tap your profile picture located at the top right corner.
Thereafter select Profile and then click on Edit profile.
Here look for the option called Temporarily disable my account provided at the bottom right. Click it to continue. 
It will now ask you "Why are you disabling your account?" Just select an appropriate reason from the drop-down menu provided next to it and then enter your password. (The option to disable your account will only appear once you select a valid reason from the list and enter your password.)
To finish, click on "Temporarily disable account."
Note: It is to be noted that as per Instagram's policies you may only be able to temporarily disable your Instagram account one time a week.
That's it. You have now successfully disabled your account for a time being until you reactivate it.
You are required to be logged in to your account to temporarily disable it. In case don't remember you can't remember your password or username, refer this for help: Forgot login credentials? Here's how to reset Instagram password.
Now that you have learned the process of disabling the account, you are all set to take a break from Instagram. But if you would like to completely go off the platform and decides to remove your account, here's how to delete Instagram account.
How to delete Instagram account?
For security reasons, Instagram can't delete an account for you. To delete your account, you will be required to log in to your account and submit a request for deletion. Section provided below will have you covered with the process to delete Instagram account permanently.
Steps to request the permanent deletion of Instagram account:
If you have decided to delete your account permanently, we recommend you to log in and download a copy of your information (including your photos and posts) from Instagram before proceeding to steps for deleting your account. As once your account get deleted, you will not be allowed access to Instagram's Data Download tool.
Having downloaded your information, follow these steps to delete your account:
To start with, visit the Delete your account page from a mobile browser or computer. (Note: You are required to log in to Instagram account (the one which you want to delete) on the web, as you can't delete Instagram account using the Instagram mobile app.)
Once landed on the page you will be asked "Why are you deleting your account?" Just select a valid reason from the drop-down menu provided next to it and enter your password.
After that click or tap on Delete [username].
That's all you have to do to request for Instagram account deletion.
What happens after you delete your Instagram account?
After the expiry of 30 days from the date of submission of your account deletion request, your account including all the information associated with it will be permanently deleted. Also once it is done, you will not be able to get back your information.
Even for those 30 days, your stuff will not be available to anyone using Instagram, though it remains to be on the platform subject to Instagram's Terms of Use and Data Policy.
Once your Instagram account has been deleted, you can sign up again using the same username or add the said username to an alternate account unless it hasn't been taken by any other newly joined user on Instagram. However, in case of your account being removed by Instagram for violating its Community Guidelines, you may not be allowed to sign up again using the same username.
Read Also:
Is it possible to view Instagram stories anonymously? Here's an answer
How You Can Change Language On Instagram? Learn Here…
What Does The Green Following Mean on Instagram ?
What does Muted mean on Instagram?