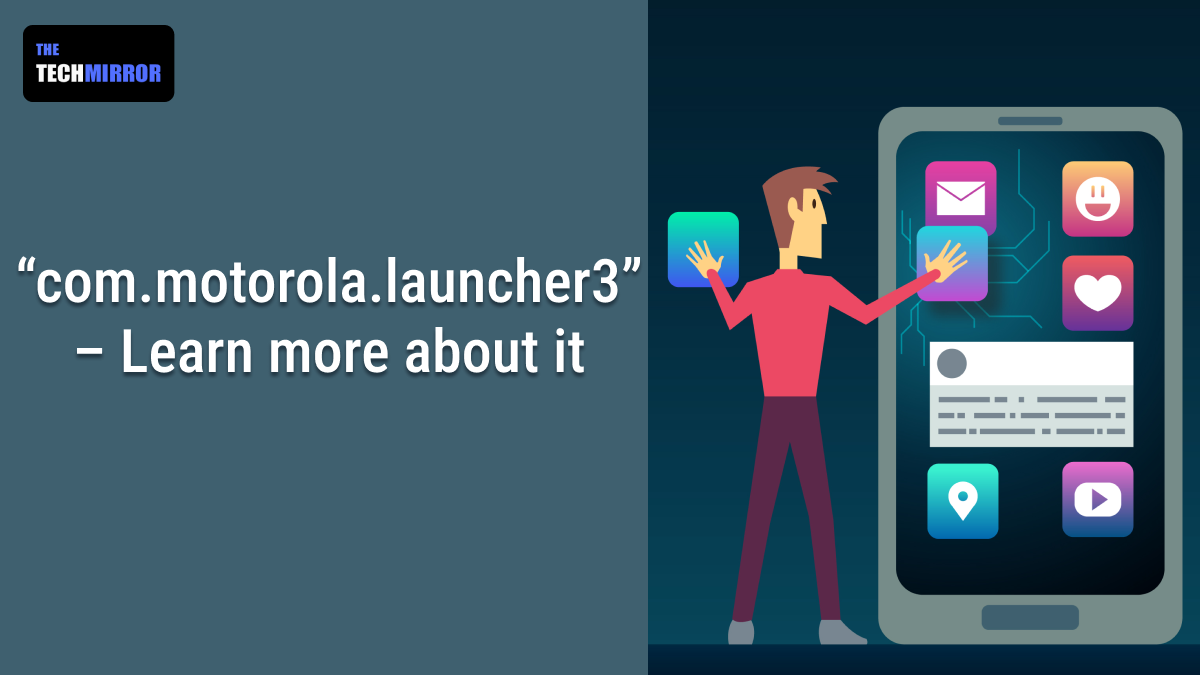 You might have just seen the com.motorola.launcher3 in the used apps of the activity log and wondering what exactly it is. If that's the case then you have landed on the right place. This blog article will address all your anxiety and curiosity about com motorola launcher3. So with no further ado let's get to learn more on this.
But first we must start with having a bit of understanding on Android Launcher. 
What is a Launcher on Android?
Android Launcher is the system application which is meant for showing up the main user interface (UI. This application is also responsible for launching apps from the app drawer.
In addition to that handling such significant tasks, the Launcher app hosts Widgets as well. It is a card-like interface of apps which can be added to the home screen of your device and let you access information without opening the app, for instance – weather or calendar on the home screen. 
About com.motorola.launcher3
com.motorola.launcher3 is the Android APK used in the launcher app which comes pre-installed on almost all Motorola devices.
As per the protocol all Android application has been provided with a unique App ID (application identifier) to be recognized on Google Play Store. These apps follow a generalized naming format as – com.developername.appname. So, in regard to com.motorola.launcher3, Motorola is the developer name and Launcher3 is the default name of the Android launcher.
Is com.motorola.launcher3 Safe?
Many Motorola users have been asking a lot about this and there's a huge amount of misunderstanding regarding this Android package. While some people think as if com.motorola.launcher3 is a kind of malware or virus others opine that it is quite unimportant to have it on device and wish to uninstall it. But you must note that com.motorola.launcher3 is pretty safe to use and plays a vital role in the smooth functioning of your Android device. 
However, on occasions com.motorola.launcher3 suddenly crashes and an error message appears on your screen saying, "Unfortunately, launcher3 has stopped". If you have also noticed it on your phone and looking for methods to resolve it, read the section below to get an answer.
Fixing Unfortunately, launcher3 Has Stopped
You might have encountered the error message and faced the situation where the stock launcher of your device keeps stop working for no apparent reason. However, you can fix this issue by clearing cache memory and data. For doing so you need to undertake the steps given below.
Go to the "Settings" tab on your device.
Find the "Apps and Notifications" and then click on it.
Now select "Show System Apps" and here look for "com.motorola.launcher3".
Once you locate it, tap on "Storage & Cache".
Lastly, tap on "Clear cache"
Restart your device to check if the issue is fixed. If that does not go well, you can try your luck to get it fixed by restarting your phone or soft reset it.
If nothing works for you, just download a third-party launcher app and set it as default in place of com.motorola.launcher3. 
Can You Disable/Uninstall com.motorola.launcher3?
Many users raised query on is it possible to disable/uninstall com.motorola.launcher3? This section will deal to address this FAQ. But ahead of that you must be aware of the fact whether you should disable/uninstall com.motorola.launcher3 or not? 
The answer to this is a big No. You must note that, in view of the fact that it is the app which is responsible for launching other apps on your Android device, if you disable or uninstall this default system app, you won't be able to interact with your device. Hence before disabling/uninstalling this stock launcher, you need to install some other third-party launcher. But please do remember that it is not a wise idea and we won't recommend you to do so.
Note: You can install and use a third party launcher without disabling or uninstalling the stock launcher; this will also let you to switch to default stock launcher com.motorola.launcher3 and thereby fix the issue by updating or downloading a new launcher.
Even if you want to remove it then there is an obvious possibility for it. Here's is how to disable/uninstall com.motorola.launcher3? 
You can get rid of this system app by using either the Android Debug Bridge (ADB) or the System App Remover application (requires root access).
That's all from our side. Thanks for visiting our page; you can also refer following articles.
Read Also:
"com sec epdg"- is it an imperative system app? Know here…
"com sec android daemonapp" – Learn everything about it