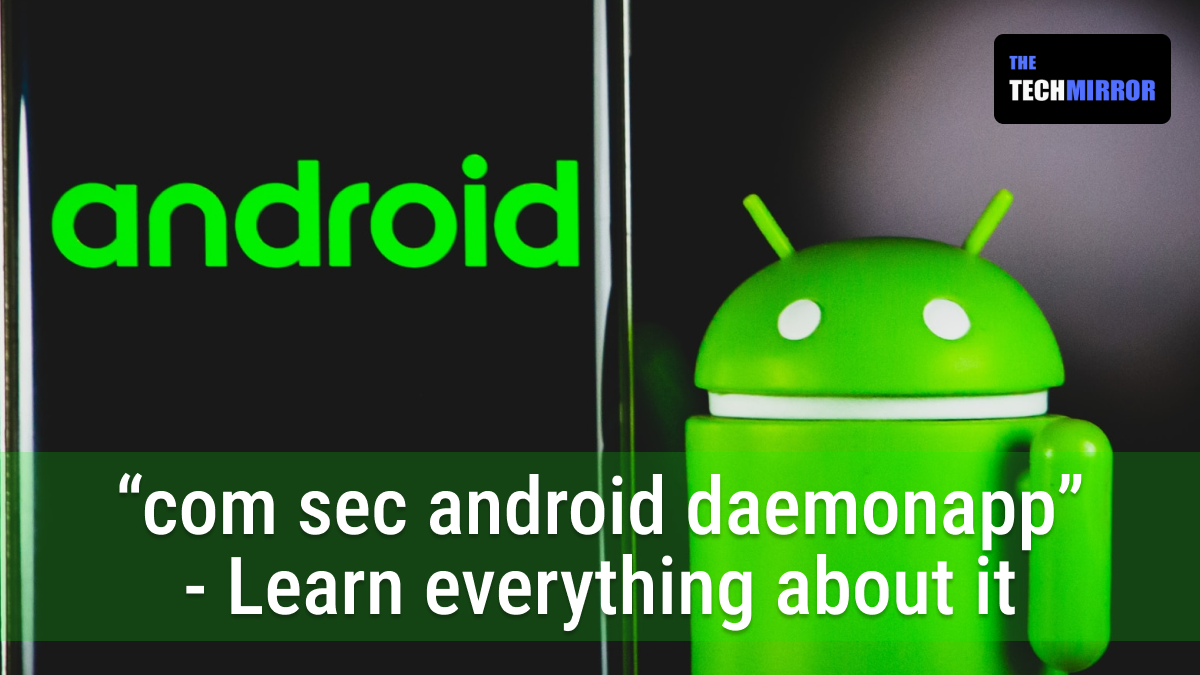 There are hell lot of system applications which acts as Bloatware and Adware and come pre-installed with various android devices. These applications usually take up a lot of your CPU and RAM capacity alongside the storage memory as well. One of the applications that we will be dealing in this article is -"com.sec.android.daemonapp".
If you are curious to know the tech-hows about this system app, just read through this blog post and put an end to all your inquisitiveness. So let's dive into the topic and learn everything you wanted to know about com sec android daemonapp.
But, before you explore understanding on what does com sec android daemonapp mean? Here's a briefing on what a Daemon is and how it differs from other system app.
With reference to Android, the term service is used for software operating in the background on the operating system of your device while a daemon is a sort of non-interactive program running in background without making use of Graphical user interface (GUIs) and other programs. In addition to that it also has no controlling terminal.
Now let's see what com sec android daemonapp means and how it works.
What is Com Sec Android Daemonapp?
The com.sec.android.daemonapp is an Android APK file of Unified Daemon. It is a system application offered by Samsung and is meant to provide the support system for other applications on your device These applications includes the likes of Weather, Stock, and News app. Unified Daemon displays data usage from Yahoo Finance, Yahoo News, and accuweather.com., and this information is further consumed by Alarm, Briefing app, Camera, Desk Clock, S Planner and so on.
Disabling the Com Sec Android Daemon App
If for some reason you wish to get rid of the Unified Daemon app, you must note that it cannot be uninstalled but you can definitely get it disabled. To disable the com sec android daemon app, you are required to perform the steps mentioned below:
To start with, Go to Settings section on your Android device
Now tap on Apps followed by Application Manager
Here locate and tap Unified Daemon (If you have an Android 7.0 on your device, you might find the app in "All Apps" section).
Finally, tap on "Disable" to get rid of this app.
That's all you have to do so as to complete the disabling process of the daemon app.
Note: It is to be noted that disabling this app may have a bearing on the effective functioning of other apps on your device.
There are all possible chances that once you have disabled the daemon app, you might think of uninstalling it. So, here's how you can get the job done.
Uninstalling the Daemon App
As a matter of fact, Android devices don't let you to uninstall pre-installed system apps. But, if you insist upon getting the app uninstalled from your device, there is still a possibility. To do so, you can root your devices to have an access to privileged control and thereby you would be able to uninstall the Daemon app by using a third-party system app remover.
Following are two alternative ways to do the rooting.
Rooting without using a PC
To perform rooting process without a PC, you need to download and install a third-party app called the KingRoot app on our Android device.
Thereafter, open the app and then tap on the next button to initiate the rooting process.
Now, wait for the process to finish.
Once done, you will have your device rooted.
Rooting by using a PC
To perform rooting process with a PC, you are required to download and install the KingRoot software on your Windows/Mac devices.
Thereafter, head to the Settings section on your Android device
Now select System followed by About phone.
Here you have to keep tapping the Build number to enter Developer Mode.
Again go back to Settings and then select the Developer options.
Here, turn on the USB debugging and OEM unlocking option.
Now, connect your Android device to the PC using a USB cable.
Launch the KingRoot app and go ahead with the rooting process.
Now, once the process of rooting is completed, let's move on to uninstall or remove the app.
Uninstalling com.sec.android.daemon
First of all, disconnect your device from the PC, if you did the rooting using your PC. Followed that you need to perform these steps:
Download and install the app called System App Remover on your device.
Once installed, open the app and search for com.sec.android.daemonapp.
Now select it and continue to follow the on screen instructions until you get to see the uninstall button.
Finally tap the uninstall button to completely remove the app from your device.
That's how you can uninstall this app from your Android phone.
Fixing the error —-> "Unfortunately, com.sec.android.daemonapp has stopped"?
Making a times Samsung users get to see an error message on their device which says, "Unfortunately, com.sec.android.daemonapp has stopped". In order to overcome this problem situation and fix this error you have to force stop the Daemon app and subsequent to that go for clearing the app data.
Following steps will help you fix this error:
To begin with, Go to Settings section on your device
Now tap Apps.
From the list of applications, locate and tap com.sec.android.daemonapp or Unified Daemon.
Here tap on the "Force Stop" button followed by tapping on OK.
This is it. After you force stop the app, follow the steps below to get rid of cache and other app data:
Go to the Settings on your device.
Then, tap on Apps.
Here find com.sec.android.daemonapp from the list of applications.
Once you have located it, tap on 'Clear Cache' to clear the cache memory and then subsequently tap on 'Clear data' to clear corrupt cache data on your device.
That's all from our side. You have successfully learned about the com.sec.android.daemon app. For a few more similar topics and other tech related blog articles keep visiting us!!   
Read Also:
"com sec epdg"- is it an imperative system app? Know here…
"com samsung android incallui" – Here's Everything You Must Know