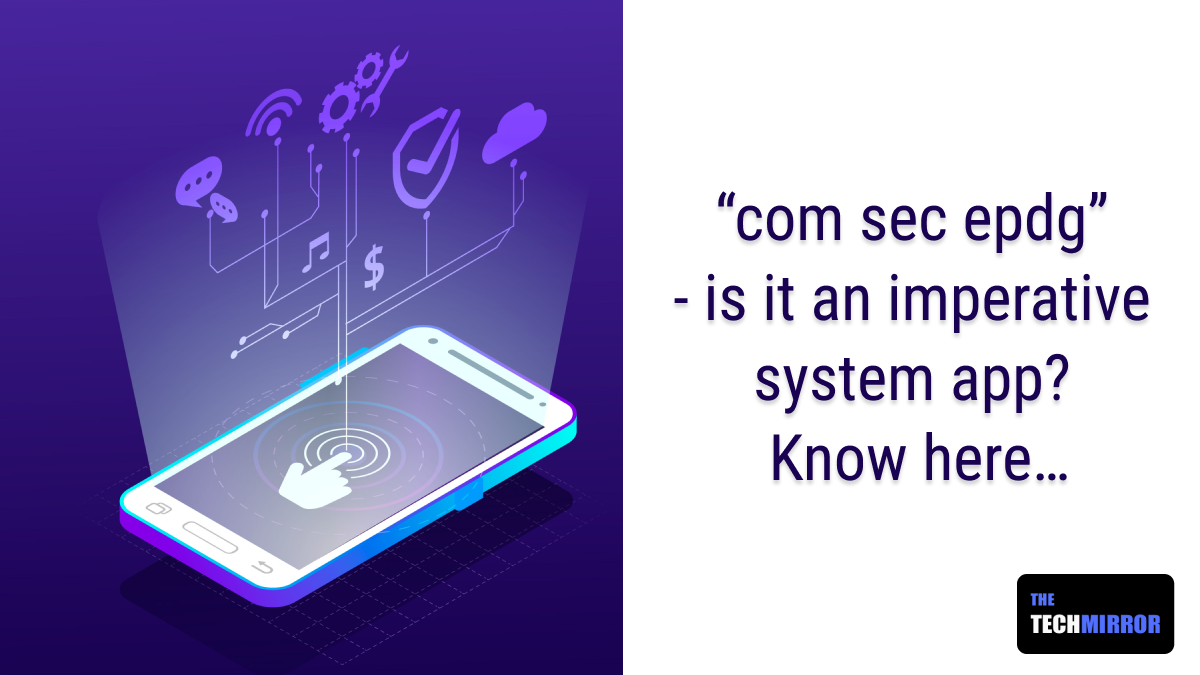 Android users often gets baffled about the authenticity and functionality of certain applications as there are quite a good number of them installed on their device while many available on app stores. One of such application is  com.sec.epdg; if you are also having a sort confusion about the app and are in suspicion that if it is an imperative system application like com.android.incallui or it is some random bloatware, virus or spyware? Here's a blog article to clear all your doubts.
We have compiled this article to let you understand everything about com.sec.epdg and how to fix "com.sec.epdg has stopped error" and other related points. So let's read through to learn more about what is com.sec.epdg and what it does.
To start with we must know about what ePDG stands for and what it actually mean. 
What is Evolved Packet Data Gateway (ePDG)?
Prior to the launch of 4G and LTE, mobile devices mainly used 2G and 3G networks. The 2G and 3G networks use to operate on two diverse sub-domains for the purpose of switching and processing voice and data (circuit-switched (CS) for voice while packet-switched (PS) for data transmission). However, 4G and LTE use ePDG technology which brought voice and data transmission together into a single framework known as Evolved Packet Core (EPC).
Evolved Packet Data Gateway (ePDG) is a critical part of the 4G core component called Evolved Packet Core (EPC). It is meant for converge multiple core network functions in a single framework. The ePDG works together with EPC to offer security during voice and data transmission via communication services like Wi-Fi, LTE, Ethernet, DSL, WiMax and so on.
ePDG uses IPSec/IKEv2 or IPv6 Protocols to ensure that the data and voice transmission be secure enough over a network. In addition to that it takes care of the transmission to have a high throughput and require less system resources, also maintains high system stability alongside the Quality of Service and a lot more.
What is com sec epdg?
com.sec.epdg is the Android APK of the system application called Evolved Packet Data Gateway (ePDG). This application performs a check if the ePDG service is working accurately on your device and thereby provides safe and secure access to communication services like Wi-Fi and LTE. com.sec.epdg is a software which allows server-based mobile operators to integrate WiFi networks firmly and economically.
Handy Features of this app
3rd Generation Partnership Project Standard ePDG Solution.
Hardware-based packet processing engines.
Multi-tier redundancy.
S2B interface to interwork with PGW.
Scalable ATCA and COTS Server-based standard platforms.
SWM interface to interwork with 3GPP standard AAA
Is Com Sec ePDG a Bloatware/Virus/Spyware?
Well, there is a lot of confusion on this and most of the users often regard this app to be malicious. Many consider it as a weirdly app and perceive it to be a malware used of hacking and other fishy activities. However the truth is that it's nothing like a trojan or other harmful file.
No, the com.sec.epdg is not a kind of bloatware or virus or spyware. There is nothing to get worried about using this app. As discussed above this app deals with various LTE technology services on your Android phone.
Fixing the com.sec.epdg error?
Sometimes it may happen that the com.sec.epdg app stop working all of a sudden and you get an error message "com.sec.epdg has stopped" or "com.sec.epdg has stopped working."
Such error message could be a common occurrence on any Android device but it is mostly reported by Samsung users on devices including Samsung Galaxy S10, Samsung Galaxy Note 5, Galaxy S7, etc.
The error appears when the com.sec.epdg app crashes or is closed forcefully or unexpectedly. It usually occurs due to corrupted cache data or use of some malicious third-party app installed on your phone. At times, there may be some other internal system causes as well.
Following methods may help you to fix this error message.
Fix#1 Restart/Reboot your device
The first method which you can try is to restart or reboot your device to get rid of this problem. Here are the steps involved:
Long press the Power button until prompt options appear on your screen.
From the options, select Reboot or Restart.
Now, wait for your device to restart and see if the issue is fixed.
Fix#2 Clear App Cache and Data
Go to the "Settings" tab on your device.
Locate "Apps and Notifications" and click on it.
Then select "Show System Apps" and here look for "com.sec.edpg".
Once you locate it, tap on "Storage & Cache".
Lastly, tap on "Clear cache" and then restart your device to check if the problem is resolved.
Fix#3 Boot your device to Safe Mode
At times this error may occur because of some app which you have recently installed on your device. To verify whether the issue is caused by a system application or some other third-party app, you can boot your device into Safe Mode by following the steps mentioned below:
Power off your device.
After waiting a while, press and hold the Power button until the screen lights up.
Now, release the Power button and immediately go on to press and hold the Volume Down button until you see the manufacturer's logo on the screen.
Having performed these steps properly, you will enter the "Safe Mode" and it shows up on the bottom corner of your screen.
Note: In case the "com.sec.epdg has stopped" error stops appearing when you enter Safe Mode then it is obvious that the error was caused by a third-party application, identify it and uninstall the same. Once uninstalled the said application, you can switch back to the normal mode by restarting your phone.
Fix#4 Factory Reset your Android Smartphone
The last and ultimate option to fix this error is to Factory Reset your device. It will remove all the data from your phone and restores the device to its original state. So, better you should backup your data before factory resetting your device. You need to follow the steps given below to Factory Reset your phone.
Go to the "Settings" tab on your device Tap on General.
Tap on Reset > Factory Data Reset.
Now tap on the "Reset" button, it will ask for your PIN or password.
Provide you PIN or password and then tap on Delete all or Wipe Data to reset your device.
How to uninstall com.sec.epdg?
com.sec.epdg is a default pre-installed system application and it cannot be deleted or uninstalled by using any conventional methods. Moreover, it is suggested not to disable or uninstall com.sec.epdg from your device since it may lead to many issues related to the use of Mobile data and WiFi and your device may not be able to access the Internet.
Still if you want to uninstall com.sec.epdg, you can get it done by using either the Android Debug Bridge(ADB) or the System App Remover application (requires root access).
Summing Up:
com.sec.epdg is a system application present in all Android device to support 4G LTE or higher. This app provides secure access for data and voice transmission over Wi-Fi, LTE, etc. The app is pretty much safe to use and is not a bloatware, virus or spyware. Occasionally you may get an error message "com.sec.epdg has stopped" on your device which can be easily fixed by using the methods mentioned above in this article. Do remember not to disable or uninstall this app or else it might cause issues with voice or data transmission on your device.
Read Also:
"com samsung android incallui" – Here's Everything You Must Know
"com lge shutdownmonitor"- Here's Everything You Must Know