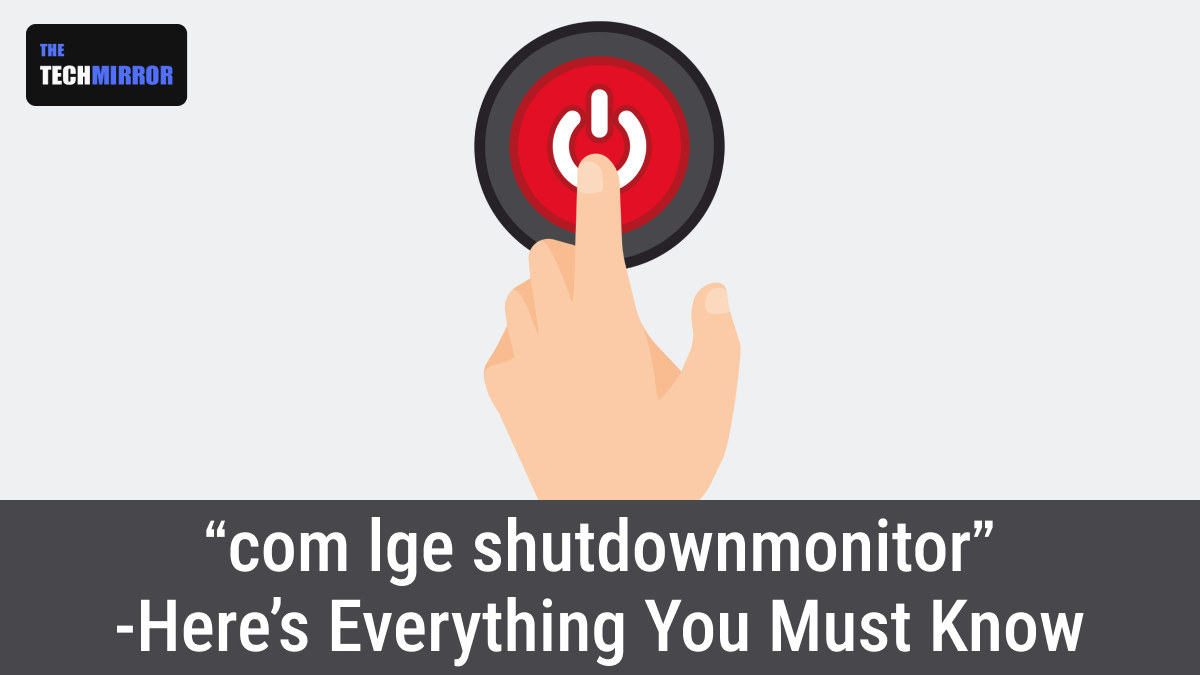 If you have just encountered with "Unfortunately, com.lge.shutdownmonitor has stopped" error message on your device and wonder what it is? You will let know everything about it in this blog article.
A good number of users have reported this error message and shown concern about issues related to a system application package com.lge.shutdownmonitor. This package and error are mostly originated in smartphones manufactured by LG.
If you are looking for more information, you have probably landed on the right page. Just read through the article to learn about what com.lge.shutdownmonitor means, what causes "Unfortunately, com.lge.shutdownmonitor has stopped" error and how to fix it. In addition to that you will also learn about how to disable and uninstall com.lge.shutdownmonitor application when it is vulnerable to malfunctioning because of system crashes and other issues.
What is com.lge.shutdownmonitor?
As a protocol each Android application has given a unique App ID (application identifier) on Google Play Store and all applications follow a generalized naming format as – com.developername.appname. Thus, in case of com.lge.shutdownmonitor, lge is the developer name and stands for LG Electronics while shutdown monitor is name of the app.
com.lge.shutdownmonitor is the Android Package(APK) file that deals with the Shutdown monitor process. It is a built-in system application which is located in the priv-appdirectory and hence it is a privileged app. It is meant to monitor your device status and reports accidental shutdown activity on your phone by sending related information to your device manufacturer so they can fix the issue on your device.
Is com.lge.shutdownmonitor Safe to Use?
A few Android users are really concerned that the fact that is this genuine application? Putting an end to all such concerns and worries, you must note that com.lge.shutdownmonitor is an absolutely safe application. It is not a virus, malware, or spyware and by no means would it cause any harm to your device.
It never spies on your data and only functions to monitor your device activity to check for accidental shutdowns and thereafter send reports to the device manufacturers.
You should let this application running, as it doesn't consume a lot of resources including CPU, RAM or battery.
How to Download com.lge.shutdownmonitor?
Since com.lge.shutdownmonitor is a pre-installed, built-in app it is already present on your device. You can even check its activity by navigating to the Settings > Apps > System Apps. If you find the Shutdown monitor app there then it indicates that the app is installed on your device and at the same time running in the background.
However, in case it is not there on your device then you can get it download by navigating to the official APKMirror website or alternatively by clicking here.
Although the app is safe to use, but there are changes that due to some reasons the app starts malfunctioning and thereby you receive error message that says, "Unfortunately, com.lge.shutdownmonitor has stopped". So let's understand a bit more about the causes and fixes for this error message.
Causes of "Unfortunately, com.lge.shutdownmonitor has stopped" error
The error message "Unfortunately, com.lge.shutdownmonitor has stopped" may cause due to:
Pending updates: This error may occur in case your phone is not updated to the latest software version. Therefore, you must make sure to check for whether there is any software updates pending and download them to have your device completely updated.
Corrupt Cache: Another reason that results into getting this error is corrupt cache. Cache memory helps your device to load the apps swiftly; on the other hand a corrupt cache will restrict the app to get the necessary data and thus the app crash. To overcome this situation you must clear the cache memory and data regularly.
Other third-party app: Apart from the above mentioned reasons, if there is some other third-party shutdown monitor app installed on your device, then it may likely interfere the functioning of the built-in shutdown monitor system app. As a result of it, you will encounter this error message.
Having understood the reasons, let's move towards the solutions to fix this error.
How to Fix "Unfortunately, com.lge.shutdownmonitor has stopped" error?
If you have received this error message on your android device, here are some workable methods to help you fix it. Let's read through to get details on them:
Fix#1 Restart/Reboot your device
The first method which you can try to fix this error is the basic troubleshooting. You must restart or reboot your device to get rid of this problem. Here are the steps involved in rebooting your device:
Long press the Power button until prompt options appear on your screen.
From the provided options, select Reboot or Restart.
Thereafter wait for your device to restart and see if the problem is resolved or not.
Fix#2 Clear Cache and Data
Go to the Settings on your device.
Then, tap on Apps.
Here find com.lge.shutdownmonitor from the list of applications.
Once you have located it, tap on 'Clear Cache' to clear the cache memory followed by 'Clear data' to clear corrupt cache data whatsoever on your device.
Fix#3 Update your Device
Go to the Settings on your device.
Now, select About device and then tap System Updates
Look for the updates any by clicking Check for Updates
Finally, tap on Update to download and install the latest Android version.
Fix#4 Boot to Safe Mode
Technically speaking, a safe mode refers to a mode where in all apps other than the system apps are frozen. To boot your device in safe mode, you are required to perform following steps:
First of all, long press the Power button so as to get the prompt option of 'Power Off'.
Then keep pressing the Power Off option until you see an option called "Boot to safe mode".
Once you see that option, click on OK.
Now when you enter safe mode, you will have access to system apps only while all the other third-party apps will be frozen.
Just identify the app which was resulting in error and then uninstall it from your device.
Finally, restart your device in normal mode.
Fix#5 Reset Factory Data
When nothing works for you to fix this error, you can try the ultimate option to perform a factory data reset. It will remove everything on your device. Here's how to reset factory data:
Go to the Settings on your device.
Then locate and select 'Data backup and restore'.
Then, scroll down until you find Factory reset. Click on it to get the job done
Note: You must remember to have a backup of your device before performing factory data reset.
Even after trying all the hacks if you are not getting the desired results, you might be thinking of disabling or uninstalling the com.lge.shutdownmonitor app. In that's the case, refer the next sections of the article below.
How to Disable com.lge.shutdownmonitor?
You must remember that com.lge.shutdownmonitor is a vital system application and if you disable it, then it might cause some unforeseen problems on your device. But, if you wish for disabling it, you can get it done by undertaking the steps mentioned below:
Go to the Settings on your device.
Then tap on Apps & Notifications followed by App info.
Here tap on the Ellipsis icon (three vertical dots) located at the top right corner.
Thereafter make a tap on the Show system option.
Now locate and tap the com.lge.shutdownmonitor app from the provided list.
Finally, tap on the Disable button to get it done.
That's all you have to do to disable com.lge.shutdownmonitor.
How to Uninstall com.lge.shutdownmonitor?
com.lge.shutdownmonitor is a privileged app and it plays an imperative role in the functioning of your device. It helps you to diagnose reasons as to why your phone shuts down accidentally by sending the accidental shutdown reports to the device manufacturers. Hence, we recommend you not to uninstall this app but if you still want to do that, here are a couple of methods which may serve your purpose.
As com.lge.shutdownmonitor is a built-in system application, there is no direct way to uninstall it. However, you can uninstall it using other third-party apps. You can either use the System App Remover application or the Android Debug Bridge(ADB) to uninstall com.lge.shutdownmonitor.
Uninstall com.lge.shutdownmonitor Using System App Remover
To begin with, download and install the system app remover application on your device.
Once you have installed it, open the app and search for com.lge.shutdownmonitor
Now check the box provided next to it.
Finally tap on the Uninstall button to remove com.lge.shutdownmonitor app and entirely delete its data as well.
Uninstall com.lge.shutdownmonitor Using ADB
Android Debug Bridge (ADB) provides you the option to access the Unix shell meant to run commands on an Android device. Here's how to uninstall com.lge.shutdownmonitor app using ADB:
Go to Settings > System > About phone.
Now tap the build number 7 times to activate Developer Options.
Open Developer Options from main Settings section and then enable the USB debugging.
Next Download ADB on your PC. Once downloaded, extract the ZIP file into a folder.
Now open the folder you have extracted, press and hold the shift button and make a right-click in a blank area.
Click on "Open Powershell window here."
Then enter adb devices command.
Try to connect your Android mobile to the PC via a data cable.
Finally, run the command adb shell pm uninstall –user 0 com.sprint.ms.smf.services to remove the app.
That's all we have to share with you. Hope this article be of great help in letting you understand everything about com.lge.shutdownmonitor.
Read Also:
Is Carrier Hub Necessary? Here's An Answer…