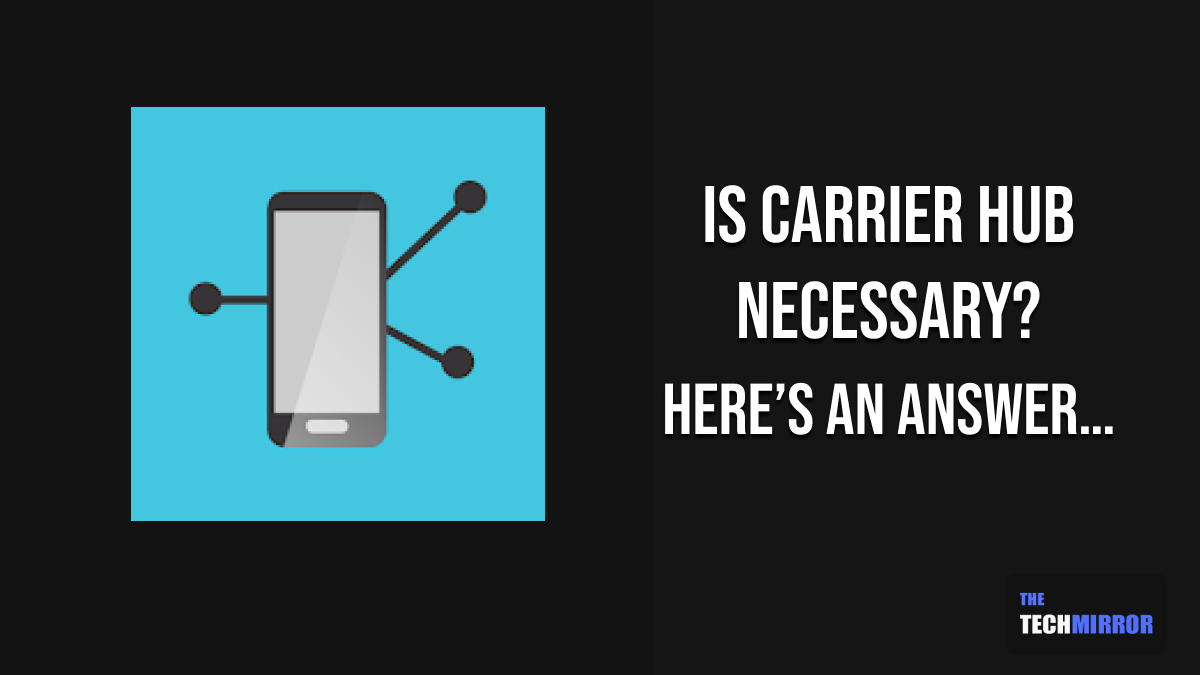 If you are a T-Mobile Network user then at some point of time you might be curious to know about what is Carrier Hub App. There are a lot of queries users have raised over the time regarding this app and related aspects. So if you also wonder like is Carrier Hub necessary and want to know what does Carrier Hub do? Here's a piece of writing to answer some frequently asked questions on Carrier Hub App.
So let's get started to learn more about what is Carrier Hub and is it really necessary for T-Mobile Network users.
About Carrier Hub:
Carrier Hub is an Android app which enables features and products exclusively designed for devices operating on the T-Mobile or Sprint (Merged with T-Mobile Network). It let you to use features such as Voice over Wi-Fi (VoWi-Fi) on devices operating on Sprint/T-Mobile network and also help to assist Sprint/T-Mobile's Network engineering for sorting out various customer-reported service concerns. 
At present there are two different apps available on Google Play Store; one is named as Carrier Hub developed by Sprint and other is known as Carrier Hub Magenta offered by T-Mobile USA. After Sprint became a part of T-mobile since April 1, 2020, both these apps render same features to the users.
However if you want to use the app on your device, you are suppose to grant following permissions to Carrier Hub.
Permission Carrier Hub May Require:
Cellular data settings – to change network settings and traffic.
Device & app history – to read log data.
Device ID & call information – to read phone status and identity.
Location – to approximate location (network-based) and get precise location (GPS & network-based).
Phone – to read phone status and identity and also to modify phone state.
Photos/Media/Files – to read the content of your USB storage and change or delete the content thereon.
Storage – to read the content and change or delete the content of your USB storage.
Wi-Fi connection information – to view Wi-Fi connections.
Having understood this, let's now know about why you need Carrier Hub, and is it necessary to have it installed on your phone.
Is Carrier Hub Necessary? – Reasons You Need This App
Most of the Android devices using the Sprint/T-Mobile network come with the Carrier Hub App pre-installed on them while in case of other devices you repeatedly receive notification alerts to download the Carrier Hub App for a better functioning of device and having an improved user experience.
Responding to the question that is Carrier Hub necessary, it can be said that you may definitely need the Carrier Hub App. The app allows you to access significant features such as Voice over Wi-Fi (VoWi-Fi). This feature let you to use your actual mobile number to call people over a Wi-Fi network. VoWi-Fi calling connects your voice to the mobile service operator's network via the Internet as a replacement for of cell towers. Moreover the Secure Wi-Fi feature offers end-to-end encryption for your WiFi enabled calls so that such calls cannot be tracked by the mobile carrier network.
In addition to that Carrier Hub helps in T-Mobile Services Network engineering for resolving customer-reported issues.
Despite of the aforesaid benefits there exist quite a few issues caused by using Carrier Hub. Let's take a look at these issues:
Issues Caused By Carrier Hub App:
The most predominant issues caused by Carrier Hub app are:
Battery Draining Issue – Most of the users have reported that the Carrier Hub app consumes the battery charge very quickly.
Calling Problems – A number of users have complained that the app causes problems with WiFi calling as well as regular data calling.
Call Drops – Quite a few have raised the issue of frequent call drops while using the Carrier Hub app.
High Data consumption – Another commonly stated issue caused by the Carrier Hub app is increase in mobile data consumption.
Poor performance – Drop in performance due is another frequently occurring issue as many users have complained about lagging and freezing of device alongside the app stopping and crashing every now and then.
Random Alarms – Some users reported that the app use to ring the alarm at random times.
Text Message Problems – Another issue faced by users of this app is that are not being able to send or receive text messages as smooth as it ought to be.
Having that said many times people look for the way to resolve these issues. If you want to know about what to do in case the Carrier Hub app isn't responding?
What to do if Carrier Hub isn't responding?
To be honest, Carrier Hub crashing or not responding issue is not that common. Although it may occur on occasions still it seems to be a frustrating and troublesome experience if you get to face it ever. Luckily, there are some handy ways which may help you fix the issue. If you ever encounter with the Carrier Hub app crashing very often then you can fix it by clearing cache data for the app. To do so you are required to go to Settings > Apps > Carrier Hub > Storage > Clear Cache.
In case clearing cache does not work well, you can either force stop the app using the path as: Settings > Apps > Carrier Hub > Force Stop.
Or else you can opt for factory reset your phone using Settings > General Reset > Factory Data Reset. Then tap on the "Reset" button, you will be asked to enter your PIN or password. Finally, Tap on Delete all to reset your phone.
However, if you still face problems with the app and want to know about how to disable or uninstall Carrier Hub, here's how to do it.
How to Disable the Carrier Hub App?
In order to disable Carrier Hub, you are required to undertake following steps:
To begin with, head to the Settings section on your device.
Now locate and tap Apps followed by System Apps.
Here look for the Carrier Hub and then tap on it.
Lastly, tap on the Disable icon provided thereon.
This way you can successfully disable the Carrier Hub app. But, what if you want to uninstall it? Let's find out.
How to Uninstall the Carrier Hub App?
If you ask that if there is a possibility that you can uninstall the Carrier Hub is App? Well the answer is here…
Though Carrier Hub comes pre installed and it won't have an option to uninstall the app, but there is a way out. You can either use System App Remover or use another Android Debug Bridge (ADB). Below are the step-by-step processes to uninstall Carrier Hub using these tools.
Using System App Remover
To start with, download and install the system app remover.
Once you have installed it on your device, open the app and search for the Carrier Hub
Now check the box provided next to it.
Finally tap on uninstall button to remove the Carrier Hub app.
Using ADB
Android Debug Bridge (ADB) provides you the option to access the Unix shell meant to run commands on an Android device. Here's how to uninstall the app using ADB:
Go to Settings > System > About phone.
Now tap the build number 7 times to activate Developer Options.
Open Developer Options; from main Settings section and then enable the USB debugging
Next Download ADB on your PC. Once downloaded, extract the ZIP file into a folder.
Now open the folder you have extracted, press and hold the shift button and make a right-click in a blank area.
Click on "Open Powershell window here."
Then enter adb devices command.
Try to connect your Android mobile to the PC via a data cable.
Finally, run the command adb shell pm uninstall –user 0 com.sprint.ms.smf.services to remove the app.
Well, that's all we have to share with you. Have this information will make you understand about the app and other related topics, which will surely help you to decide is Carrier Hub necessary and whether you should have it on your device or not.
Read Also:
No App Found to Open URL: Here's A Quick Guide To Fix The Issue