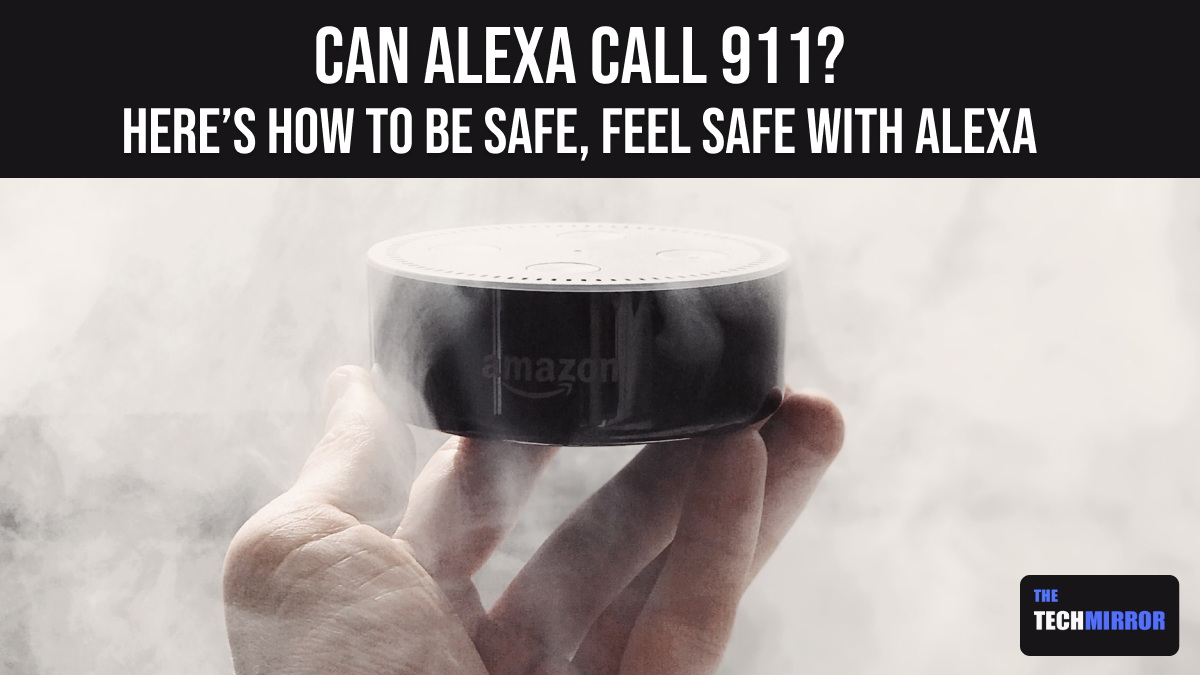 Alexa the virtual assistant technology by Amazon is designed to perform a hell lot of options for users. But have you ever thought of what Alexa can and cannot do for you during the times of an emergency or how does Alexa respond if you ask to call 911? Can Alexa call 911?
Well, we have compiled this article to let you know about whether Alexa can handle such queries. So let's find out can Alexa call 911 and if it does; how to make Alexa call 911, or else if it doesn't then what are the other possibilities around.
An Overview of Amazon Alexa
Amazon Alexa, also commonly referred as Alexa is a virtual assistant technology developed by Amazon. It was first used with the range of smart speakers from Amazon Lab126 including Amazon Echo, Echo Dot, Echo Studio, Amazon Tap and so on. Alexa is designed and function to control your voice, play music, podcasts or audiobooks and stream videos, movies and shows for you, set alarms to remind or notify you about important events, provides real-time information on the topics like weather, traffic, let you be aware of latest news and much more. Besides that, Alexa can also control multiple smart devices and be a great source as a home automation system.
But, if you wonder how about "Alexa calling 911", is it possible? Let's check out.
The next section of the article below will give details on how Alexa will respond when asked to call 911 and what is to be done to make Alexa call 911.
Can Alex call 911?
Unfortunately, the answer is No. Alexa cannot make a direct call on 911. But there's still a possibility. It takes a little workaround by which you can set up Alexa (with your Amazon Echo) for emergency calls. Devices like Amazon Echo Connect can connect Alexa devices straight to landlines, and thereby allows you to call 911.
Apart from that, you can make use of a few Alexa skills to connect you with help in an emergency by sending alerts via different applications such as Ask My Buddy, My SOS Family etc.
So, even if Alexa cannot call 911, it can manage an emergency situation by means of some external hardware as well as Alexa skills.
How Alexa can help in an emergency?
You must note that Alexa cannot call 911. Nevertheless, it can do the next best possible thing for you. Alexa can help you to make direct calls to 911 via Amazon's Echo Connect device. Alexa can call to numbers on your contact list in any case irrespective of it be a landline or mobile number. There are two options available:
First is to make a call on specific phone number on the contact list, all you have to do is to say "Alexa, Call (name of the person on contact list)".
Second is to contact several contacts, use My Buddy Skills to contact and send messages to multiple people at once.
How does Alexa respond If asked to Call 911?
Have you ever tried this for fun or otherwise, and asked Alexa to call 911? What would Alexa do if you ask to call 911 without Echo or any add-on skills? Here's an answer.
When you say these words to Alexa, and ask her to make a call on 911. She usually might respond by saying, "You can't make this call. Please dial your emergency number."
It is obvious that with the Alexa Calling feature, users of Amazon Echo devices be able to make phone calls which may go device-to-device and also device-to-phone. Yet it can't make call to 911. It is for the reason that the regulatory compliance won't let you to use Alexa to call 911 at present.
But, don't get dishearten, you canadd an Amazon Echo Connect device to your landline phone or VoIP service to place a call on 911 using Alexa. However to make it happen, other than an Echo device and existing landline or VoIP service, you will also have to access the Alexa app on a smartphone or alternatively log in to alexa.amazon.com on a computer.
Thus, when you use the Echo Connect plus your Echo device, and say, "Alexa, call 911," Alexa will connect your call to local emergency services. 
How to use Echo Connect to let Alexa call 911?
To get the Echo Connect set up and use it with Alexa to call 911, you need to perform following steps.
Connect Echo Connect to a power outlet in proximity with your modem or phone jack.
In case you want to have a standard telephone handset connected in addition to the Echo Connect, you need to use the telephone jack splitter adapter allowing two connections at one time.
Thereafter, open the Alexa app on your mobile phone (be it Android or iPhone).
Go to the Settings menu.
Then, select the Add Device option followed by Amazon Echo.
Finally, select Echo Connect to complete the setup.
Once you are done with these steps, you will be able to ask your Echo device to call any landline, mobile numbers, plus other emergency numbers like 911.
How to use Alexa Skills to seek help?
If you don't want to have multiple devices connected or don't have a home telephone service, you can use this method as an alternative to get help in emergency. There are several Alexa skills which could let you reach out and contact a person who can help out. However, none of these skills can connect you to 911 emergency services directly. Here's how these skills may help you:
Ask My Buddy
If you have added this skill and set up your contacts, then you will be able to tell Alexa, "Ask My Buddy to send help," and the selected contacts on your phone will receive an alert notification via text/SMS or voice call. 
My SOS Family Skill
After this skill is set up, an account on My SOS family allows you to add limitless contacts from which you can get help. The selected contacts will receive text / SMS and voice call and be reported about the emergency.
SafeTrek Skill
It appears to be a better choice when there isn't enough number of people in your nearby locality, to reach up to you for help. Having SafeTrek skill enabled on your device, if you ask for help saying "Alexa, let know SafeTrek to provide help," soon a certified SafeTrek agent will approach with assistance.
Wrapping Up:
That's it. Now you need not have to be confused about Can Alexa call 911 or not? We have got you covered with the answer and other few possible alternatives by which you can call 911 using Alexa. Though Alexa can't directly call 911 at the moment, but with continuous advancement in the technology, you could see it coming in near future. By that time you can feel safe using above mentioned alternatives to make Alexa call 911 to seek help.
Read Also:
What is Super Alexa Mode? Here's the Secret behind the Easter Egg
Best Funny & Scary Things To Ask Alexa
How to to reset Alexa: Echo, Echo Dot, Show and Studio in 2023