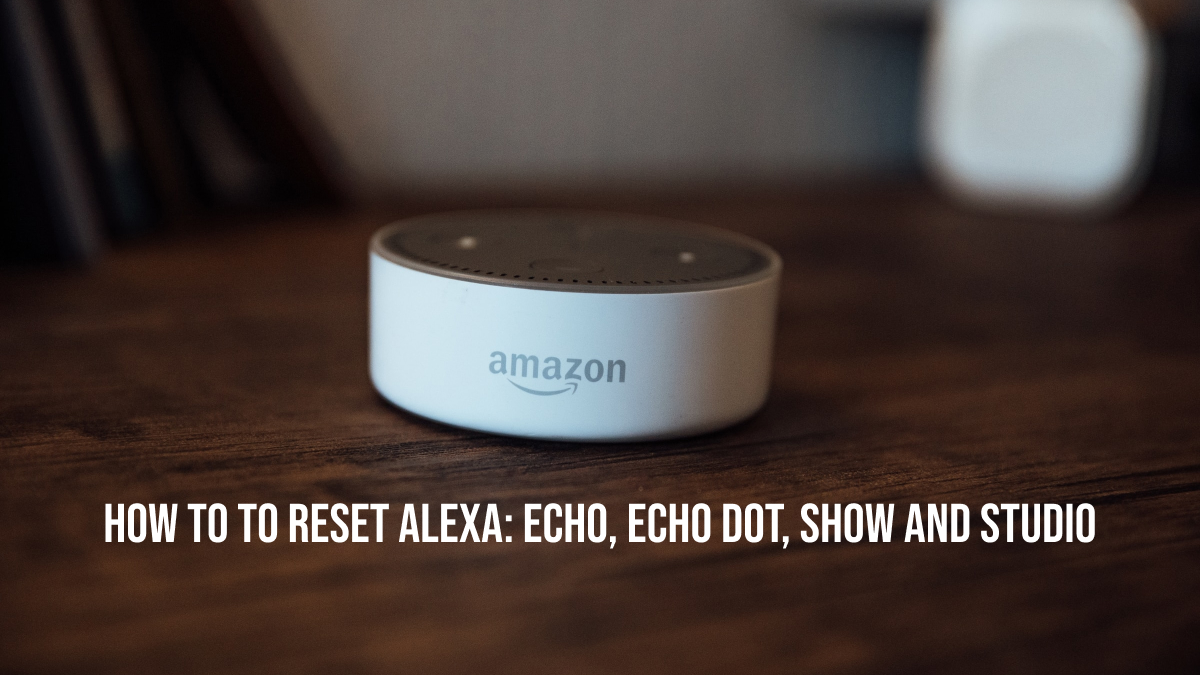 It is very common to face minor bugs on smart devices. If you're having some issues with one of your Amazon's Alexa powered devices, you can easily fix them by resetting the device. Also if you're planning to sell your old device, it is really good to reset your own data first. But, how to do it? Well, worry not! Today we will tell you how to reset Alexa devices including Echo, Echo Dot, Echo Show and Echo Studio in 2023.
How to reset Alexa Echo and Echo Dot (First Generation)
Below is how you can reset an Alexa Echo or Echo Dot 1st Gen
Look for a small hole beneath the device. (It's the reset button).
Grab a SIM ejector or paper clip and push it inside and hold until the Echo's light ring turns orange, then blue.
After that, light ring will go off and turn on again in setup mode (orange light).
That's it! You're done resetting the device. Now connect it to your Wi-Fi network and set it up to start using again.
Here is how to reset Echo and Echo Dot (2nd Gen)
If you own an Echo or Echo Dot from second generation, here is how to reset them.
Press and hold Microphone off and Volume Down buttons for 20 seconds. You will see light ring turn orange and then blue.
After the device goes off, it will start with orange light ring (in setup mode).
Isn't that easy? Now, setup your device again and start using it.
Resetting Echo and Echo Dot (3rd and 4th Gen)
Below are the steps you need to follow in case you're an owner of Echo or Echo Dot third and fourth generation models.
Press and hold the Action button (located on top of device) for about 25 seconds. The light ring of device will turn orange and then blue.
Now wait for the device to go off and turn on again. After it turns on, it will show orange light ring (which means it is in setup mode).
Now open the Alexa app and follow the steps to setup it.
How to Reset Alexa Show
If you have an Alexa smart device like Echo Show or something else, it is pretty easy to reset it.
Press and hold Mute and Volume Down buttons until you see Amazon Logo.
As soon as device resets, it will show instructions to setup again.
How to Factory Reset an Echo Studio
Do you own an Echo Studio? Below you will find the method on how to factory reset it.
Press and hold the Mute and Volume Down button until light ring turn off and then on.
That's it! Your device is reset and now you need to add it back to your network and setup again.
How to Reset Alexa Devices from Amazon Alexa App
If you're unable to reset the device from above methods, you can use Amazon Alexa App to reset any of Amazon Alexa devices. Below is how to do that.
Tap Devices button located at the bottom of Alexa App.
Tap Echo & Alexa and select the device you want to reset.
Now select gear icon to get into Device Settings.
Look for "Registered To" and tap Deregister button beside it.
…And you're done resetting your device. Hope this worked for you. If you're still facing an issue, drop your query in comments box. We will try to figure things out and help you.
Read Also:
What is Super Alexa Mode? Here's the Secret behind the Easter Egg
Best Funny & Scary Things To Ask Alexa in 2023
Can Alexa Call 911?: Here's How To Be Safe, Feel Safe With Alexa