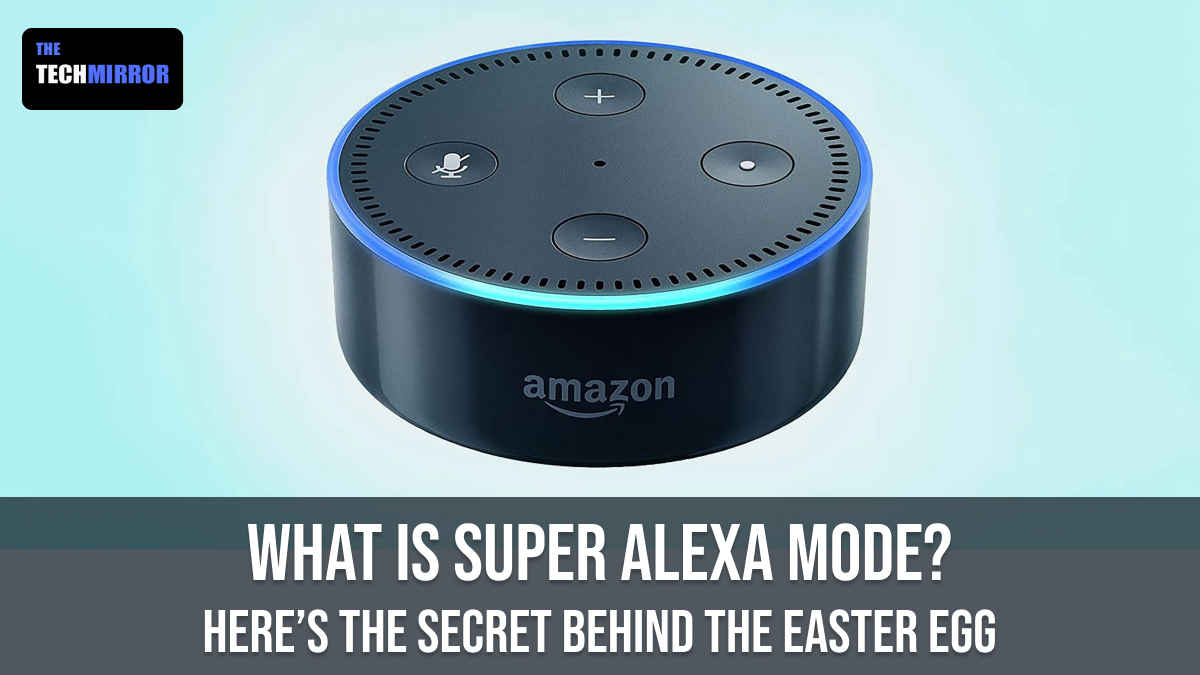 Alexa by Amazon is loaded with lots of surprises and secrets. While most of them have one or the other usability, a few are solely there for the user's enjoyment. One of such aspect people revealed recently is Super Alexa. If you are curious enough and want to know more about what is Super Alexa mode, you have just landed on the right place. Here's the secret behind the inexplicable Alexa Easter egg.
We have exclusively compiled this blog article to let you explore every little thing about this popular and fun mode. So get ready to learn how to activate Super Alexa Mode and the explanation behind its existence.
What is Super Alexa Mode?
Of late Alexa users have identified a mode for long-time gamers. Referred as to Super Alexa Mode, it is an Easter egg for Amazon's Alexa voice assistant. Although this is not really a full mode to which Alexa switches into, it is just a fresh small secret that gaming community, in particular, will relate, recognize and relish.
Super Alexa Mode is nothing but just a kind of a joke programmed into Alexa by developers at Amazon. It is activated with the renowned Konami Code, and call upon a ridiculously impractical response that every so often consists of vague references (for instance, be one that of the League of Legends).
The trigger phrase behind Super Alexa Mode is the Konami Code, also well-known with the name of the Contra Code. Originally used in 1986 game Gradius for the NES, the Konami code is regarded as a famous cheat code created by Konami, the video game developer and publisher. But the code became popular from Contra, a platformer released in 1987. Using the code in Contra used to reward players with 30 lives instead of 3 lives by default. Considering the difficulty level of Contra, use of the code was treated a lot less of a cheat than to be obligatory.
Since then the code appears in a good number of game titles and series such as the Contra and Teenage Mutant Ninja Turtles. It has even been put in several other games which don't have anything to relate with Konami. These games include the likes of BioShock Infinite, Fortnite, and Tetris Effect among others.
This code can also be used with Siri or Google Assistant to bring out some exceptional responses.
Having understood the history behind the code, you might now be inquisitive about how you can activate the Super Alexa Mode. So, here's how to activate it.
How to activate Super Alexa mode?
Everybody, who is acquainted to use Alexa or even others who don't, would like to have fun with Alexa by asking it funny questions. People are quite anxious to see how voice assistants respond to their requests. Coming to the gaming community, it is literally to be expected from gamers that they would try the Konami code on Alexa.
In anticipation of such queries from users, the team of developers at Amazon came up with amusing responses that may catch user with surprise. A few of users may laugh out loud to the responses while others ended up in chuckling and giggling.
It is a ground reality that activating Super Alexa has nothing realistic as it carries no practical value at all. Existence of this mode, in all probability, rooted with someone at Amazon being fond of Konami, Contra or gaming in particular.
To activate the Super Alexa Mode all you need is to tell a speaker "Alexa, up, up, down, down, left, right, left, right, B, A, start."
After you get this phrase just in right order, it's enough for Super Alexa Mode to trigger. However, if you make even a small change in the word order or miss out on one or two words, Alexa pushes you to give another try by saying sentences such as "close but no cigar" or "you're so close."
Once you have successful activated the Super Alexa mode, Alexa will notify you about it by saying it's giving you "power-ups" or else it will give a more elaborate message, that says:
"Super Alexa mode activated. Starting reactors…online. Enabling advanced systems…online. Raising dongers. Error. Dongers missing. Aborting."
However, in case you are using an Echo Show, your screen will also change to replicate this mode.
Note: Information and Instructions provided herein this article is applicable to all Amazon devices including the Amazon Echo, Amazon Fire tablets and similar devices which are compatible with the Alexa voice assistant AI.
That's it. You now know what is Super Alexa Mode? Also you have successfully learned about how to activate Super Alexa Mode?
Read Also:
Best Funny & Scary Things To Ask Alexa 2022