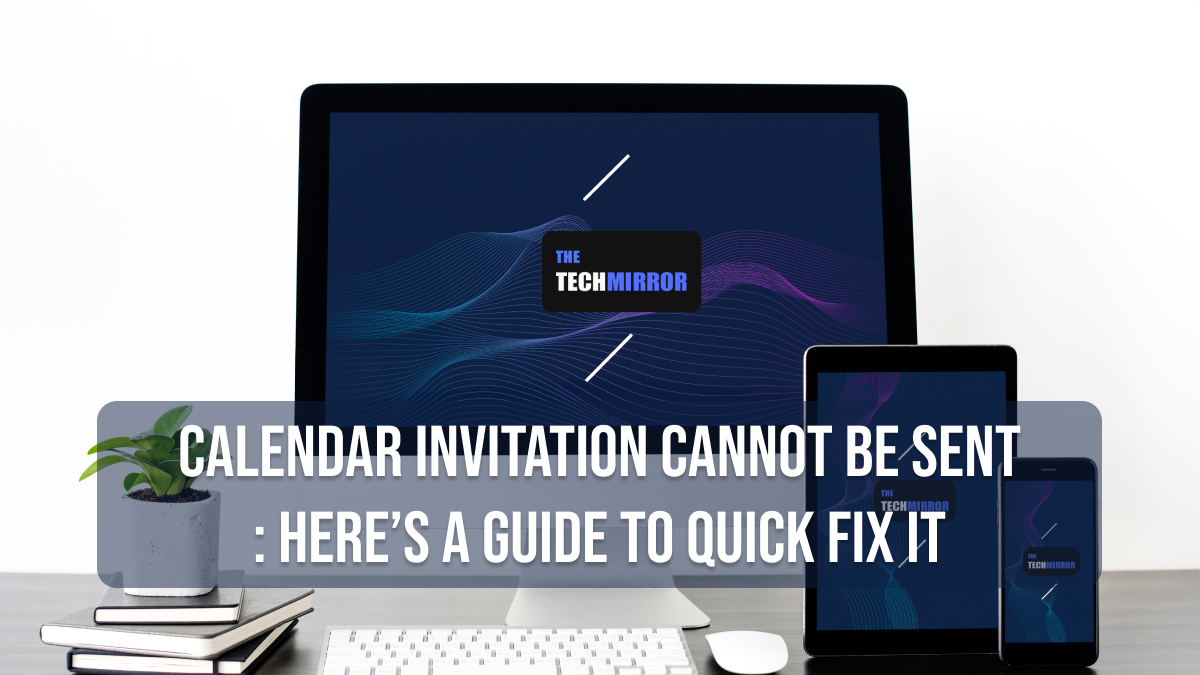 Have you just sent a response to a calendar invitation on your iOS device, either your acceptance or rejection to the same, and then only ended up to see an error message that says "Calendar Invitation- Your response to the Invitation cannot be sent – OK". If you wonder why it is so and how to fix Calender Invitation cannot be sent on Apple iOS Calendar App, here's a troubleshooting guide to help you.
How Calender Invitaion works on iPhone/iPad?
The iCloud Calendar works through the Calendar app meant for both – iOS and MacOS devices. Using this feature, you can send email invites to other Apple users on their device. Once the invitation is sent, it can easily be managed via these apps; as and when the other person accepts or rejects your invite, their response is sent automatically to you for acknowledgement. 
However, several users have reported facing Calender Invitation cannot be sent error on their Apple iPhone or iPad. This pop-up error message can be seen across all iPhone Models while using the Calender app and it keeps showing every five minutes or so even after you pressed the OK button. On some instances is also results in users getting their iPhone/iPad hanging or freezing.
This makes you feel annoyed on receiving the notification over and over again. So, here's what you can do when this frustrating error popup continuously on your device.
Fixing Calendar Invitation Cannot Be Sent Error on iOS Devices
If you are encountered with 'Calendar Invitation cannot be sent' error on your iPhone or iPad, you can refer the below mentioned troubleshooting methods to get rid of this error.
Method#1: Restart/Reboot Your iOS Device
The first thing you may try is to turn the iPhone/iPad off and then powering it on. If you keep seeing the "Your response to the invitation cannot be sent" alert, the basic troubleshoot to apply is restarting your device. There may likely be some glitch with the calendar app on your device and it can be possibly fixed when you reboot it.
Method#2: Toggle Off/On the Calendar App
Next method to resolve the Calender Invitation cannot be sent issue on iDevice is to toggle off the Calender app and then turning it on. Following are the steps you need to perform for toggling the app on your iOS device:
Open the Settings app on your iOS device (iPhone or iPad)
Now tap on your name/Apple ID provided at the top.
Tap iCloud and search calendar app
Toggle off the Calendar
Wait for about five minutes and then toggle on the calendar app back again
That's it. Now restart your device and Respond to the invite in the Calendar app to check if the problem is resolved.
Method#3: Update Your Apple Device to Latest Version
Another way to fix this iOS Calender app error is to get the latest and updated version. In case your device is not updated to the newest version, then you must update/upgrade the iOS version. Updating your iPhone might be a great help in fixing this error, so ensure that your iPhone is updated to the latest version of iOS. If it is not, then you may get it updated using the steps provided as under:
Open Settings app on your device
Then tap on General and select the Software Update option
Look for any available software update, and then tap on Download and Install option if there is any such update.
Once updated to newest version of iOS, check if the Calender Invitation error is resolved of not.
Method#4: Remove and Add iCloud Account to Calendar App
Other than iCloud, the Calendar app also works with other calendar services such as Google Calendar and Exchange by Microsoft. Hence one way to fix the said problem is by removing the iCloud account and then adding it back to your Calender app. Here's the steps to get it done:
Open the Settings app on your device
Scroll down to locate Calendar and make a tap on it
Now tap on Accounts and then select iCloud.
Sign out of your iCloud account by using the option provided at the bottom.
Thereafter Restart your device and add the iCloud account back
Note: If you have added multiple accounts, then you must repeat the steps for other accounts as well.
Method#5: Approach Apple for Help
If none of the aforesaid methods work for you, then it may be perhaps because of a bug in the OS, all you can do in such situation is to wait until Apple roll out a fix to resolve the issue.
Alternatively you can walk to an Apple Store and let them be aware of this issue or call Apple Customer Care to report it and seeking help in this matter.
Kudos..! You have successfully learned the ways to quick fix the Calendar Invitation cannot be sent error on your iPhone or iPad. By applying the above mentioned methods step by step you can easily get rid of this error.
Read Also:
How To Customize Sleep Mode In iOS 14 On iPhone
Step-by-step Guide to Launch iOS Simulator for Mac without XCode