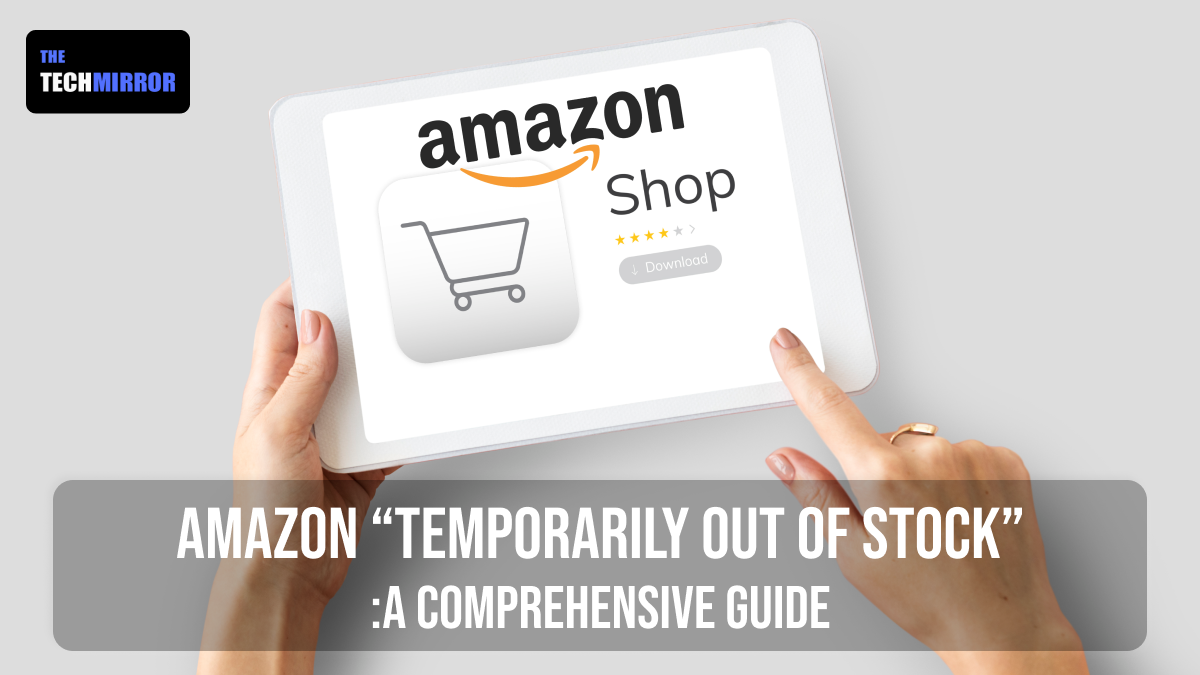 If you are use to book orders quite often on Amazon, you would have probably seen "temporarily out of stock" message for a few items when you intend to buy them. This Amazon "temporarily out of stock" might lead to various questions popping up in your mind like, what this means, why such message appears on Amazon, is there any possibility of the item to be available back in stock, if so than how long will it take and so on.
We have compiled this blog post keeping all such queries in mind and present you the answers to these questions. So with no further ado let's find it all and much about Amazon "temporarily out of stock" error message and much more in this article. 
What "temporarily out of stock" on Amazon means?
Temporarily out of stock on Amazon falls under Availability Message Definitions. It means that "the item is currently not in stock but it is available for ordering." Amazon will notify you via an email about the expected delivery date as soon as the supplier provides any related information. 
Putting this in other words, Amazon temporarily out of stock means the product is currently out of stock but you can still place an order for the same. Amazon will send you an email about the availability of the product and subsequently complete the order and charge you for it only after the item be back in stock. Amazon will update you like what is expected time for item and if there are any likely changes to the said date it will keep you informed of that too. 
Read Also: Payment Revision Needed On Amazon: Do's and Don'ts
Reasons for getting Amazon "temporarily out of stock"
Amazon, just like any other service provider may usually go completely out of stock periodically. It all depends on a large number of factors, including the third-party seller issues to the nature of products and deals associated thereto. Below mentioned are the reasons behind occurrence of this situation:
One typical reason for occurrence of this error on Amazon is the partnered 3rd party sellers going out of stock.
Another reason is the offers or discount. Quite commonly you get to see hot deals associated with certain products and it might be the cause of why the item going out of stock when orders keep flowing.
"Temporarily out of stock" may be due to the basic nature of items i.e.; durability or frequency of use. For products with a very high demand rate it is very natural for the inventory getting drained out in no time.
However, the current scenario worldwide after the outburst of pandemic is one more reason as of why you may encounter this error on Amazon. Given that Covid-19 have upset supply channels subject to many remote businesses and product availability from manufacturers to retailers, and hence result in temporarily out of stock.
How to see out of stock products?
Amazon usually ruled the sold out products from its product listing. However, you can see out of stock products on search result pages. This can be done by applying the filter and click on the button for "Include Out of Stock" for your search results.
Now this will let you see all the items including the one which are in and out of stock. The only difference is that the out of stock items will not have any price listed against them.
How long will it take to get over Amazon temporarily out of stock?
To be very honest, there's no exact time frame as for how long will be temporarily out of stock last. In general, the items listed as temporarily out of stock will be available back in stock within 2-3 weeks and subsequently you may likely to get them shipped and delivered in a month's time.
Note: You must keep in mind that the eta (estimated time of arrival) varies from item to item.
How to know when the item will be back in stock?
Once you place an order for items which are temporarily out of stock, Amazon routinely makes to aware as of when it will restock or new inventory arrive. It will also provide you with an option to cancel the order if you can't wait until the items would get restock. Whether you have placed an order or not, you can set up an alert to know when an item will be back in stock; this can be done by following the steps given below: 
To start with, go to the listing which is "out of stock".
Here you will get to see an "Alert me" box provided on the right-hand side. It is usually displayed of the product page where the "Buy now" or "add to cart" button is shown.
As you click the "Alert me" button, it will ask you to enter your email address on which you would like to receive a notification about restock of item.
Enter the details and save it to know when the item will be back again in stock. 
Note: Setting up an alert doesn't reserve the item for you. It will only keep you informed that the product has been restocked. For getting the item reserved, you must have to place an order. Sooner the products arrive in stock, your order will be fulfilled and subsequently you will be charged for it once your product will be shipped out for delivery. 
FAQs
What does it mean if something is temporarily out of stock on Amazon?
It means that the order is currently not available but there are chances you might order it and amazon will email you the expected delivery date of it.
How long does it take when a product is temporarily out of stock on Amazon?
If there is a product that went out of stock on Amazon during a sell, it might take a few hours or a couple of days for it to come back in stock.
Read Also:
Payment Revision Needed On Amazon: Do's and Don'ts
How to get Invoice from Amazon: A Comprehensive Guide
How to Change Billing Address On Amazon: An Easy Guide