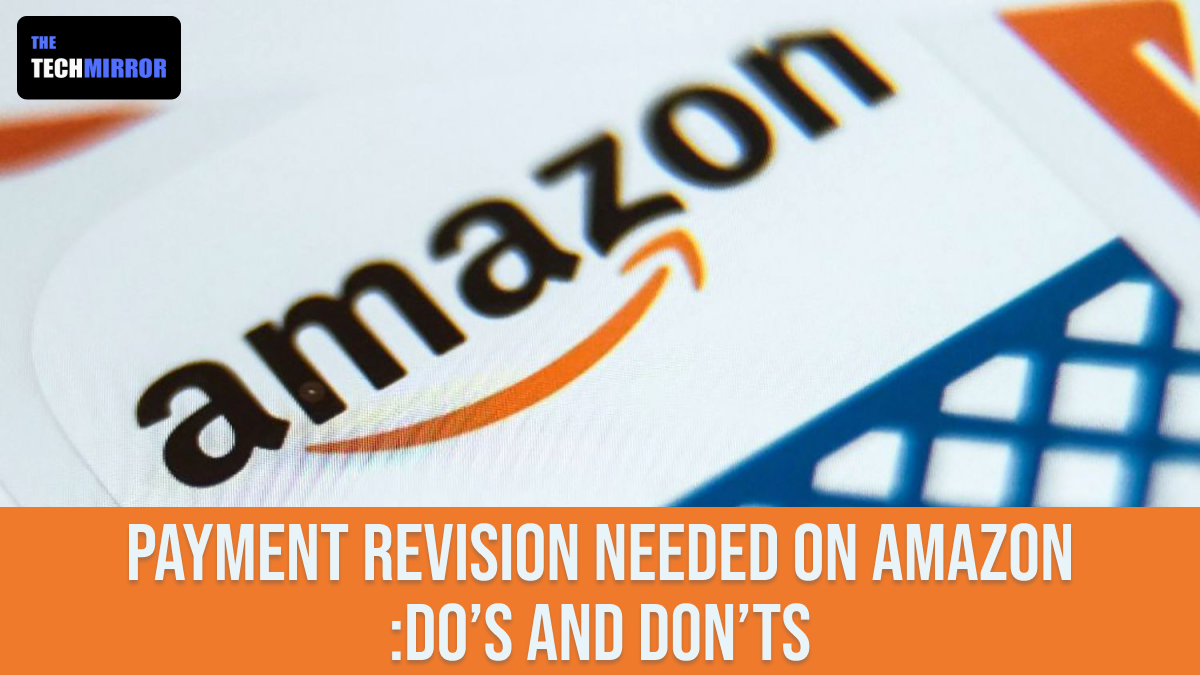 It's quite annoying when you ordered for something on Amazon, entered your payment details and expecting the item(s) to be delivered shortly, but only ended up getting some random errors instead. One of such error is "Payment Revision Needed." Receiving the payment revision needed message is among the most common issues people often face and we have complied this blog article to make to understand why users get Amazon payment revision message and what exactly is to be done and what not when encountered with this problem. We will also cover some feasible steps to help you resolve the issue. 
So with no further ado, let's go on to know more about the "Payment Revision Needed" on Amazon and how to resolve it. 
What is Payment Revision Needed on Amazon?
"Payment Revision Needed" Amazon error prevents you from completing your payments for products you intended to purchase. You get this system generated service message when your payment collapses or else if the transaction is not capable to complete. The "Payment Revision Needed on Amazon" message implies that Amazon is unable to charge you or collect payment from your card or bank account against the items ordered by. Hence, Amazon asks you to revise your payment method.
Now, you might be wondering what leads to the payment revision message popping up on your screen. So here's why Amazon keeps asking you to revise your payment method.
Why does Amazon ask for Payment Revision?
There could be quite a few potential reasons behind getting this problem. You may encounter it due to insufficient balance in your bank account, exceeded your daily limit and so on. Some predominant reasons behind this error message to occur are listed as under:
Insufficient funds in your bank.
Incorrect Credit/Debit card details.
Card validity expiration.
Card blockage.
Daily Spend Limit
Technical or Network error.
These are some common reasons as to why payments may fail on Amazon. You may also likely to face this error if you refresh the page or press the backspace button previous to the completion of your payment.
Having understand the reasons let's now move to know about solutions to this issue.
How to Fix Payment Revision Error on Amazon?
By and large, the aforesaid causes of the issue may be quite simple and easy to fix. But occasionally, you will need to contact your bank to seek a solution to resolve it. Since Amazon asks you to revise the payment in case of a failed transaction, you must first try knowing the reasons why the transaction failed and accordingly use the fixes given below to get rid of the problem.
Fix#1 Have Enough Funds:
The basic and most common reason for this error is insufficient balance in your account. So to rectify the problem you must ensure to have enough funds available in your bank account or Amazon balance. Also confirm and make sure that you don't have any "pending payments".
Fix#2 Check for Card Details:
Every so often, you may be getting this problem due to wrongly entered credit/debit card details such as card number, expiration date, and so on. To overcome the problem and fix Payment Revision error, you must cross check and verify the same in Payment Method section alongside the billing details. Following are the steps required to be performed for this sake:
Sign in to your Amazon account by entering valid credentials.
Tap on the Payment option to see which card or bank is linked for default payment method.
If the payment details are correct then go to orders, retry the payment method to complete the transaction.
If the payment details are inaccurate update it and check if the issue is resolved or not.
Fix#3 Check for the Expiry/Update/Blockage of the Card:
Another probability for receiving the error message is due to expired or blocked card. Having entered the details of card which has recently expired or blocked for some reason will result to payment being declined. In addition to that a new and updated card may also lead to transaction failure if you have not registered and update the new card details with Amazon.
Fix#4 Check Daily Spend Limit:
You need to also look for your daily spend limit and verify that you have not exceeded the said limit and still make spends on purchase of items on Amazon.
Fix#5 Check for Network Connection:
Look for the network connection or internet signals on your device. If there is some technical or network related issue then wait a while and try to make the payment thereafter.
Fix#6 Contact Your Bank/Payment Provider:
If you have tried all the aforesaid fixes and the problem still persists, then it's most likely to be an issue with your bank. Thus you need to contact your bank/payment provider and confirm what exactly the problem is.
Fix#7 Contact Amazon:
If you are still unable to resolve the Payment Revision issue even after contacting your bank or payment provider the last option is to raise the points to Amazon. You can try to contact Amazon to look into the matter and get the issue fixed.
Things you should be Cautious of: Dos & Don't of Payment Revision
After getting the payment revision message you must keep certain things in mind and be cautious of to avoid scam and fraud. Below are some dos and don'ts to be remembered in this regard.
Do's
Do check, if you have been asked for payment revision within the Official website.
Do check, if notification is send via email and on your Amazon account.
Do check, if there is truly a need to revise payment.
Don'ts
Don't reveal sensitive financial information.
Don't click on any emails that appear as spam.
Don't tab on any text links that suggest payment revision. 
Summing Up
Hopefully you can resolve Payment Revision Needed Amazon error by applying the above mentioned fixes. Try to follow the dos and don'ts listed in last section.
Read Also:
How to get Invoice from Amazon: A Comprehensive Guide
How to Change Billing Address On Amazon: An Easy Guide